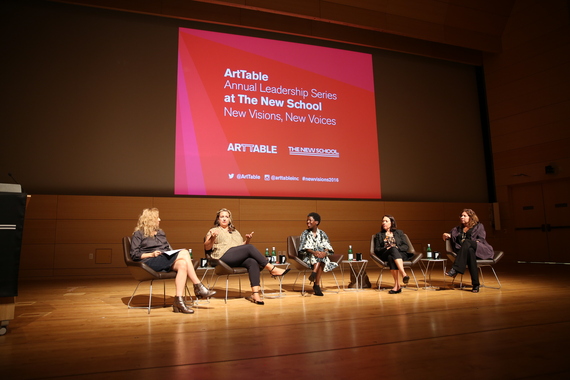 There must be an all women's organization for every industry on the planet. A quick Google search brought up the following: Business Women's Network (BWN)
Alliance for Women in Media, American Medical Women's Association, Commercial Real Estate Women and on and on.
Are all female organizations inherently sexist? A male colleague recently asked me this during a discussion about the two women organizations I belong to: the Association of Women Art Dealers (AWAD), which facilitates business and collaborations between women art dealers, gallerists and art consultants, and ArtTable, the leading national non-profit organization dedicated to advancing professional women's leadership in the visual arts. A fair question, I thought. But given the gender inequality in the art world -- both in administration and curatorial decision-making -- the existence of these types of groups are merited and necessary. They offer resources, support, camaraderie, professional networking, mentoring, educational programming and so much more. At the end of the day, all-women fine art affiliations are moving the ball forward to self-correct the inequality in the art industry.
It was with great interest, then, that I attended a panel discussion last month featuring four women who direct art museums in New York City: Holly Block of The Bronx Museum of the Arts, Thelma Golden of The Studio Museum in Harlem, Anne Pasternak of the Brooklyn Museum and Laura Raicovich of the Queens Museum. The lively discussion was moderated by New York Times critic Martha Schwendener, and organized by ArtTable as part of their Annual Leadership Series at The New School.
The audience -- which sadly held only a handful of men -- was eager to hear the narratives of these female art industry superheroes that persevered to the top of their illustrious museums. The talk focused on their individual paths to directorships, challenges they faced along the way, the importance of mentoring as they climbed the ladders, their individual philosophies on staffing and operations and their missions and values-based approach to running their respective museums. Threaded throughout these conversations were the more politically charged issues of gender bias in the museum world, challenging the stereotype of the museum director (Philippe de Montebello), and the more abstract question of whether or not women direct museums differently than men do.
As a facts and data person, I was curious to know how bad the gender inequality really is in the top levels of administration in art museums. According to a 2014 study by the Association of Art Museum Directors and the National Center for Arts Research, smaller museums get higher grades than larger museums. At museums with operating budgets of $15 million or less, there is near equality with 48 percent female directors earning $1.02 to the dollar that men earn. But in museums with operating budgets over $15 million, women fare far worse -- 24 percent have female directors and they make $.71 to the $1.00 men earn.
As time goes on, will we see the trends in smaller museums lead the way for larger arts institutions? To understand this, I think it's important to look at gender parity in art industry tracks that are ultimately the feeding grounds for museums -- art schools and galleries. If trends are changing there, although we may be looking at decades, it's safe to say we should continue to see progress at the top administrative levels of museums as well.
Well over 50 percent of BA and BFA graduates in studio are women and yet, women are significantly underrepresented in contemporary art galleries. Thanks to groups like The Guerrilla Girls, feminist activist artists, who expose sexism in politics, art, film and pop culture, and Micol Hebron's "Gallery Tally Project," which highlights gender inequality in contemporary art galleries, we know that women artists make up about 30 percent of artists represented in galleries.
As the owner of Susan Eley Fine Art, a contemporary art gallery on the Upper West Side in New York City, I am always conscious of the gender inequality in this business. While writing this I did a count of our own roster; I was relieved that nearly 2/3 of our artists are female, a completely unintentional ratio. It seems that we gallerists need to do more to encourage gender parity in our exhibition programming. And even, or perhaps controversially, to self-correct by putting more female artists on our rosters and walls.
The system that moves an artist from art school to gallery to museum clearly favors male artists: According to the National Museum of Women in the Arts, only 28 percent of museum solo exhibitions spotlighted women in eight selected museums throughout the 2000s.
To close the gender gap, the art world has lots of work to do. But corporate America is even further behind. In a 2012 study by the non-profit Catalyst, just 3.8 per cent of Fortune 500 companies had female chief executives. So we could be a lot worse off.
Image courtesy of ArtTable, © Lucea Spinelli, 2016

For more information on the gender gap in art museum directorships, you can look go to: https://aamd.org/our-members/from-the-field/gender-gap-report
National Center for Arts Research
http://mcs.smu.edu/artsresearch/
Support HuffPost
The Stakes Have Never Been Higher
Related
Popular in the Community