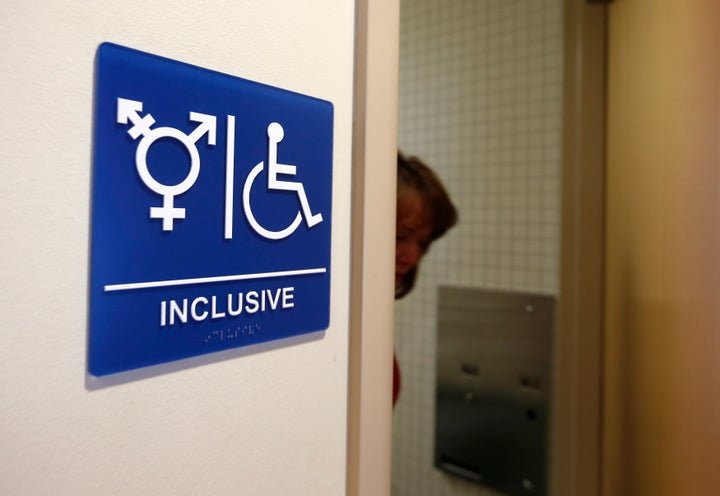 Public, stall-based ladies' and men's bathrooms are essentially a gross disaster that make all of us dread having to pee and some of us fear for our safety.
First, there's little privacy. Most stall doors don't reach to the floor or the ceiling. There are gaping holes next to the doors, too. You're lucky if you land a toilet seat free of urine, hair or god knows what else. Hopefully there's a hook for your jacket or purse. Best case scenario: You don't have to stare at the detritus of the sanitary napkin disposal.
These are just surface issues. Women, who've waited in long bathroom lines while men breeze in and out of their bathroom, know that segregated-sex restrooms typically put them at a disadvantage. We get the same number of stalls as men, but we take longer to go.
And finally, there are serious, real safety concerns involved when young children enter segregated-sex adult spaces alone or when transgender individuals enter spaces where they may not feel, or be, welcome.
(These problems are distinct from the fake, drummed-up issues raised recently by groups that oppose letting transgender people use the public restroom corresponding with their gender identity.)
It's time to move on to a more enlightened bathroom solution.
An architect in Chicago, acknowledging all of these problems, is designing and advocating for private gender-neutral bathrooms -- essentially a row of individual toilet stalls with doors that open onto a common area where everyone can wash their hands and check the mirror to see if they have any lettuce between their teeth.
Unisex bathrooms like this are cheaper to construct, offer users more privacy and safety and take up less space, said architect Matt Nardella, who owns Moss Design. Plus, there's more "line equity" -- never again will you have to wait in line with a hoard of women while the guys get to go and move on with their lives.
Here's a rendering of a unisex public bathroom Nardella's firm designed for a Chicago restaurant (the ADA stalls are designed to be accessible to people with physical disabilities):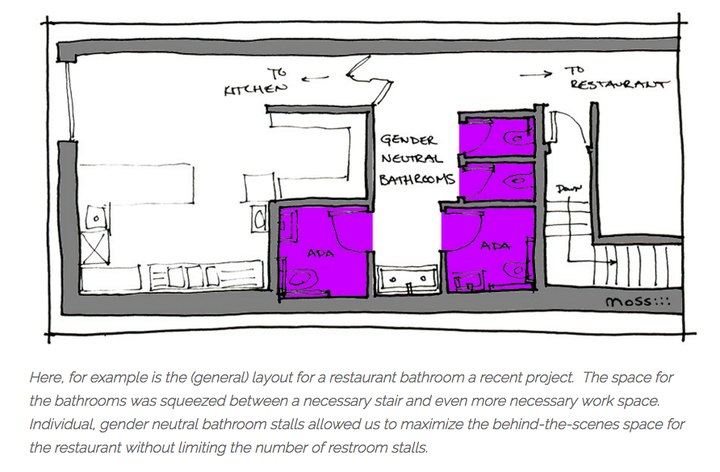 We're talking about public bathrooms now because North Carolina's legislature just passed an anti-LGBT law that, in part, requires people to use the restroom matching the gender designation on their birth certificate -- instead of using the facility that lines up with their gender identity, where they feel most comfortable and are least likely to draw unwelcome attention.
The law ostensibly was intended to make bathrooms "safer," and was passed in response to local measures that sought to protect gay and transgender people from discrimination. Opponents of those measures trumped up the totally unwarranted fear that men would dress as women in order to sexually assault women in their restrooms -- as though rapists have just been waiting for such a law to make it easier to rape.
Laws like the one in North Carolina have also been floated recently in South Dakota, Tennessee and Georgia. They're cropping up now as more open-minded cities and municipalities move to make bathrooms more friendly to transgender people.
The North Carolina measure will almost certainly make public bathrooms less safe for trans people, for whom corral-style same-sex bathrooms can actually be a dangerous place.
"Butch women are often run out of 'women's restrooms,' gender non-conforming people lack safe space to pee, trans women who do not experience passing privileges on a routine basis are discriminated against," trans activist Justin Adkins wrote this week in a HuffPost Queer Voices blog post. "And let's be real, they often are not just yelled at and told to leave, they often face physical violence, sometimes they even face death."
Parents also know the dread engendered by same-sex bathrooms: If you're a mom like me who's out with a son too old to go into the ladies' room, you cross your fingers and wait -- heart pounding -- while they venture alone into the men's room. If you're a dad, you wait anxiously as your little girl ventures forth without you.
Nardella himself first became interested in gender-neutral bathrooms after a 9-year-old boy was murdered nearly 20 years ago in a men's room in Oceanside, California. The boy's aunt didn't want to accompany him into the men's room or bring him into the ladies' room. She found her nephew bleeding to death in the bathroom, his throat slit by a 20-year-old man who was later charged and convicted.
Nardella worked with San Diego County to help redesign the beachside facilities, ultimately installing family-friendly, gender-neutral restrooms where parents could feel their kids were a little safer.
"I think anyone should use whatever bathroom they want," he told The Huffington Post. "But I feel like we can solve it by making the architecture better and not even have the conversation."
Of course, no one is suggesting we immediately convert every public restroom in the U.S. to a gender-neutral outlet. That's not always going to work.
Still, many enlightened places are finding gender-neutral solutions. Several cities now have gender-neutral bathroom provisions, including San Francisco, Philadelphia, Seattle and West Hollywood, California. These typically involve relabeling single-occupancy bathrooms as places for any human person.
Colleges and universities are also making gender-neutral bathrooms more available. The White House even installed a gender-neutral bathroom stall last year.
Earlier this month, the Cooper Union in New York City took it one step further, and removed gender designations from all of its bathrooms.
"I cannot change the outside world and how it treats transgender and gender non-conforming people," acting university president Bill Mea wrote in a letter to students, announcing the change. "But I can change the Cooper Union environment to help everyone feel safe when they are inside our buildings."
Related
Popular in the Community