If we're going to close the pay gap between women and men, we could start by raising wages and curbing inequality for everyone.
That's the upshot of a new study by the Institute for Women's Policy Research, a non-profit research group. Women earned just 82.1 percent of men in 2013, a gap that has persisted for the past decade, largely because pay for both sexes has stagnated, according to the IWPR. Get wages growing again, particularly for the middle and lower classes, and the gap could start to close.
Until recently, the gap had been closing steadily: It narrowed between the 1960s and the early 2000s. That's because women's wages rose as they got more education and work experience, while men's wages were mostly stagnant. Now wages for both sexes are dead in the water.
"Whatever disease has been making men's real wages stagnant has spread to women," IWPR co-founder Heidi Hartmann told The Huffington Post. "It's a sharp break in the experience of women."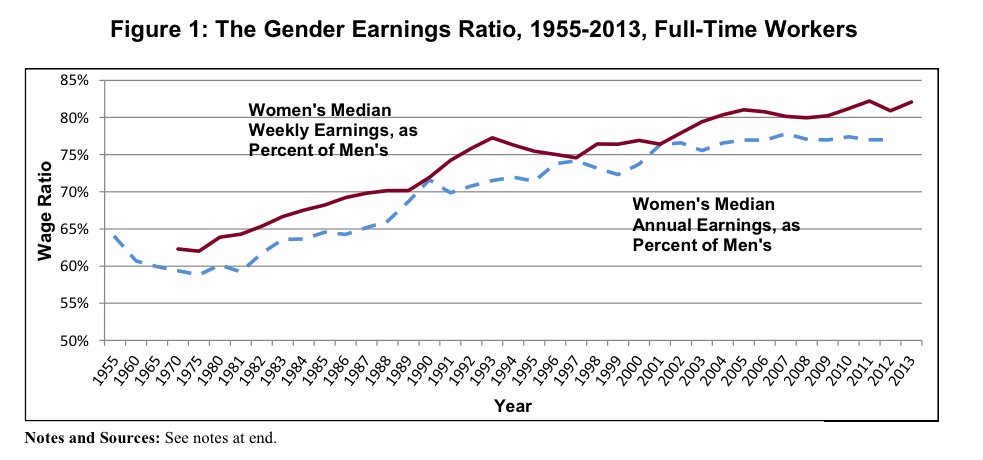 Women's median annual earnings grew from $30,136 to $37,146 between 1980 and 2000, after adjusting for inflation. But they stagnated between 2001 and 2012, hovering at around $38,000 during that period, according to the IWPR paper.
Anything that raises pay for lower-wage workers people would also help close the gender wage gap. That's because women tend to be clustered at the bottom of the income scale, so raising the wage floor would help them more overall. Women make up two-thirds of minimum wage workers, and over the past several years, they've gained low-wage jobs at a faster clip than men.
Getting more workers into unions -- which are associated with lower levels of inequality -- could also help close the pay gap. Workers in a union tend to out-earn their non-unionized counterparts, but the benefit for women is about 1.4 times as big as the benefit for men, according to an analysis from the National Women's Law Center. The wage gap for unionized workers is about half that of non-unionized workers, and it has actually narrowed over the past five years.
There are lots of other ways to possibly close the gap: Encouraging women to enter male-dominated fields and become leaders there. Getting rid of the "mommy penalty" that dings the earnings of working mothers. Ending discrimination in general would be fantastic, though maybe a lot to ask.

Popular in the Community