Women don't choose to make less money than men. But that's often the criticism leveled when we talk about the gender pay gap, or the fact that women, on average, make only 79 cents for every dollar a man earns.
The argument typically is: Women look for work in lower-paying professions, so of course they make less than men.
Elise Gould, a senior economist at the Economic Policy Institute, has heard that claim a lot since she published research showing that women earn $4 an hour less than men right out of college. Gould and EPI researcher Jessica Schieder published a paper on Wednesday explaining why the pay gap has little to do with real choice.
"People were not understanding the full picture," Gould told The Huffington Post.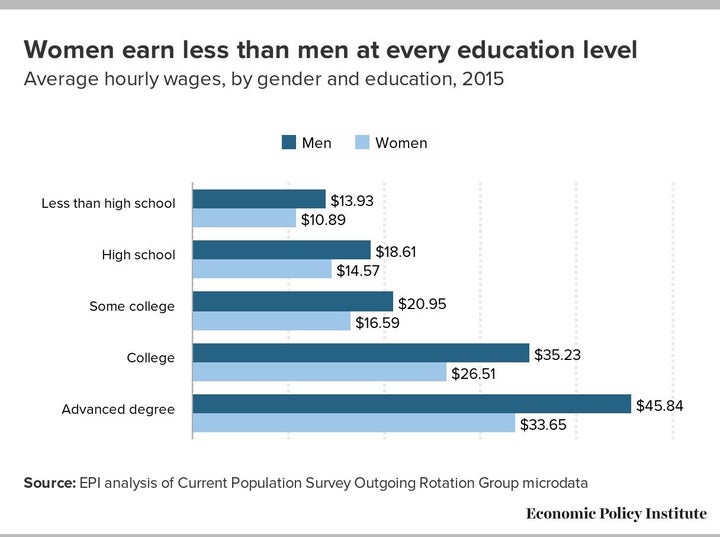 It's true that many women do not pursue higher-paying jobs in engineering or science ― fields that are dominated by men. But that's not the main reason the pay gap exists. In fact, 68 percent of the gap can be explained by the fact that women make less than men within the same occupations, as Gould and Schieder note.
"Leaving aside the fact that women's career choices are shaped by gender norms and expectations, the fact is that most of the gender wage gap can be explained by the fact that women, on average, are paid less than men in the same occupation," Gould said in a statement Wednesday morning.
Female doctors, for example, earn $51,000 less than male doctors on average, a study recently published in JAMA Internal Medicine found.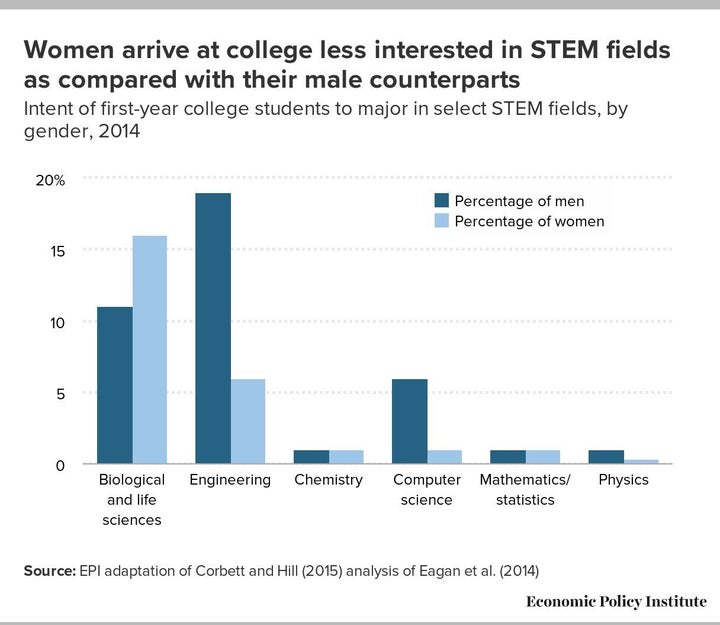 A few enlightened companies are looking at their payrolls to determine if there's a problem. Recently, the software company Salesforce found a pay gap among its employees and spent $3 million to rectify it. A few other firms have published the results of internal audits. Amazon recently said that it pays women and men equally, though it didn't explain how it arrived at that conclusion.
Other industries aren't so forthcoming. The union that represents reporters at The Wall Street Journal recently revealed that women at the paper make 87 cents for every dollar a man earns there. Though the company has pledged to address the problem, there's been no action announced yet on this front.
"A company can look at their policies, but the vast majority are not," Gould told HuffPost. "That's an easy solution but it's not happening."
Of course, there's more to the gap. Women and men do tend to get steered toward certain educational and professional paths. More men than women become engineers, for example, and more women than men choose social work. Those decisions, Gould and Schieder write, are influenced by cultural forces that cry out for further examination.
Even if women do make it into the higher-paying tech industry later on, they often feel alienated from a male-dominated culture.
One 2008 study found that 63 percent of women who work in science, tech and engineering experience sexual harassment. Women leave these industries at higher rates than men.
"Decisions women make about their occupation and career do not happen in a vacuum," Gould and Schieder write. "They are also shaped by society."
The authors also point to a recent study showing that once women do enter a field, wages in that profession actually tend to fall.
When women come onto the scene, "it just doesn't look like it's as important to the bottom line or requires as much skill," Paula England, a sociology professor at New York University, told The New York Times earlier this year. "Gender bias sneaks into those decisions."
But wait ― there are yet more layers baked into this cake. Because domestic responsibilities are still overwhelmingly coded as female, women often have to work the equivalent of two jobs ― acting as caregivers of children or elderly relatives while also working for an actual salary. That puts them in a bind when it comes to taking on work that demands long hours. 
This, in part, helps to explain why there are so few female partners at prestigious law firms and in demanding fields like investment banking. And even at the highest levels of business, women's salaries tend to suffer more than men's when times are tough.
Calling all HuffPost superfans!
Sign up for membership to become a founding member and help shape HuffPost's next chapter
BEFORE YOU GO
PHOTO GALLERY
Equal Pay For Women