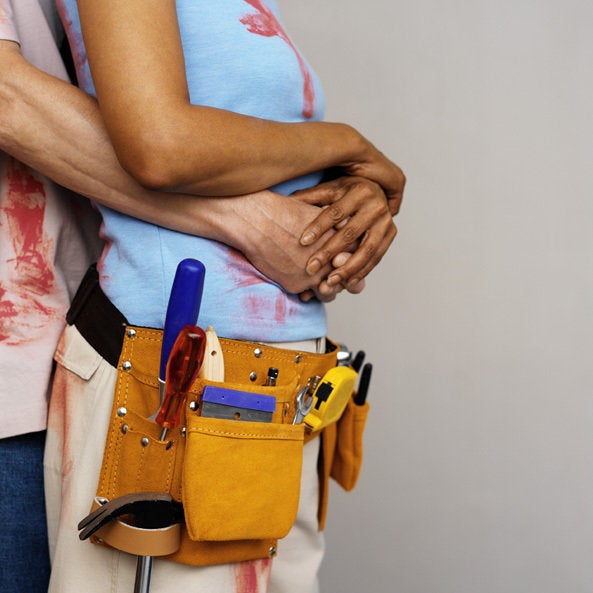 This post is part of the "Modern Male Brains & the Young, Powerful Women Who Love Them" series compiled by Dr. Louann Brizendine, neuroscientist and author of the recent book, The Male Brain. The series explores how the next generation of women relates to love while balancing complex, stressful lives.
After years of not actively searching, I have found deep love and happiness with an incredible person. He requires very little prodding to rise above his patriarchal upbringing, is elated that I make more money than he does, and is toying with the idea of taking my last name, just to highlight the absurd gendered nature of this practice. He is my "partner in crime" every day in every way.
Prior to this relationship, I had only ever dated older, "accomplished" men, but I found the love of my life in a brilliant, confident, much younger man. Go figure.
I owe my good fortune of finding such a compatible partner to not settling for a man who hasn't evolved beyond contrived social scripts of what men and women are "supposed to do." I refuse to blindly follow societal conventions that say that women have to get married and procreate. There's just too much data showing that these choices don't make us happy. In fact, happiness levels are the same for couples whether they are married or simply in a long-term relationship, and kids are one of the primary causes of depression in adults. Then there are the obvious points -- that adoption is a great choice given planet over-population, and I don't want to be part of a societal institution (marriage) that involves the state unjustly excluding consenting adults. These "radical" choices have acted like Neanderthal repellent over the years. A litmus test of sorts.
Unfortunately, we don't socialize many men to be truly compatible partners for women who reject their second-class status. We raise our little boys to disdain everything that is "feminine," but then act surprised when they grow up to disrespect women/anything feminine. The idea that women aren't quite full human beings is woven into our societal DNA, and it's very difficult for men and women to recognize and rise above this shoddy upbringing. But life is way too short to be in a relationship where your partner doesn't consider you to be as fully human as he considers himself to be.