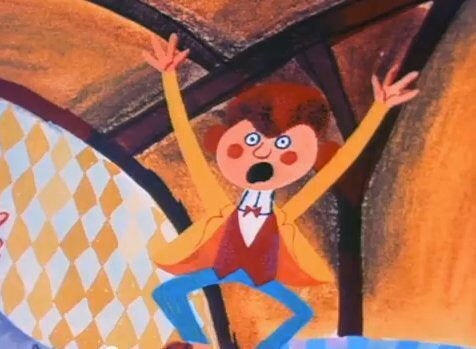 You've probably never heard of Gene Deitch, but you were likely exposed to his work at a young age. The American illustrator based in Prague produced episodes for the "Tom and Jerry" and "Popeye" throughout the 60s, during a time where the productions were being partially outsourced to Prague. Deitch's films for the series have been called the worst of the lot, but Deitch attributes that to his Czech style, which "had nothing in common with these gag-driven cartoons."
Now, we have an animation that's sure to get Deitch some attention from diehard fans of another series. Deitch's 1966, 12-minute "Hobbit" short film, illustrated by fellow Czech illustrator Adolf Born, has surfaced on YouTube after almost 50 years in the vaults. The short was originally supposed to be a feature-length film, according to Deitch's blog, and would have been the first full-length "Hobbit" film, he claims. The convoluted series of events that led to it not being made into a full-length film are best explained in Deitch's own words. We leave you with this -- before you judge the liberties this 12-minute version takes, note this disclaimer from Deitch:
For those who are criticizing the liberties I took with it in this "Ashcan" version [a copy made for purposes like trademark, and not intended for the general public], need to put it into a time perspective. I came out of Hollywood at a time when it was normal to rewrite any book that was made into a movie. It was only four years later, when I began to do Weston Woods films for Mort Schindel, that i learned to respect the integrity of books I adapted. Even UPA's Gerald McBoing Boing dismissed Dr. Seuss' drawing style. Only their adaptation of Bemelmans' Madeline held true to a book's style. If I were to do THE HOBBIT today, I would obviously have a totally different mind-set!
Related
Popular in the Community