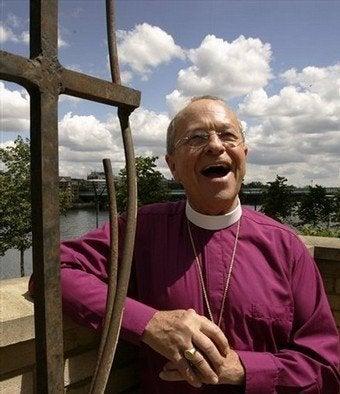 New Hampshire Episcopal Bishop Gene Robinson, a vocal gay rights leader, will open President-elect Barack Obama's inauguration with a prayer on Sunday's kick-off event at the Lincoln Memorial.
"I am writing to tell you that President-Elect Obama and the Inaugural Committee have invited me to give the invocation at the opening event of the Inaugural Week activities, We are One, to be held at the Lincoln Memorial," Robinson wrote in an email to friends.
The announcement comes after weeks of outcry from the gay community over Obama's choice of evangelical, anti-gay pastor Rick Warren to deliver the inaugural invocation.
"It's important for any minority to see themselves represented in some way," Robinson said in an interview with the Concord Monitor. "Whether it be a racial minority, an ethnic minority or, in our case, a sexual minority. Just seeing someone like you up front matters."
Robinson is the first openly gay diocesan bishop in the Anglican Communion. "God never gets it wrong. The church often takes a long time to get it right. It is a human institution, but one capable of self-correction," Robinson told the Seattle Post-Intelligencer. "I believe in my heart that the church got it wrong about homosexuality. There is great excitement in my heart to be living in a time when the church is starting to get it right."
Robinson said he would love to sit down with Rick Warren but believed that the California pastor has "perpetrated lies about the gay, lesbian and bisexual community."
Popular in the Community