In the world of dance photography, Gene Schiavone's photographs are acclaimed for their brilliant clarity and his exceptional ability to capture those special moments that define the art of ballet. He is one of the very best of an elite cadre of photographers. He is also a legend within the dance world for his easygoing kindness. He exudes the friendly, calm confidence of someone who knows how good he is but doesn't need to prove anything. Schiavone is a staff photographer for American Ballet Theatre and does freelance work with the Mariinsky, Royal Ballet, Bolshoi Ballet, Boston Ballet, San Francisco Ballet and many others. It's safe to say that, other than the New York City Ballet which has its own photographers, you haven't arrived until you've been photographed by Gene Schiavone.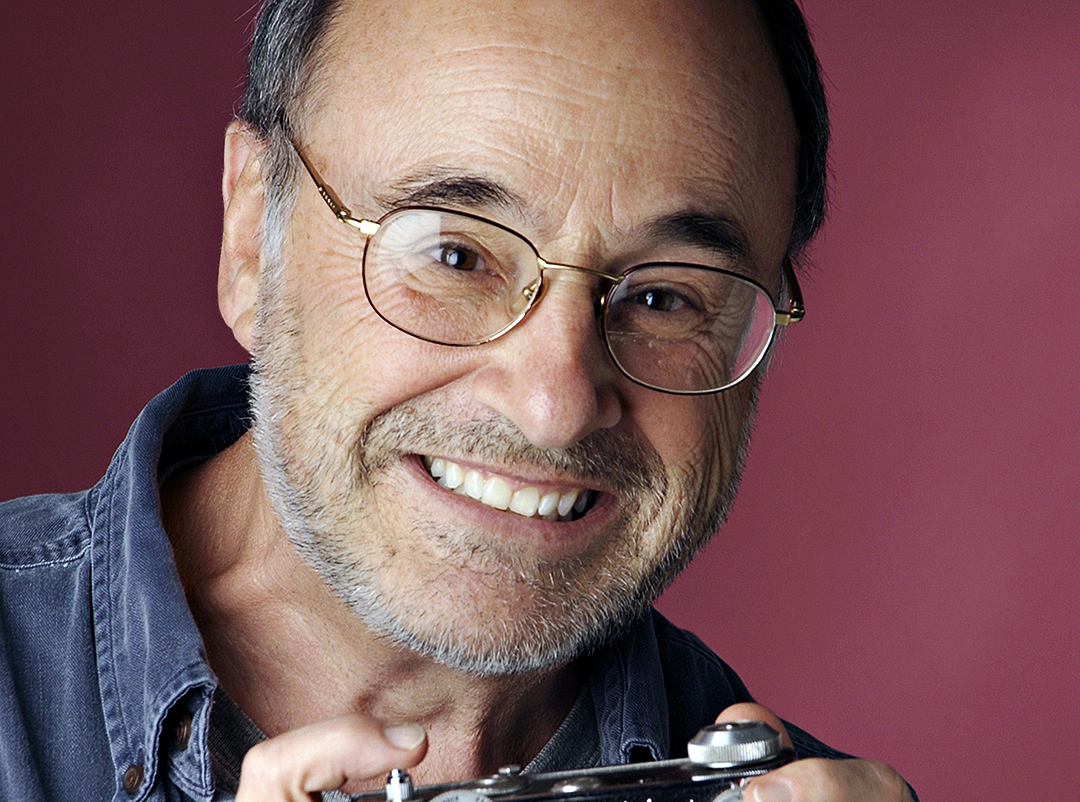 Gene Schiavone, Artist and Dance Photographer
All artists are constantly evolving and Schiavone is no exception. He has begun a new series of work creating images of mystery and poetry in cemeteries. He isn't sure where he's going with it yet, but he is following his compulsion and trusting his instincts for now. I traveled recently with Schiavone to a cemetery in Queens to observe and talk with him as he photographed Viktoria Hofstaedter, a New York City based dancer. The images he creates are haunting meditations on eternal themes of death and loss.
In addition to his work photographing the world's leading dance companies, Schiavone will soon be releasing the first photographic prints of some of his favorite dancers, beginning with Russian ballerina and frequent ABT guest artist, Natalia Osipova. The edition will be limited to fifty prints signed by Schiavone and Osipova. Gene Schiavone's work can be seen on his Facebook Page.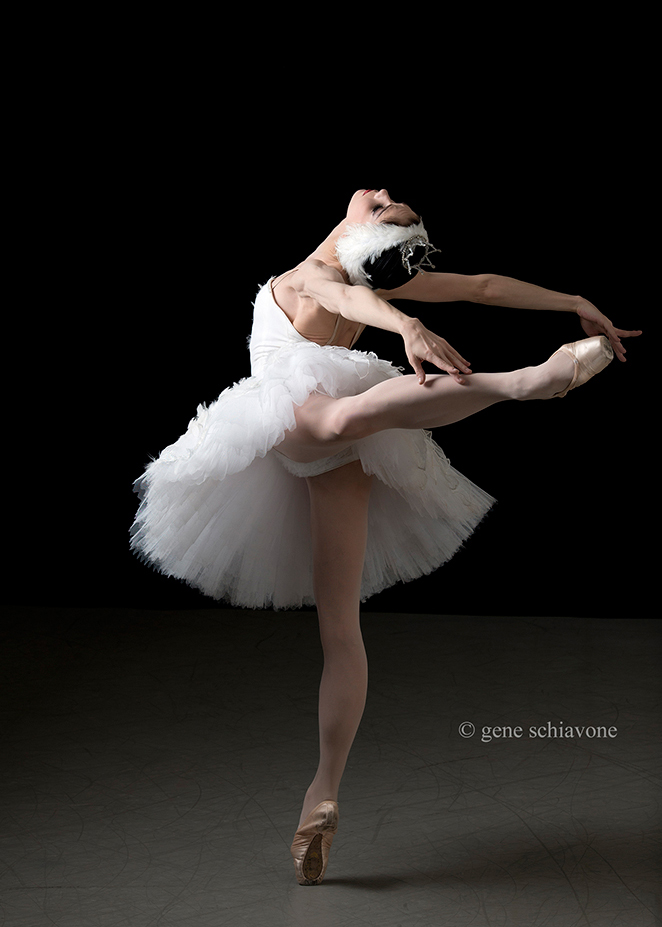 Natalia Osipova, Photo by Gene Schiavone
How did you get started as a dance photographer?
It was a hobby for me all my life. I was in the finance business until I sold my company in 1997. My wife was involved with ABT doing fundraising... volunteering and we had a fundraiser at my house with the studio company. There were twelve youngsters who were hoping to get into the company, and I took some photos at the house and sent them in to Kelly (Kelly Ryan, ABT's Director of Press and Public Relations) and told her if she wanted to use them, fine. Then I realized that nobody was photographing these kids. There was no money for it. So I said, listen, I'll go out and take some pictures of them. I ended up touring with them for two years and turned in a lot of photographs.
What happened next?
My wife got me to go to a fundraiser where I sat next to Julie Kent. I realized she was a real nice person. My problem was that I didn't know anything about ballet, so what were we going to talk about? I thought I would feel like a fool but Julie was very nice. I got to meet some more of the dancers so when I finally went to a performance I recognized the people on stage. It was more interesting to me then.

It becomes more accessible when you know the people on stage...
Eventually I went to Michael Kaiser (the former Executive Director of ABT) and asked if I could photograph the main company. There was a real problem with that because they get calls from photographers all the time who want to photograph the company. He gave me a shot. I had spent two years learning the trade, learning how this stuff works, shooting in the dark and the motion. So I sat down with Kelly and said, I know this is a problem for you so if I do anything wrong, I'll stop doing it and she said, "Okay." Now we have a great relationship and she's happy I'm turning in a lot of photos.
Who helped you to develop an understanding of what you were looking at?
I developed through experience. When I started, I had a fixed tripod to scan the stage and I figured out that it doesn't work. Then I thought that I had to have a quick motor drive to take a blast of pictures in succession. But that doesn't work either because you always miss the moment that you need. Over the years I figured things out and, in terms of timing, I realized that everything is tied to the music. I listen to the music and anticipate what's going to happen. A couple of years ago I shot in the titles booth at the Met rather than the director's booth. They're both soundproof and the sound wasn't working in the titles booth so I couldn't hear the performance. I got through it but I realized that the music is critical. It's the road map for what I'm doing.
There's so much background knowledge that you need to have before you can predictably and reliably take good pictures of dance.
Yes, and it only develops over time. When someone comes in who doesn't do it regularly, nothing really works. I take 1,000 shots a show, every show and I do a lot of performances. I do a lot of different companies and a lot of different styles. I developed by working at it. If I'm photographing a piece I haven't done for a while, I'll go back and look at what I've done before. Every piece has certain photo moments that you have to catch so I have to refresh my memory to be sure of what I'm doing.
Do you go to dress rehearsals for new ballets?
If I can. Sometimes I can only do dress rehearsal because I can't photograph in the theater during performances. I try to hit the studio as it's being developed so I can have a sense of what to expect. Anything I can do to prepare myself puts me ahead one or two steps.
How did your cemetery series begin?
It started with me looking at European cemeteries and looking at the sculptures on top of the tombs. I wondered if I could take a person and pose them on a tomb and make them look like a sculpture. It stuck in my mind for a while. A number of years ago I had taken a ride through Calvary Cemetery and I noticed so much background and detail. There was an accumulation of memorials and mausoleums in a very compact area. The first shoot I did there was maybe two months ago. I got a model, went and set it up and we took some photographs. There was no ballet tie-in. I looked at the photographs and said, okay, I could have done this or that a little differently. If you can look at what you've done and what you want to change, like when you photograph dancers in a studio, you make adjustments. So I made some adjustments and I kind of liked it.
What were you trying to show?
It started with the idea that I wanted to show grief. I think that's artistic. It's emotional. It kind of got away from the original idea of making someone look like a statue to trying to show a little bit more. That's where I am today. I'm not sure where it's going. The model today (Viktoria Hofstaedter) is a dancer. This will be the first true dancer I've done this with. I'm starting to get people approaching me to look at their portfolios and asking to work with me on this. I don't know what it's going to be at the end. I think that cemeteries are historical and this is a good way to reflect back on our past. I find it beautiful. I want people to look at the photographs and say -- who is this person? What is she doing here? I only take photographs that have people in them. The person makes it a story. A mountain is a mountain but if you put a person in the picture, then it's a story.
What draws you to taking pictures in cemeteries?
I'm doing it because I feel compelled to do it. I find cemeteries really beautiful and peaceful. These cemeteries, especially the big ones around here, were designed for people to go and visit on the weekends, like parks.
What are the challenges to shooting in a cemetery?
The hardest part is figuring out what you want to do. There's a lot of time spent walking around talking about how we feel about this piece or that piece. I try to collaborate to come up with something that will make an interesting shot.
Does the model you're working with affect how you shoot?
Yes. I think, like a choreographer, I want everyone to bring their own interpretation to it. I'll do a little directing and then when I see something that's really interesting I'll go back to it and explore it. When it doesn't seem to be working we just move onto something else.
Where else are you planning to shoot?
I've lined up with one cemetery in the Bronx. I'm going to be in Paris in September and I thought that Père Lachaise Cemetery would be a perfect spot. I was in Prague a few weeks ago and I went to the old Jewish cemetery, and the structures there are so wonderful. They're huge and there are so many of them.
Gene Schiavone: The Cemetery Series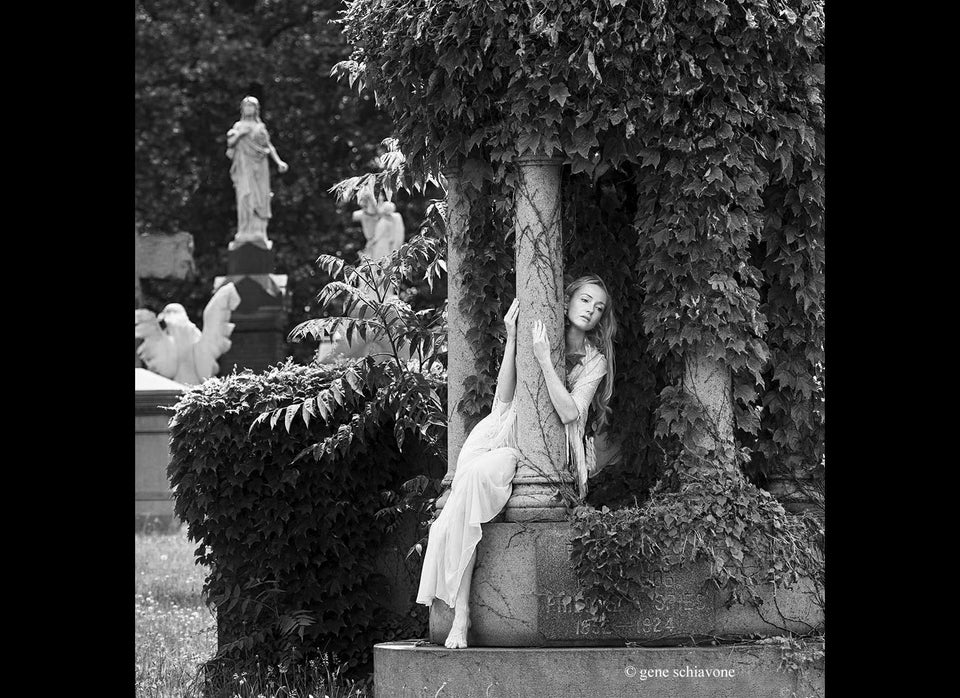 Gene Schiavone: The Cemetery Series
Andrew Blackmore-Dobbyn is a writer for Holy Kitchens Films.
Ellen Dobbyn-Blackmore is an Arts and Humanities Writer.