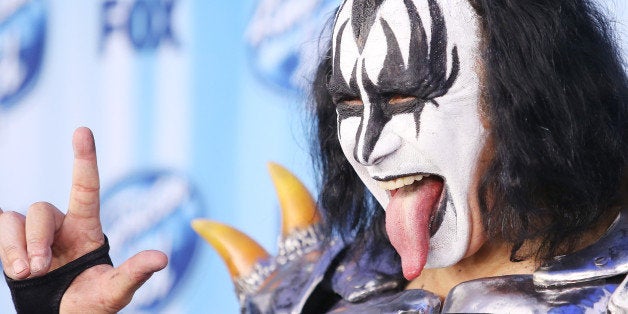 Mere days after telling immigrants to "learn goddamn English" during a HuffPost Live appearance, Kiss bassist Gene Simmons is in headlines yet again for uttering deeply offensive comments about drug addiction and depression during an interview with SongFacts.com.
During the interview, dated July 31, Simmons said he doesn't "get along with anybody who's a drug addict and has a dark cloud over their head and sees themselves as a victim."
Drug addicts and alcoholics are always, "The world is a harsh place." My mother was in a concentration camp in Nazi Germany. I don't want to hear fuck all about "the world as a harsh place." She gets up every day, smells the roses and loves life. And for a putz, 20-year-old kid to say, "I'm depressed, I live in Seattle." Fuck you, then kill yourself.

I never understand, because I always call them on their bluff. I'm the guy who says "Jump!" when there's a guy on top of a building who says, "That's it, I can't take it anymore, I'm going to jump." Are you kidding? Why are you announcing it? Shut the fuck up, have some dignity and jump! You've got the crowd.
During a recent episode of his radio show Sixx Sense, the bass guitarist criticized Simmons for his words, saying: "I like Gene. But in this situation, I don't like Gene. I don't like Gene's words. There is a 20-year-old kid out there who is a Kiss fan and reads this and goes, 'You know what? He's right. I should just kill myself.'"
Sixx added: "For people who are depressed, there is a way out. There are many, many ways out…Don't listen to people who don't know what they're talking about."
As news of Simmons' comments spread Friday, the Twitterverse was abuzz with angry reactions to the 64-year-old's words.
Simmons is no stranger to controversy. In fact, just this week, during his HuffPost Live appearance, the musician was ambushed by members of The Black Lips, who accused him of misogyny.
UPDATE: 6.20 p.m. -- In a statement released Friday, Gene Simmons addressed his comments about depression, saying the remarks were made "in the spur of the moment" and that he was "sincerely" sorry for causing offense.
The statement, sent to The Huffington Post by the musician's rep, said: "I was wrong and in the spur of the moment made remarks that in hindsight were made without regard for those who truly suffer the struggles of depression. I sincerely apologize to those who were offended by my comments. I recognize that depression is very serious and very sad when it happens to anyone, especially loved ones."
He added that he's "never sugarcoated [his] feelings regarding drug use and alcoholics."
"Somewhere along the line, my intention of speaking in very directly and perhaps politically incorrectly about drug use and alcoholics has been misconstrued as vile commentary on depression. Unkind statements about depression were certainly never my intention," he said.
Popular in the Community