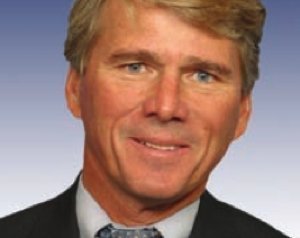 Rep. Gene Taylor (D-Miss.) suggested over the weekend that people shouldn't be "scared" about the Gulf Coast oil spill and in justifying his claim compared the massive slick to "chocolate milk."
On Saturday, Taylor flew over the oil spill in a Coast Guard plane and at first glance declared that the site was "not as bad" as he expected it to be.
Taylor flew over the site of the sunken Deepwater Horizon rig Saturday along with Department of Marine Resources Director Bill Walker and Rep. Jo Bonner of Alabama. [...]

"At the moment, it's not as bad as I thought it would be," he said, shortly after returning from the three-hour tour.
After observing the oil spill from 1,000 feet, Taylor said in an interview with Biloxi's WLOX-TV that what many feel is an environmental and economic catastrophe is not "Katrina" or "Armageddon," adding that the "chocolate milk looking spill" is beginning to "break up naturally":
What I want people to know is this isn't Katrina. This is not Armageddon. I did this for the Coast Guard many years ago. Yeah, it's bad. And it's terrible that there's a spill out there. But I would remind people that the oil is twenty miles from any marsh. [...]

That chocolate milk looking spill starts breaking up in smaller pieces... It is tending to break up naturally.
All of this despite the fact that the spill has tripled in size over the past few days.
WATCH: Mississippi Congressman Compares Gulf Coast Oil Spill To 'Chocolate Milk'
Popular in the Community