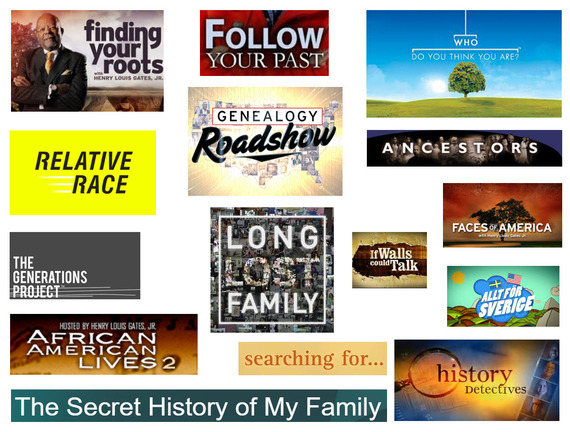 It only took about two decades, but this genie's wish has finally been granted: genealogy is now officially its own TV genre. With current offerings including Who Do You Think You Are?, Finding Your Roots, Relative Race, Genealogy Roadshow, Long Lost Family, and Follow Your Past, it's clear this is no passing phase. Family history on TV is here to stay.
Some of us can remember back to the late 1990s when PBS took the lead by introducing Ancestors which ran for two seasons, and way back in the dark ages of 2007, I had a deal with TLC for a genealogy program which unfortunately crumbled when the executive producer insisted on "no history" (no kidding). But look how far we've come since then!
Oh, we've flirted with it in the past. African American Lives, Ancestors, Ancestors in the Attic, Faces of America, Find My Past, The Generations Project, and Searching For all come to mind as series that entertained us for a season or two. Family history has been served up in barely disguised versions such as History Detectives and If Walls Could Talk, and discreetly tucked into non-genealogical shows such as Top Chef.
But Who Do You Think You Are? is now in its eighth season and has run for 12 in the United Kingdom where it originated, and both Finding Your Roots and Genealogy Roadshow are three seasons in. Relative Race pushes the genre in a new direction by turning it into a game, and there are enticing, overseas formats such as Sweden's Allt för Sverige and the U.K.'s The Secret History of My Family just begging to be imported. Yes, we've reached the "me, too" stage where network and cable outlets that don't yet have a genealogical show should be shopping for one.
We've seen this happen before with cooking, design, and home-buying genres to name but a few, and it's finally our turn, but at the risk of sounding greedy, this genie has one more wish.
When you watch cooking shows, you see chefs - or at least wannabe chefs. When you watch design shows, you see interior or fashion designers, and when you watch home-buying shows, you see realtors. Why then is there such a scarcity of genealogists on genealogy shows?
Genealogy Roadshow is the exception that proves the rule since it features three genealogists. Who Do You Think You Are? tends to include a cameo by a genealogist every other episode or so (though there are many experts in the show, most are professors rather than those who did the sleuthing) and Finding Your Roots typically incorporates one appearance per season where a genealogist speaks. And that's it.
So thank you for all the family history-themed shows. We love them all and are truly grateful. But if it's not too much to ask, could the next one include some genealogists?
Popular in the Community