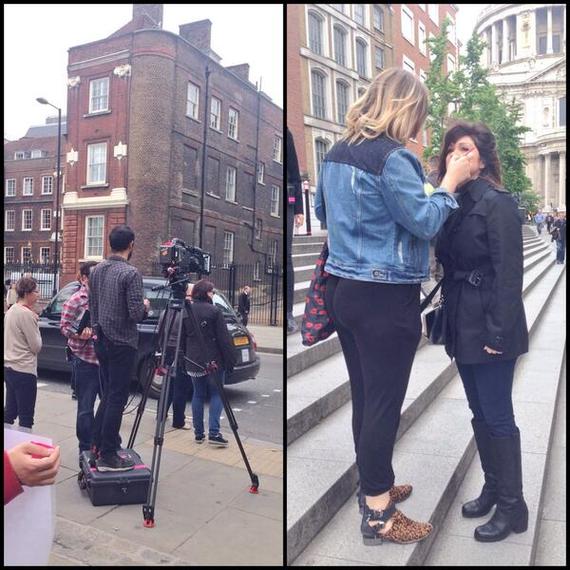 A pair of Valeries: Valerie Bertinelli tapes for Who Do You Think You Are? in London and Senior Advisor to President Obama, Valerie Jarrett, learns about her heritage in Finding Your Roots
If you're as obsessed with celebrities or genealogy (or perhaps both) as many these days, you're in luck as both TLC and PBS have announced fresh seasons of their celebrity roots series. Who Do You Think You Are? returns on TLC on July 23 for six episodes, while Finding Your Roots will launch 10 on September 23. And just for good measure, PBS is tossing in a second season of its "regular Joe" ancestry show, Genealogy Roadshow, which is now seeking stories for a September taping in New Orleans.
If you're not familiar with these shows, they both feature well known individuals learning about their roots, but there are several differences, beginning with the volume and nature of the celebrities. Each episode of Who Do You Think You Are? focuses on a single person, while Finding Your Roots swirls the stories of two or three together -- generally centered on a unifying theme such as immigration -- in any given show.
Those on Who Do You Think You Are? consistently come from the entertainment field with an occasional tip of the hat to sports. This season, for instance, will have Valerie Bertinelli, Jesse Tyler Ferguson, Lauren Graham, Kelsey Grammer, Cynthia Nixon, and Rachel McAdams (no athletes this time). Given that TLC also purchased past episodes from NBC (where the series initially aired in the U.S.), it's possible that Matthew Broderick, Lisa Kudrow, Rob Lowe, Reba McEntire, Tim McGraw, Gwyneth Paltrow, Sarah Jessica Parker, Brooke Shields, Vanessa Williams and Rita Wilson will also make an appearance.
By contrast, Finding Your Roots includes both performers and individuals known for other reasons, such as writers, producers, presidential advisors, and chefs. As with Who Do You Think You Are?, they also mix in a few athletes. Among the 30 celebrities hitting our screens starting this September are Ben Affleck, Billie Jean King, Tina Fey, Ken Burns, Anderson Cooper, Courtney B. Vance, Stephen King, Sally Field, Gloria Reuben, Rebecca Lobo, Carole King, Deepak Chopra, Ming Tsai, Angela Bassett, Valerie Jarrett, Aaron Sanchez, Derek Jeter, Tony Kushner, Nas, Tom Colicchio, Khandi Alexander, and Alan Dershowitz (that's three Kings in case you're keeping score).
The formats of the two shows also differ. In Who Do You Think You Are?, the star embarks on a road trip of self-discovery, piecing together the clues of their heritage with the assistance of what might be considered local guides -- mostly professors, but sometimes archivists, librarians or genealogists. Finding Your Roots is much more studio-based with celebrities seated at a table with host Henry Louis Gates, Jr. who walks them through a "book of life" that's been prepared in advance. The show also incorporates field footage, which may or may not include the celebrity whose family history is being told.
Over past seasons, Finding Your Roots (which is a continuation of sorts of the earlier PBS series African American Lives and Faces of America), has steadily spotlighted genetic genealogy. While this has been less true of Who Do You Think You Are?, that will likely change this year since the show's sponsor, Ancestry.com, has been placing greater emphasis on its DNA offerings of late.
And finally there's Genealogy Roadshow, an Irish import, which tackles the rest of us who aren't famous enough for the other two shows. PBS has not yet announced the debut date of its second season.
(Full Disclosure: The writer has worked on Who Do You Think You Are?, Finding Your Roots, African American Lives, and Faces of America and wrote the companion book for Who Do You Think You Are?).
Popular in the Community