When traveling across hundreds of thousands of miles of unrelenting global terrain, an expert companion able to guide you through the worst of weather and environment is always helpful. In unrelenting desert heat, on foot with a camel as your companion, you would want the best of the best in desert survival training to ensure your safe travels -- especially walking through the Saudi desert, one of the harshest in the world. You would be lucky if that expert guide was former Saudi Special Forces General Mohammed Banounah, who was given the arduous but exciting task of accompanying Pulitzer Prize-winning journalist and current world-traveler Paul Salopek through Saudi Arabia. I had the pleasure of meeting both of them in my own home in Riyadh, Saudi Arabia last month (my article on Mr. Salopek can be found here, and his official National Geographic page for the Out of Eden Walk is here).
One might wonder how, not to mention why, General Banounah decided to lend his expertise to Mr. Salopek. Mr. Salopek first got a hold of him through George Steinmetz, world-class desert explorer, who recommended the General as the best man for the job. As for General Banounah's reasons to accept the challenge, he replied simply, "Because he's Paul Salopek." More specifically, General Banounah felt he was living a dull life after he gave his wife a promise not to go on any more dangerous adventures and was away from the desert for a very long time, yet he still felt his 30 years of special forces experience inside of him.
Reminiscing, he vividly described the first time he had to survive in the desert, for a Saudi army ranger course in the Tabuk region. That's also where he first thought about writing his famous desert survival book, The Guide to Desert Survival (rough translation in English). Its origin arose from a visit to a journalist, who asked General Banounah to write a story for a magazine. The General wanted to write something different, about survival specifically; it was 30 pages long, which turned out to be too long (he thought it was too small), but the journalist ended up loving it. General Banounah was recommended to finish it, as this was to be the Middle East's first and very much needed desert survival book! His newest idea is to make a Saudi Arabian photography collection, and he has already amassed an impressive 40,000 photographs.
What exactly gave General Banouneh the necessary experience to create such a milestone in the history of Middle Eastern desert survival? He described his worst training as when they were told they were inside enemy territory between mountains. At night, their instructors pursued them, and they had to escape again and again to other places. To this day, he faces trouble sleeping at night. Through hardships like this, he now has the ideal tip for surviving in the desert: knowing your enemy, which is fear. "Never panic, find some way to solve the problem, pray, be stronger than the fear. Sleep with your ears open, with open senses. Be sure there is a way," he explains. His way is watching the animals themselves to see how to survive, such as observing which plants the ants would eat and which to avoid, and where they would all travel for water. He also had to learn how to make and find shelter, perform first aid for yourself and buddy, and keep a sense of direction. After these trips to the desert, he often comes homes and sleeps for two days. "In the desert I'm another guy," he elaborates.
General Banouneh has gone through all sorts of humorous and thrilling adventures in his desert travels. This includes being bit by a venom carbet, a desert snake, and having to go to the ER for 9 days. The most memorable one to him was falling down while he was climbing a mountain. After waking up (in his underwear, no less) he noticed birds circling above him as if he were dead and to be their next meal, but was still defiantly alive although he couldn't move. Chortling in his booming laugh, he recounted that two Bedouins discovered him and wanted to carry him away, but he still managed to walk himself. At the hospital, he found both of his hands to be broken; when asked why this happened, he answered honestly, "I am an unusual man."
After hearing all of this, you'd be surprised to hear that General Banounah is truly a compassionate, kind fellow! He attributes his gentle character to a hearty schedule of healthy food and drink, and early mornings and nights. Whether finding a scorpion in his shirt or surviving in the desert for a whole month on his last National Geographic trip, General Banounah has proven to truly be the perfect man for the job in aiding Paul Salopek through the extended deserts of Saudi Arabia on Mr. Salopek's landmark walk across the entire world.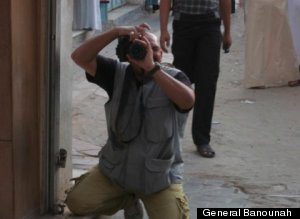 General Banounah at the Jeddah spice market.
REAL LIFE. REAL NEWS. REAL VOICES.
Help us tell more of the stories that matter from voices that too often remain unheard.