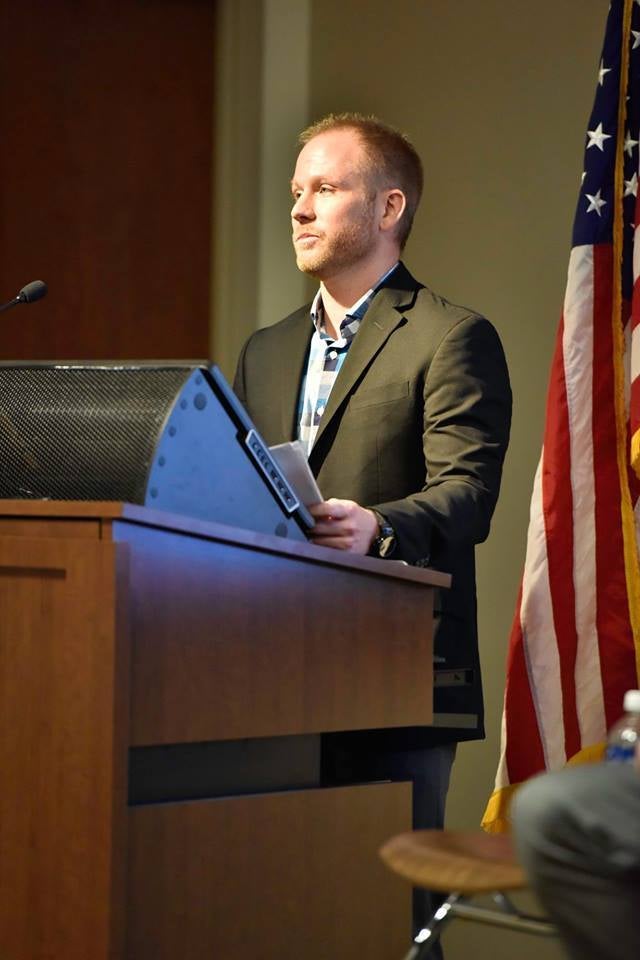 /www.whentojump.com/"}}">When to Jump, an independent media partner of The Huffington Post, is a curated community featuring the ideas and stories of people who have made the decision to leave something comfortable and chase a passion.
Love for baseball isn't born. It's slowly brought to life within us. Through the culmination of salty pop-corned memories and "Take Me Out To the Ball Game" renditions under the bright megawatt lights that light up the green field and tiny baseball players that look like figurines.
It's the repetitious positive memories in the ball park that creates that loyal love for the game.
Eric Jarinko is no exception to this experience. His own love of baseball was molded from a young age in his hometown of Harleysville, Pennsylvania. His parents were both teachers in the public school system.
"I grew up playing little league at five years old and all the way through highschool.  I can't really put my finger on why I love it. It was the sport I was best at." Eric's letterman jacket was speckled with accolades for golf, basketball and baseball.
When it was time to choose a college, Eric wanted sunshine.  Eric attended Clemson University  and spent his time studying as an engineer major. "I was like, this is just awful. I can't keep doing this." At that time, Clemson rolled out a sports marketing program in the business school. Eric wasted no time switching majors. Finally he could see himself working the rest of his life in the career he was studying for.
Junior year of Clemson was all about the work.  Eric worked twelve hour days Monday through Thursday morning in a lumbar yard. Thursday at 6 PM, he'd drive 2 hours to Maryland work the back half of a game and couch surf Thursday through Sunday while working his non-paid internship with the Bowie Baysox.
"Go into the office and work, or help out with the games. As soon as my day was done with Sunday and drive back to Pennsylvania, wake up and get ready, go back to the yard and start over again. You're probably hard pressed to find an intern that would go through the summer that I did that year."
Eric's connections through that internship set him on a path straight for Greenville, South Carolina. "I made great connections and getting to know a lot of the players that came through the league. Working on those events. That led me to the front office that season and all that happened afterward." 
Eric was offered a job in Frederick, Maryland working for Frederick Keys.  But the pay in minor league isn't great. Especially when starting out. He was paid $900 a month, with a monthly rent of $1500.  His parents helped him out and when Craig Brown was in the beginning stages of starting the Greenville Drive, in Greenville, South Carolina, Eric wanted to learn more about the opportunity. 
"I came down in October of '05 and interviewed with Craig and Nate and two weeks later they put you as director of media relations and has been here since.  I've been with the organization 11 years. When I first started- I loved doing the PR side of stuff. Working with the players and the community- the team and the staff. Doing the stats. I came back here with the intention that I'd be the number 1 guy here for 3-4 years then transfer to Clemson or move back for the Phillies or the Eagles in media relations. " 
Eric loved dabbling in all the departments.  After 5 years with the Greenville Drive, he really began to find himself wanting to learn more from the business side of running a ballpark. So he approached Craig Brown and Brown gave him more responsibility. "The more responsibility-the more I thrived, " said Eric in reflection to the days leading up to being General Manager.
 When Mike deMaine relayed to the staff that he was transitioning out of the General Manager position, Eric became the Assistant GM. Eric began to work more on the ball park budget and worked up statistics. "How did yesterdays game compare to todays? I really like numbers- we still joke about it. I love to do comparisons and stats, just like for players but instead for games."
"I didn't know what to expect from this, but Craig Brown pushed me to apply for the Leadership Greenville program through the Greenville Chamber of Commerce. I didn't want to half-ass it, but also was in my first season crafting the budget from the ground up."
Eric loved every moment. "I look back at that class and there were so many strong leaders. I don't like a lot of personal attention- I like being involved. My motto is door is always open. If we excel it's a team thing. At the same time- if something negative occurs I will shield off our staff and take the brunt of that. That's my style because when it comes to that it starts at the top. " 
It was his experience with Leadership Greenville that developed Eric into the community leader he is today. " I'm not as vocal in certain situations as a leader. That class had so many strong leaders and strong voices. The members have gone onto do even bigger things like running for their respective county  councils."
11 years later, Eric Jarinko still loves his job. "I still love it. Everyday coming in, meeting new exciting people. People come here to escape reality. They love the affordability of this experience and our players and staff."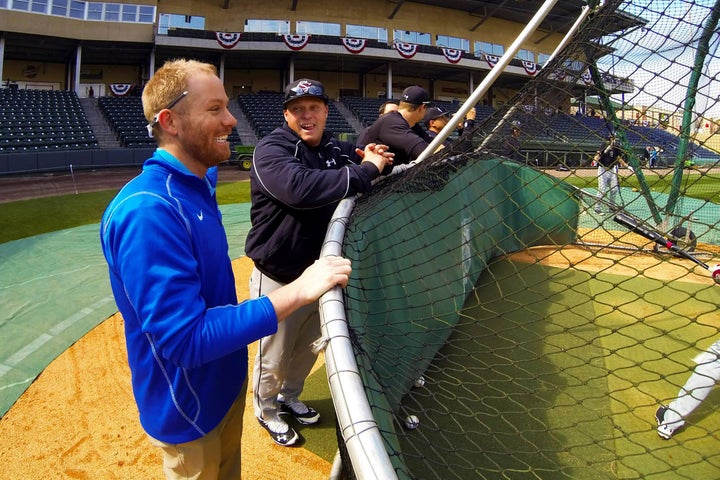 Being the GM of a high-profile stadium in the South comes with it's perks. Eric sits across from me in Endeavor slightly exhausted and apologizes for his sleepiness. He explains that the night before had run later than anticipated. Randy Houser wanted to play on Fluor Field after his show and of course, Eric had gone on there with him, shagging fly balls as he was hitting.
"I have friends who hate their 40 hour a week jobs and can't understand how I can work 80-90 hour weeks. I wouldn't trade it for a thing."
Eric's mission at the Drive is to awaken the love of baseball in the hearts of Greenvillians. Sure, Greenville has a history with baseball that traces back to the days of home-spun fabrics and shot gun houses. But the Greenville Drive is giving baseball a second chance to succeed in the South. No longer is this sport rotated amongst the mill-villages or played in falling-apart stadiums with 30% occupancy.
Under Craig Brown, Nate Lipscomb and Eric Jarinko's (and the incredible innovative staff of the Greenville Drive's) tutelage- the Drive is providing a new enriched experience for all age and income levels. Seats are affordable and start at $6. 
The Greenville Drive hands out tickets to non-profits, community centers and low-income students and families, thus boosting the popularity of the Greenville Drive regionally.
Fluor Field, the name of the Drive's stadium is where Greenville, South Carolina is slowing learning to remember their heritage. Baseball is the Greenville identity, and now we can proudly claim it as our own.
/www.whentojump.com/"}}">When to Jump, an independent media partner of The Huffington Post, is a curated community featuring the ideas and stories of people who have made the decision to leave something comfortable and chase a passion. You can follow When to Jump on /www.facebook.com/whentojump"}}">Facebook, /www.instagram.com/whentojump/"}}">Instagram, and /twitter.com/whentojump"}}">Twitter. For more stories like this one, sign up for the When to Jump newsletter /www.whentojump.com/newsletter"}}">here. (Note: The When to Jump newsletter is not managed by The Huffington Post.)
Calling all HuffPost superfans!
Sign up for membership to become a founding member and help shape HuffPost's next chapter