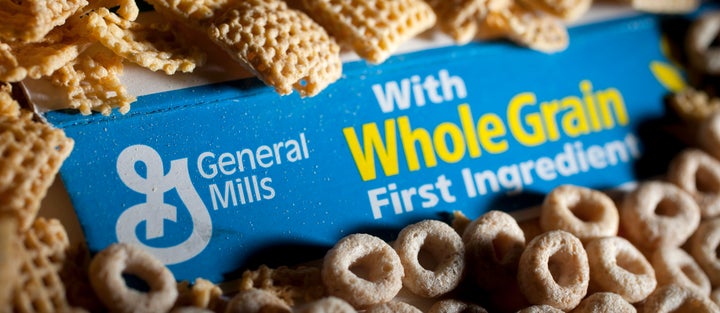 In a rebuff to climate deniers, the CEO of American food giant General Mills has asserted that global warming is being created by human activity and is threatening to disrupt global food supplies.
Announcing that the company has set a goal of reducing its greenhouse gas emissions by 28 percent over the next decade across its value chain, from farm to fork to landfill, Ken Powell told The Associated Press: "We think that human-caused greenhouse gas causes climate change and climate volatility and that's going to stress the agricultural supply chain, which is very important to us. Obviously we depend on that for our business, and we all depend on that for the food we eat."
A spokeswoman for the company, whose brands range from Yoplait yogurt and Pillsbury to Haagen-Dazs ice cream and Green Giant vegetables, went further, telling The Huffington Post that a failure to address climate change would make it extremely difficult to feed the world's growing population, which is expected to exceed 9 billion by 2050.
She pointed to extreme weather and the decline in pollinating insects as worrying signs that are already impacting food production, and she noted that climate change will place stress on vulnerable growing regions around the world that provide important ingredients to make food. For example: 70 percent of the world's cocoa is sourced from two countries in West Africa; 90 percent of the world's vanilla is sourced from Madagascar; and 80 percent of the world's almonds are grown in California.
"While our success depends on our actions, we cannot get there on our own," he said in a statement. "We believe every company, government and individual has a role to play. Climate change is a shared, global challenge that is best addressed at scale."
General Mills, which will invest more than $100 million in energy efficiency and clean energy within its own facilities worldwide, last year became a member of Business for Innovative Climate and Energy Policy (BICEP), a leading advocacy coalition of businesses committed to working with policymakers to pass climate and energy legislation. It also joined competitors such as Unilever and Nestlé, by signing BICEP's Climate Declaration, which states, "We cannot risk our kids' futures on the false hope that the vast majority of scientists are wrong."
General Mills, which has nearly $19 billion in annual sales, is one of a small but growing number of businesses that are now starting to model their sustainability targets using a science-based methodology to achieve emission reductions that are, as General Mills puts it, "necessary to sustain the health of the planet."
It is has therefore made a commitment in principle to reduce its absolute emissions by between 50 - 74 percent within the next 35 years, in line with the recommendations of the Intergovernmental Panel on Climate Change (IPCC).
The company is not alone in warning about risks to the agricultural sector from rising global temperatures.
Only last year, Walmart's U.K. supermarket chain, Asda, published a report by consultants PwC which showed that 95 percent of its entire fresh produce range is already at risk from climate change. The study was the first attempt by a food retailer to put hard figures against the impacts global warming will have on the food it buys from across the world.
General Mills claims it is leading its competitors in targeting its entire value chain rather than just focusing on its own direct operations, which account for less than a 10th of the overall impacts. It is teaming up with suppliers to encourage more sustainable agricultural practices, including sourcing products from an additional 250,000 acres of organic production globally within five years.
"We know our greatest impact is outside our four walls – particularly in agriculture, ingredients and packaging," Powell said. "To reduce emission levels, we must work across our value chain with growers, suppliers, customers and industry partners. Together, we will identify new solutions and promote sustainable agriculture practices that drive emission reductions."
He gave the example of creating better dietary and manure management practices in the dairy industry, given that cows emit huge amounts of methane, which is over 20 times more potent as a greenhouse gas than carbon dioxide.
However, the international NGO Oxfam, which ranks the 10 biggest food and drinks companies on their policies and commitments to improve sustainability and food security, earlier this year ranked General Mills as second from bottom. It scored only 31 percent, compared with Unilever at 71 percent and Nestle at 69 percent.
Related
Popular in the Community