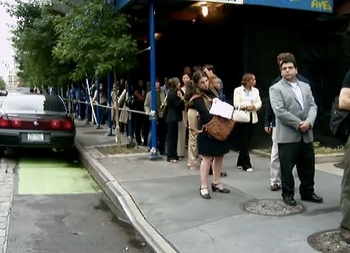 Despite being slightly underwhelmed by my last encounter with Barack Obama, upon receiving an Aug 13th email inviting me to "Join Barack Obama in Brooklyn" on August 22, I was more than happy to shell out 25 dollars for a second chance to see and hear the Senator in person. Twenty-five dollars is pocket-change, after all, when it comes to getting in the same room as a presidential candidate — particularly one who has recently graced the cover of GQ and inspired the kind of YouTube coverage that Hillary Clinton (or anyone else, for that matter) can only dream of. So it wasn't all that surprising when I received another email this past Monday reminding me of my rendezvous with the Senator and alerting me to the fact that this event had sold out.
The event ran from 5:30 - 7 p.m., said the email, and doors would open at five. Assuming from the last time that the Senator wouldn't go on till at least 6:30-ish, I arrived just before six to discover that the line-up to get in stretched back two long blocks. To the naked eye it looked as though upwards of five hundred people were lined up on the sidewalk and I assumed from this that the event had been delayed and the doors were yet to open.
Alas, this was not the case, as I soon discovered when a young volunteer began making her way down the long line to inform the waiting masses that the event had been overbooked. She was Jenny Yeager, the New York Finance Director for Obama'08, and she informed us that the hotel had closed the room because it had reached fire-code capacity.
Certainly if this had been a general admission event one might expect to be shut out, but we had all bought tickets in advance!
When I asked how an event that had pre-sold tickets could be so over-booked I was given a variety of possible reasons: People had brought their aunts and uncles with them unannounced, local politicians may have invited their friends along, event locales sometimes used larger stages than planned, resulting in limited space. Certainly all reasonable excuses, though it was clear that most of the mainly volunteer staff had also been taken aback and didn't actually know. It must be said, however, that considering the crowd waiting outside was at least a quarter of the capacity of the main room, it was fairly clear that the root of the problem went beyond hangers-on and plus-ones.
Later, campaign spokesman Bill Burton did respond to my request for clarification, emailing to say that: "Due to the overwhelming grassroots support for Senator Obama, we simply couldn't accommodate everyone interested in attending," and that the campaign was "going to contact everyone affected and make sure they can make it into an upcoming event at no charge." What he did not speak to, however, was how a pre- ticketed event could so wildly exceed expectations.
At any rate, the campaign was as accommodating as they could be given the situation; clip boards were handed out and people were asked to sign their names and email addresses and informed that they could either choose to receive a refund or be put on the list for the next (yet to be confirmed) New York Barack event. Strangely, despite the large crowd and the long-ish wait, no one seemed terribly upset. I did overhear one woman lament that she could have been doing her laundry, but that was about it.
(Perhaps this patient nature was the result of the unusually cool weather in New York - one wonders if tempers might have been shorter if that same crowd had been required to wait outside in the usual August heat. A small upshot of global warming, perhaps? Who knows. However, as a point of environmental interest, the Obama campaign business cards are printed with soy ink on recycled paper.)
So: Are their any conclusions to be drawn from my second night with Obama? If this were a second date, I'd be hard-pressed to commit to a third (not without a bit of song and dance that is, or at least some good chocolate). However, GQ and Men's Vogue covers aside, Obama is not dating material. He's a presidential candidate, and an admittedly once-in-a-generation one at that. There's no question that many, many people want very badly for him to be the person they hope he is — dangerous position to be in perhaps. Much of the post-debate(s) talk thus far has been how Hillary is performing above her low expectations and high negatives. Obama, on the other hand has of late been chipped away at by many who have their eye trained on him: a slow and steady taking down, most recently by Ryan Lizza in GQ, who strips away some of Obama's dignified veneer, and then again at the beginning of Sunday's Debate when George "Let's Start A Catfight" Stephanopoulos led with the question, "Is Barack Obama ready to be president, experienced enough to be president?" and then let all the other candidates have a go at the junior Senator from Illinois.
What does this have to do with a badly organized fundraiser in New York? Maybe nothing, but my main complaint about the last Obama event I attended in June (that one cost $100 and wasn't near full to capacity) was how widely the Senator missed the mark in terms of his audience (such an easy target, I said at the time, "that a blind man would have had trouble missing it"). Just this week Chuck Todd at MSNBC noted how, during an exchange with Hillary, Obama showed his colors as an inexperienced campaigner at last Sunday's debate.
Getting a candidate (any candidate, mind you, not just relatively inexperienced ones) through a presidential campaign is, as everyone knows, no easy feat -- made immeasurably more difficult by a season(s) that has started as obnoxiously early as this one. Tonight's rather large misstep in terms of crowd expectation and basic organization may just be an example of growing pains in a campaign that is still learning the ropes — or, it may be a sign of stress fractures in structure not fully prepared to go the distance. Enough of those in the foundation can knock a candidate off his pedestal just as thoroughly as more spectacular swipes and missteps.
All that said, when I filled out my name and email on the clipboard handed me tonight by a resolutely chipper volunteer, I specified that I was interested in attending the next event in lieu of a refund. It remains to be seen whether my third attempt with Obama will prove to be a trend, or a charm.
Popular in the Community