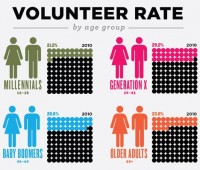 We often hear how Millennials are the most conscious consumers and that Boomers transition from careers to civic engagement. But according to a new federal report on volunteer trends, the oft-overlooked Gen Xers are becoming an important factor in social good efforts.
Generation X (those born 1965-1981) shines in the latest release of "Volunteering In America," the annual report on service and volunteering from the Corporation for National and Community Service. In 2010, overall volunteer participation levels edged lower while the number of hours served nationally stayed flat - a likely indication that the most involved volunteers are putting even more time and energy into giving back. And Gen Xers are the only generation volunteering more hours than years past.
Why the uptick, when everyone else is slacking? The rise in Gen X service hours reflects the arc observed in the volunteer lifecycle, where individual involvement increases as they feel more connected to communities via home ownership, having children and more stable employment - the exact life stage many Gen Xers are currently in. (Check out the VolunteerMatch group discussion about this on LinkedIn.)
Since retired Boomers and under-employed Millenials have more time outside of the work day, we may expect they spend more of their time serving. But the data show the inverse is true. The reality that these groups are spending less time volunteering speaks to the impact the economic downturn has on nonprofits, as layoffs reduce the ability of organizations to engage skilled volunteers (popular with Boomers) and keep up with multichannel communications (critical to engaging Millennials).
Corporate Investments Paying Off
Corporate investment in volunteerism is driving overall volunteer participation. Whether it's encouraging employees to get involved in a corporate program or putting out a call to consumers to get on board with service, it takes commitment, perseverance and drive to engage volunteers.
Within our network, much of the push is now coming from companies. Last year alone 45% of the volunteer activity across our network was generated through corporate channels. (We wrote about the overall impact of corporate engagement last year.) Much of that effort is targeting civically engaged Gen X workers.
It may be tempting for companies to focus on the Gen X super-volunteers. But we will caution organizations not to put too many eggs in that basket.
Gen X has a small generational population, and at some point the number of service hours will plateau. One person can only give so many hours, while engaging more people to take part has greater potential. Corporations have an excellent opportunity to increase impact by increasing the capacity of nonprofits to better engage Boomer and Millennial volunteers, and encourage these groups to be more active participants within corporate volunteer programs.
Building a broader base of volunteers and streamlining how nonprofits manage new recruits is the only way we will see real growth for volunteering in America over time.
(Infographic: National Service Blog)
Popular in the Community