One of the good things about academic associations is that they often invite students to participate in meaningful discussions about professional matters.
Such was the case at last month's Citadel Symposium on Southern Politics in Charleston, SC. Several undergraduates in political science courses at Florida Southern College and the College of Charleston presented papers about the South.
In this post, I will try to summarize what we learned from some of these presenters.
David Ahnen (College of Charleston): "The Prospects of Hispanic Mobilization in the South"
Ahnen posited that Hispanics certainly have the ability to transform the politics of the South. However, based on data from the American National Elections Study, he reported that the Hispanic electorate has not been swept off its collective feet by either political party and shows signs of political moderation.
I come to this conclusion for five key reasons: (1) the early success of Republicans with the Hispanic vote debunks the fallacy that Republicans are incapable of carrying the majority of Hispanics; (2) the stances that Hispanics take on issues align most accurately with self-identified Independents; (3) Hispanics' loose party association with the Democrats is arguably due to Republican's stance on immigration and proclamation as to make English as the primary language in the United States; (4) Hispanics remain very moderate in terms of ideology; and (5) the 2012 election results do not provide conclusive results as to imminent identification under either political party.
Katherine Curley (College of Charleston): "Southern Women, Social Identity and Political Involvement in the American South"
Curley's preliminary review of data from the 2011 Pew Research Center for the people and the press suggested that women in the South, in general, report less knowledge of politics than men; and it is not merely southern gender roles that prescribe this behavior.
Instead, I would now suppose that the women living in the South, whether they identify as southerners or not, are less likely to come in contact with political information and most likely have few political avenues available in which they pursue political knowledge, activism or leadership.
Branden Davis, Saga Moss Lundstrom and Madison Nickell (all Florida Southern College): "Education's Impact on the South's Economic Development"
Davis/Lundstrom/Nickell (shown in this photo during their presentation) set out to determine whether education spending was related to education outcomes and median income in the South.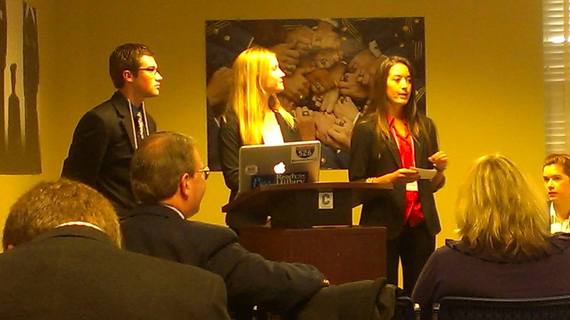 They report that, based on U.S. Census Bureau data, they could find no identifiable relationship among these variables.
The reality of the situation is that while X dollars may be spent per pupil a year you cannot assume that all of the money is being used for educational purposes ... Therefore, we have concluded that our research does not support the idea that looking at the raw numbers of how much a state spends on education can reflect how well educated the state is... The current way of reviewing data to be able to determine how much a state spends in relation to the level of education they have is inconsistent and not applicable to the way educational spending is set up today.
Matthew Geras (Florida Southern College): "The Effects of the 17th Amendment on Voter Responsiveness"
Geras attempted to determine how adoption of the 17th Amendment (1913) -- mandating the direct, popular election of U.S. Senators -- affected turnout, with particular attention to differences between the South and non-South. He found this task very difficult, due to a combination of other political factors at play during the period of study and insufficient, inconsistent electoral data. He concluded that "there is no clear or indisputable evidence that it had much effect at all on voter turnout in the United States." He voiced common complaints among historical scholars: (1) the available historical election data that is readily available makes it very difficult to draw definitive conclusions about national turnout during that time period; and (2) additional research would have to be done on a state-by-state basis to get a handle on the issue of voter suppression and lower turnout in the South.
Jake Benoit and Carter Payne (both Florida Southern College): "A Conservative Storm: The Impacts of Hurricanes Katrina and Rita on Voting Patterns in Louisiana"
Payne and Benoit originally speculated that, given the large pre-storm and pro-Democratic African-American population of the city and the decrease in the population of New Orleans as a result of the hurricanes, there would have been a decrease in Democratic voters and an increase in Republican voters in Orleans Parish, as well as the other impacted parishes in Louisiana. However, some surprises emerged from their review of voter registration data obtained from the Louisiana Secretary of State:
No clear conclusions on the political impacts of Hurricanes Katrina and Rita can be drawn from our data. If anything, the political impacts of Hurricanes Katrina and Rita were a slight acceleration of a process which was already occurring... A decrease in Democrats, mostly in White Democrats, is clearly the current trend in Louisiana... This shift could have been slightly accelerated by the natural disasters of 2005, but little evidence exists to support such a claim.
The work of these undergraduate students contributed substantively to our understanding of southern politics. Interestingly, too, they encountered the same kinds of frustrations and limitations faced by all of us in this area of inquiry. Sometimes we try to demonstrate something worthwhile about politics in this part of the country, only to discover that the data are insufficient to reach a clear conclusion. Their performance reflects well on them; and it is a testament to their professors. The Citadel Symposium also deserves a "thank you" for always involving student scholars in this program.
AUTHOR NOTE: This column is part of a series of posts about southern politics. These posts derive from the 2014 Citadel Symposium on Southern Politics, a gathering of regional specialists in historic Charleston, SC. This symposium has been held every-other-year since 1978; and it has become a "main event" for serious South-watchers from around the country. A hundred specialists -- representing scholars from about 50 academic institutions -- participated in the most recent conference, March 6-7, 2014. In this series, I will attempt to incorporate pertinent aspects of the presented papers and some of my own comments into various themes.
Popular in the Community