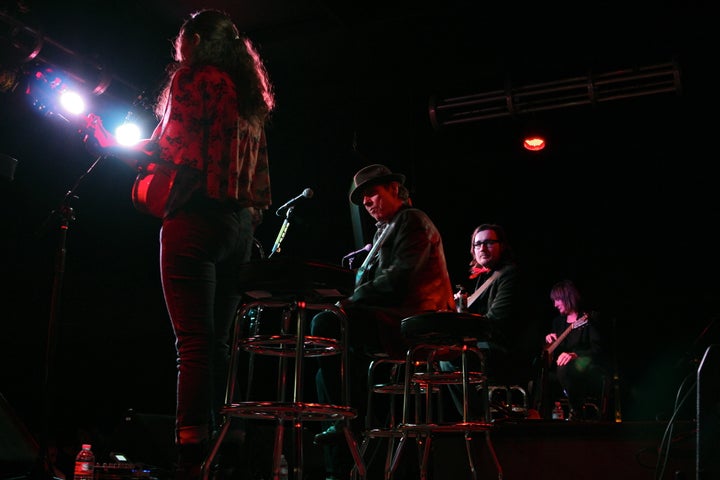 "I just don't like killin'," John Hiatt says. "I mean, if somebody's about to harm your family, sure. You do you what you have to do. But to plan out the killing a guy who could just as easily be locked up, I just don't get it. We might as well be lopping off the hands of thieves, cutting out the tongues of liars."
Hiatt is backstage, memorizing lyrics and rehearsing with his daughter Lilly the song they'll sing later in the night. Chris Scruggs, grandson of bluegrass legend Earl Scruggs, was also backstage, chatting with his mother Gail Davies while showing off the ode to Woody Guthrie he taped to his guitar: This Machine Kills No One. (Guthrie's guitar killed fascists.)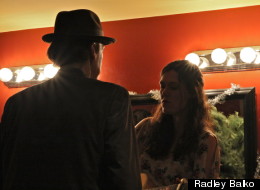 Scruggs, Davies, and the Hiatts were all preparing for Monday night's Generations Against the Death Penalty, an annual concert benefit for the advocacy group Tennesseans for Alternatives to the Death Penalty (TADP). As the name implies, the show features Nashville musicians taking the stage with their sons and daughters. The pairings made for some poignant moments--and some terrific music.
The benefit is the brainchild of Lauren Brown, a Nashville-area therapist and part-time musician who became interested in the death penalty while counseling people who had been convicted of violent crimes. "I wanted to be on TADP's board," Brown says. "But then I learned that when you serve on a board of directors of an organization, you're supposed to give them a lot money. I didn't have a lot money to give them!"
Brown says she was talking with fellow Nashville musician James Green and his mother when the idea was born. "I thought since we're here in Nashville, a benefit show would be a great way to raise money. At the time, I was counseling both child victims of crime as well as those convicted of murder. It helped me see that we're all human. So we were in the kitchen talking about the idea of a show with James' mom. She pointed out that there were a couple generations of musicians in the room. So why not make 'generations' the show's theme?"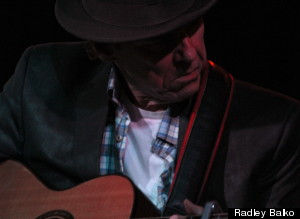 This is the show's third year. TADP director Stacy Rector says the inaugural event attracted only a few dozen people. But last year it sold out the Station Inn. They moved this year's show moved to the larger and newly renovated 3rd & Lindlsey, and played to a full house. "We're really excited by how much it's grown," Rector says.
Brown played master of ceremonies, and kicked the evening off by asking the audience to sing "Happy Birthday" to exonerated death row inmate Paul House. House spent two decades on death row, was nearly executed, and was released last year after a long legal battle. He's one of two Tennesseans exonerated from death row. The other, Michael McCormick, was also in attendance. House was diagnosed with multiple sclerosis while in prison, which his attorneys say wasn't properly treated by prison officials. The disease now has him confined to a wheelchair. House turned 50 Monday night and celebrated with a seat in the VIP section. "He came last year too, just after he was released from prison," Rector says. "He joked that it was the best concert he'd seen in 23 years."
Green was first on stage, along with his father Doug Green of the novelty country band Riders in the Sky. They were followed by John and Lilly Hiatt, along with Scrugs and Davies. The final set featured Nashville royalty Rodney Crowell and Roseanne Cash, the former husband and wife, along with their daughter Chelsea.
Rector says it hasn't been difficult finding Nashville artists for the cause, even in country music, where politics tend to skew more to the right. But she says that may be because the politics of the death penalty are changing. "Conservatives have never been more receptive to us than they are right now. We've worked with a number of Republican legislators in the last few years. The cost is an issue for them, and I think the innocence case have alarmed some of them."
Highlights from the night include Doug Green's dizzying stretch of yodeling, John Hiatt's solo renditions of his hits "Crossing Muddy Waters," "Lift Up Every Stone," and, in particular, "Feels Like Rain," one of the prettiest songs in Hiatt's massive catalog.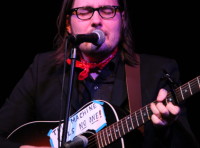 Scruggs and Davies kept the show in tune with the night's theme. Scruggs crooned a mesmerizing take on "Long Black Veil," Danny Dill's haunting ballad of a man wrongly executed for murder. Davies ended her set with "Can We Be Saved?" a soaring hymn about collective conscience and capital punishment she says she had written just a few days earlier. It may have been the song of the night.
Given his history of camaraderie with the convicted, it was fitting that Johnny Cash's daughter would close the show. Roseanne Cash and ex-husband Rondey Crowell took the stage last with their daughter Chelsea Crowell (fittingly placed between them). They ended the night with humor, moving tributes to the Man in Black, and some holiday family bickering.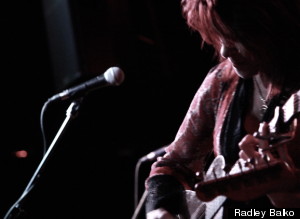 Chelsea played referee as her parents exchanged barbs between songs, which were likely for show, but rang with the authenticity of a couple who'd fought a few times before. That brought laughs from the crowd, and also set Crowell up for "It's Hard to Kiss the Lips at Night That Chew Your Ass Out All Day Long," his hit with country supergroup The Notorious Cherry Bombs. Cash then sobered the building up with "September When It Comes," the only song she recorded with her father, with her daughter singing his part. The final act encored with two songs. The first was "I Ain't Living Long Like This" the title track from Crowell's first album that Waylon Jennings made famous. Multi-act, star-packed Nashville shows tend to end with a grand medley, and it's a safe bet it'll be something by Hank Williams or Johnny Cash. This one would end with Cash, of course. And so the entire building belted out "Big River."
After the show, Rector points out that the state has only executed six people since 1960. "It's a surprisingly progressive state on the death penalty," she says. While House and McCormick have been freed, neither has yet been declared innocent, which would entitle them to compensation. House could use the compensation to help his medical bills. As House's mother Joyce wheels him out after the show Monday night, she stops to let him say goodbye to Brown and Rector. Not only did the state nearly execute House--and take 20 years of his life--in failing to properly diagnose and treat his MS, the state likely shortened what life House has left. Now the disease also shortens his days. "We'd love to stay and visit," Joyce House says, as others line up to see him off. "But he's exhausted, and he just doesn't function when he gets tired."
There are currently 86 people on death row in Tennessee. The last execution was Cecil Johnson, Jr. in December 2009. Several states, most recently Oregon, have put a moratorium on the death penalty in response to the string of DNA exonerations that began in the early 1990s. That seems unlikely to happen in Tennessee, but Rector holds out hope. "We're reaching out to people of all political stripes," she says. "And we're finding receptive audiences in places you might not expect."