On Jan. 21, the Women's March on Washington served as the point of trade between the hands of the previous generation and the voices of the current. In the sea of millions of individuals who challenged the nation's current standpoint in democracy, it was the blood-lined generations who truly flooded the world.
On the corner of Independence, mothers joined hands with their mothers and daughters to join as a single voice of solidarity with their multi-generational peers. Baby boomers and millennials were suddenly one entity of impact, stirring a wave of everlasting change to reinstate the democratic ideals born from morality and not politics.
Within the sea of activism walked 48-year-old Valerie Griffiths and her 16-year-old daughter Caroline. The two say they joined this march to be a part of herstory -- a term women around the world coined as the new era of history.
Caroline, a sophomore at Nova High School in South Florida, said that after the presidential election, she no longer feared speaking her mind about politics. In fact, her beliefs grew stronger.
"People started voting for what they want and what they think will be good in their lives, but what about the rest of the United States?" she explained. "You have to focus on everybody, not just one gender, one race or one sexuality."
Valerie feels like the disparity in equality is something women, minorities, and the LGBT community historically and presently face. Despite the unfairness of the inequality, however, Valerie and other marchers are confident that the vast disparity represented at the Women's March will cause a wave of change.
"I feel like it's my duty as a parent to expose my daughter because she should understand what she's up against in the world," Valerie said. "I feel like her generation has the opportunity to understand it and change it. They're a very inclusive generation, and you can see how they treat people differently than my generation did [from a social perspective]."
This inclusiveness positively charged the marchers. Men and women of all races, sexual orientations, and backgrounds were together -- uniting as the entity of change. Caroline and Valerie explained this wasn't because of Donald Trump becoming President, but because of what his actions represent.
"We're not going to sit still and look pretty and let this stuff happen to us. We're going to fight back against what's wrong," Caroline explained. "People say to me, 'Oh, you're white. Why do you care about the election?' and I just say, 'Muslim rights are human rights and I'm a human.' People think that if they're not experiencing the issue, they shouldn't empathize. I want people to know that no matter who you are or what you look like, these are human rights that everyone should have."
Those who rallied, marched, and voiced their concerns acted as catalysts to an endless reaction. For them, Jan. 21 was more than a day of protest, but a day of emotional therapy, as many of the issues expressed were based on emotional experiences of inequality. For some, this battle is with rape culture -- something Caroline sees far too often. Most recently, a trending hashtag stating #ItAintRape.
"Men were saying, '#ItAintRape if I don't feel bad afterwards,' #ItAintRape if she's unconscious and can't say no,' #ItAintRape and no isn't her language,'" Caroline explained. "When you turn on the news and see someone like Brock Turner gets only six months in jail, and then someone like Trump -- who openly sexually assaults women -- is elected president, it makes it seem like it's OK, when it's not." Caroline, her mother, and numerous other women at the march are strong advocates for the justice of sexual assault victims. They walked to demonstrate that violence does not equal love and that all people need to show affected women that they are worth more than how they are treated. Part of this representation is the support of the controversial Planned Parenthood.
One woman, Debbie Brookes, marched in memory of an occurrence from more than 20 years ago. She explained how, while working in Pennsylvania, she met two women who served as board members for the state's Planned Parenthood. Those two women were sisters, and recounted their life story to Brookes, explaining how their mother found out she was pregnant with her fourth child the day their father lost his job. This happened during the Great depression, and because of the overwhelming circumstances, their father committed suicide.
The widowed mother was left without a job, no income, and was the sole caregiver to three children with one on the way. Being pregnant, she was not able to find work or to properly care for her other children, so she attempted to give herself an abortion. She died in the process, leaving the children to be put in foster care.
With tears in her eyes, Brookes said she doesn't want to see the country force people back to those ways.
"Kids and women nowadays don't realize how hard it was and what it means to have your choice and have nobody else tell you what to do with your body," she said. "We take Planned Parenthood for granted. And they do more than anybody else in this country to prevent abortions. They're the ones out there educating, giving birth control, and helping women."
Ronni Lynn, a 72-year-old exuberant child of the '60s, marched in Miami, sported her Pussy Hat--a pink knitted cap with cat ears -- in support of the march. She explained that the march was a beautiful example of female empowerment that provides hope for future generations
"Women getting together and united shows that respect matters; respect for all people, not just Americans," she said. "I'm very happy to see all of these young people. We need you. We need you to carry on for us."
And while the fight for rights continued, marchers spread throughout the world. Individuals and families of all backgrounds gathered in London, Switzerland, South Africa, New Zealand, and Germany, just to name a few, adding fuel to the fire of freedom.
Helena Redman, a Swedish-born professional singer, artist, and mother of three, attended the march in D.C. with her best friend, a native Trinidadian, to stand up for human values.
"There are a lot of things going on right now that are unacceptable to me on so many levels," she said. "Even on a foundational level -- not political -- I just feel like human decency has gotten lost in the shuffle."
Although her children couldn't accompany her for financial reasons, Redman said her children -- aged 18, 16, and 7 -- adopted her liberal views on racism, sexism, and other equality issues, but not in the political sense.
"Liberal, to me, means progress and forward movement, and I think that's a very positive thing," she explained. "There was a taboo before that's been removed, and it's definitely turning everything upside down, but there's a gift in that. You can't address the issues until you see them."
John Weaver, a disabled father, husband, and activist, explained that the issues people are protesting are a problem for the younger generations.
"All these policy changes...[the older generations] are past that; we'll be fine," he said. "But they will be a problem for you -- our children and our grandkids. You're supposed to care about other people, and that's the part that's missing somewhere."
Attempting to share this message with younger generations, Honey Shine Inc., an organization for girls and women between 8 and 18, took approximately 80 girls to the march in Miami. Members said the group focuses on teaching the girls how to balance their minds, bodies, and souls to empower them.
Asia, 20, got involved when she was in third grade and remains involved, even after she graduated high school. She attended the rally to feel inspired.
"I've never been a part of a rally before -- something that's about women trying to better ourselves. I want to be a part of that," she said. "We should know what politicians stand for. As the new generation, we should know what we want and strive to be better. We need to be groundbreaking and make our own paths."
Agatha Caravallo, a parent volunteer at Honey Shine, said her daughter is in her third year in the program. While she wants her daughter to gain self-confidence and understand her worth, she also wants her to understand what factors could prevent that from happening. After the election, Caravalla spoke to her daughter that it's discouraging the most qualified woman can still lose to the most unqualified man, but women must keep their heads up.
"We shouldn't be in 2017 still making this pace, but we are, and we need to help the girls realize they're worth so much more than what's put out there," she said. "I still believe, despite the election, that every vote counts and every voice counts. I want her to feel empowered to use it."
As the day ended, marchers proclaimed one final message to the world -- hope. The global unification of over 1 million women was the result not of an election, but, as the people stated, the ignorance of respect. The older generations who marched with their sisters and brothers, daughters and sons, and granddaughters and grandsons, created a masterpiece of iconic history.
Jan. 20, 2017 is the day people felt stripped of all rights, but Jan. 21 is the day the spirit of democracy created a new life. The sea of change bore a new era where justice prevails. The law of the land is the voice of the people, and the new generation has spoken.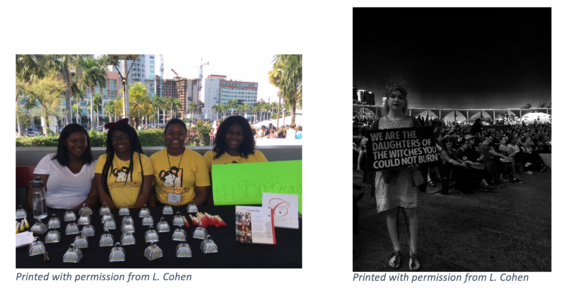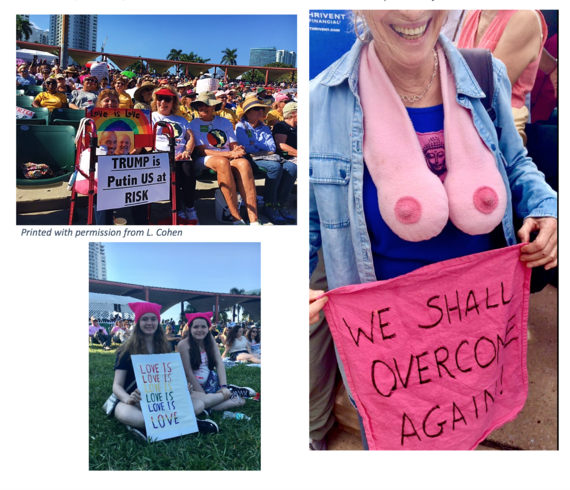 Popular in the Community