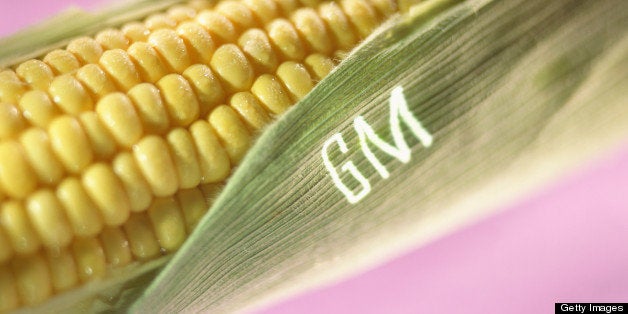 On Wednesday, Sen. Barbara Boxer (D-Calif.) and Rep. Peter DeFazio (D-Ore.) introduced bills to the Senate and House of Representatives that would require food manufacturers to clearly label any product containing genetically engineered ingredients -- or risk having that product classified "misbranded" by the FDA.
Boxer and DeFazio have both previously sponsored bills that would have mandated GMO labeling -- Boxer in 2000 and DeFazio on numerous occasions in concert with former Rep. Dennis Kucinich (D-Ohio). But the new "Genetically Engineered Food Right-To-Know Act" is the first genetically modified organism (GMO) labeling bill to be introduced with both bicameral and bipartisan support. Its nine co-sponsors in the Senate include Alaska Republican Sen. Lisa Murkowski, while Rep. Don Young, also a Republican from Alaska, is among its 22 cosponsors in the House.
In a phone conversation with The Huffington Post, DeFazio, who's been growing organic produce for 40 years, said that he remains agnostic about the health impact of GMOs. He supports mandatory labeling of food with genetically-engineered (GE) ingredients because he wants consumers to be able to decide for themselves whether or not to eat organisms that have only existed for 20 years.
"Even the most ardent free market advocate, someone who's a devout follower of Adam Smith, would have to admit that consumers aren't being given full information right now," he said. "Depriving them of the knowledge of whether or not this food has GMOs does not support a free market."
DeFazio said he hoped the new act would generate a "grassroots tidal wave of support" from constituents, as the National Organic Standards did when he and Vermont Sen. Patrick Leahy (D) proposed them in 1993.
"That year, my amendment was the only amendment to the Farm Bill that got passed," he recalls. "We had built this incredible grassroots base of support -- from farmers, co-op owners, parents. People would go see their members of Congress constantly asking them to support the standards. At one point, I remember one Congressman coming up to me in the hall and telling me, 'DeFazio, I have no idea what an organic standard is, but I'm gonna vote for it just so people stop bugging me!'"
It's not an unrealistic hope. Polls show that the overwhelming majority of Americans -- over 90 percent -- supports mandatory labeling of foods with GE ingredients. Sixty-four other countries, including Saudi Arabia, Russia and China, already require such labels. And dozens of advocacy groups and food corporations have signalled their support of the new bill.
However, strong opposition from the agriculture and biotech industries has scuttled proposals for GMO labeling laws in the past. The most recent and high-profile of these failed attempts at a GMO labeling requirement was California's Proposition 37, which was narrowly defeated in a popular referendum after opponents, mostly in these industries, spent $50 million lobbying against it.
On Wednesday afternoon, representatives of leading GE seed producer Monsanto and the Biotechnology Industry Organization (BIO), a GE trade group, said that they generally opposed mandates for GE food labels, though they had not yet seen the full text of the new bill.
"Unfortunately, advocates of mandatory 'GMO labeling' are working an agenda to vilify biotechnology and scare consumers away from safe and healthful food products," BIO spokeswoman Karen Badt wrote in an email to The Huffington Post.
Scott Faber, president of the Environmental Working Group and the Just Label It! campaign in favor of GMO labeling, said that opposition from the biotech and agricultural industries will mean the bill "faces an uphill climb in both the House and Senate," despite its popularity. But he noted that Alaska Sen. Mark Begich (D) successfully introduced an amendment to the Senate budget bill in late March to require labeling of genetically modified fish. Moreover, the bill doesn't necessarily need to pass to have its intended effect.
"No matter, what, it will put more pressure on the White House and FDA to act on this issue," Faber said.
DeFazio confirmed that he intended the Genetically Engineered Food Right-To-Know Act to put political pressure on President Barack Obama and the FDA. He described the executive branch's stance toward GMO labeling so far as "indifference or even overt opposition."
"They're approaching it more like a competitive biotech issue for the U.S., as opposed to a much more insidious threat to our farmers and to consumers," DeFazio said. "They don't seem to get it yet. We've got work to do there."
But even if the bill fails to pass and to convince Obama and the FDA to require labeling on their own, GMO labeling could still happen soon -- because of the private sector. Whole Foods recently announced that it would require the manufacturers of any GE foods sold in its stores to mark them as such. Elsewhere, a surefire way of avoiding GMOs is to buy organic. DeFazio and Leahy wrote National Organic Standards before the advent of GE crops, but they've since been amended to exclude the use of genetically modified ingredients.
Related
Popular in the Community