March 20 (Reuters) - Whole Foods Market Inc, Trader Joe's and other food retailers representing more than 2,000 U.S. stores have vowed not to sell genetically engineered seafood if it is approved in the United States, a new advocacy group said on Wednesday.
The announcement from the Campaign for Genetically Engineered-Free Seafood comes as the U.S. Food and Drug Administration appears close to approving genetically engineered salmon from Massachusetts-based AquaBounty Technologies.
If it gets final approval from the Food and Drug Administration, the salmon would be the first genetically engineered animal to enter this country's human food supply. The United States already is the world's largest market for foods made with genetically altered plant ingredients.
AquaBounty says its "AquAdvantage Salmon" can grow to market size in half the time of conventional salmon, saving time and resources. The fish is essentially Atlantic salmon with a Pacific salmon gene for faster growth and a gene from the eel-like ocean pout that promotes year-round growth.
Critics say such genetically modified products are not sufficiently tested for safety, carry allergy risks and should be labeled. Proponents disagree and say the products are safe.
Discount grocer Aldi, regional chains such as Marsh Supermarkets, PCC Natural Markets and co-ops in Minnesota, New York, California and Kansas also signed the commitment to avoid selling genetically-engineered fish.
"We won't sell genetically engineered fish because we don't believe it is sustainable or healthy," said Trudy Bialic from PCC Natural Markets in Washington State.
Many popular processed foods - including soy milk, soup and breakfast cereal - sold in the United States are made with soybeans, corn and other biotech crops whose genetic traits have been manipulated, often to make them resistant to insects and pesticides.
Whole Foods, a 335-store organic and natural food supermarket chain, earlier this month said it will require all products sold in its U.S. and Canadian stores to carry a label by 2018 saying whether they contain genetically modified organisms (GMOs).
At the same time, consumer groups are working at the state and federal level to require labels on products that contain GMOs.
Dozens of countries already have genetically modified food labeling requirements, with the European Union imposing mandatory labeling in 1997. Since then, genetically modified products and crops have virtually disappeared from many of those markets.

Support HuffPost
The Stakes Have Never Been Higher
Related
Before You Go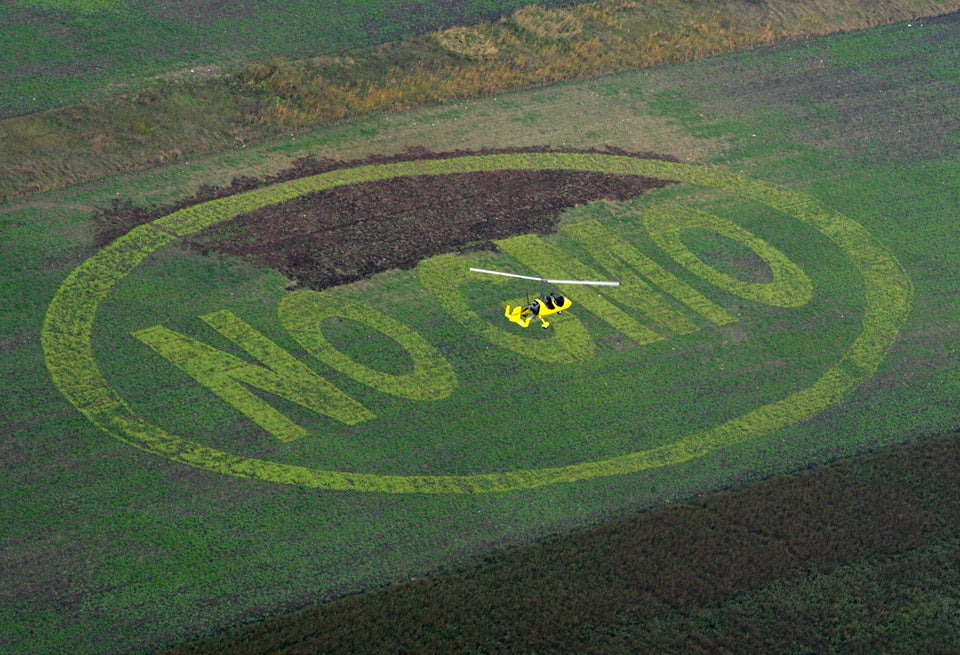 GMO Protests
Popular in the Community