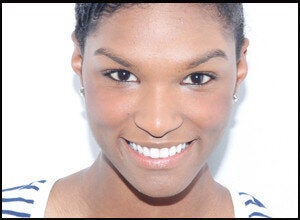 GenJuice CEO Arielle Patrice Scott decided at an early age that she wanted to be the next Mark Zuckerberg. Like Facebook CEO Zuckerberg, Scott co-founded her first company, InternshipIn, while in college. Unlike Zuckerberg's startup, however, Scott's venture didn't grow into a multibillion-dollar behemoth -- by her own admission, it failed -- and unlike the famous Harvard dropout, Scott graduated from the University of California, Berkeley, last year. The other key difference: while Zuckerberg, like so many Web startup CEOs, is a white man, Scott is an African-American woman, part of a still-underrepresented group in the tech industry. Last year, 21 percent of startups seeking angel investments were women-owned ventures, while minority-owned businesses made up just 6 percent of entrepreneurs seeking funding, according to the Center for Venture Research. Yet Scott has not found her race or gender to be obstacles in her career as a tech entrepreneur. She sees women in tech as having certain characteristics that give them an advantage, and instead describes her lack of formal engineering training as her greatest handicap.
"What creates challenges is that I'm a business person, not an engineer," Scott explained. "I'm insecure about being a female entrepreneur who doesn't have an engineering degree, as opposed to a female entrepreneur, in general. As a woman, you do want to assert yourself as capable, and being as technical as possible allows you to feel the most confident."
Scott says her year-old company, GenJuice, which grew out of her senior thesis, aspires to be the "next MTV," a platform for up-and-coming 20-something writers, artists and tastemakers to "discover and be discovered." GenJuice aims to attract talented young bloggers with the promise that posting their work to GenJuice's site will allow them to grow their audiences and monetize their content.
"I grew up in a very poor neighborhood, raised by a single mother, and my love affair with tech began when I realized that it was a huge equalizer," said Scott of her inspiration. "There was so much access I could have, just from having access to an Internet connection."
In an exclusive interview for The Huffington Post's Women in Tech series, Scott shared her take on what it takes to be an entrepreneur, how to increase the number of African Americans in tech, and how to analyze failure.
There arguably still isn't a female Mark Zuckerberg or Bill Gates. Why not?Women don't think big enough. I hate to overgeneralize, because I've met some incredible women lately, especially in Silicon Valley, but there's typically this sense of, "Let's just start off small and see where it goes." I think men tend to think in bigger terms, and women don't allow themselves to.
What's the biggest challenge you've faced as an entrepreneur? When you're building a startup, you have some idea of how to generate revenue and part of that is approaching Fortune 500 companies, which is scary and hard. Getting in the door is difficult, and then actually closing something is one of the hardest things you will do. Building a product is easy, tracking users is also easy, raising money is even easy; but walking in to that door of a Fortune 500 company as a 22-year-old is really intimidating.
Are there any skills that women have that make them better entrepreneurs than men? Yes. I think women understand user experience a lot more. This could be overgeneralizing women way too much, and there are a lot of people on both sides, but I do see it.
I think women just understand how to build great products that solve real problems, whereas I do think that a lot of my male counterparts think about the tech more. They think, "This is really cool," or "This is really fast." A lot of women entrepreneurs can solve problems because they understand the feelings and needs of a user more so than men.
Are there challenges that women face in tech that men don't?I don't pay attention to any of it. I forget that I look different or am different than anyone else who goes to the investor meetings I go to. If women in tech have any more problems than men do in this industry, as a 20-something just getting started, I'm not noticing it because I don't care. I'm going to do this anyway.
I think people judge the fact that I'm young; or that I'm a business person, not an engineer; or that I'm African-American and not Asian.
Are there unique challenges that African-American entrepreneurs face? No. Sometimes it's helpful: because there are so few of us out there, there's a stronger sense of a community. As a woman, I've had a lot of resources through things like Women 2.0 or this interview. Sometimes I feel like we're in a stronger position because we have more resources. Why do you think there aren't more African Americans in tech?There's not enough of a focus on tech or computer science within black communities, both in school and in general. I have friends who are really smart, and they decide to go into civil engineering or mechanical engineering, and then they go work for big companies. There needs to be more emphasis placed on computer science and electrical engineering in schools that attract African Americans.
SOUND BYTES: Arielle Patrice Scott on...

Her indispensable gadget: Her iPhone

Her favorite app: NYCmate (Her favorite Web app: Hype Machine)

Her favorite Twitter account: GenJuice co-founder Danielle Leslie (@DanielleLeslie)

Her "required reading" recommendation: Dale Carnegie, How To Win Friends And Influence People
What's the most important thing we could do to increase the number of African Americans in tech?We need to de-emphasize the traditional way of teaching that's in schools now. We should have a focus on incubator programs, where you go in and you have a project and something you actually need to build. If there were incubator programs within schools today, and a focus on building products, people would understand what goes into those products and what it means to be an entrepreneur. You can't learn how to be an entrepreneur from a book, you can only learn from doing it.
What's the most important thing we can do to increase the number of women in tech?I think there needs to be a huge campaign around the sexiness of this lifestyle. I'm having the time of my life. My co-founders and I are loving life right now. It's stressful as s--t, but it's also so much fun because you get to see your work. You get to talk and meet some of the most interesting people ever.
I think more women and people of color would be interested in this type of work if we could do away with the current idea of what a "geek" is. The concept of a Web entrepreneur should not be three white men with glasses sitting in a garage 12 hours a day staring at a computer screen. Being an entrepreneur is fun, and if people saw how sexy it is, then they would get into it. I don't want to take away from the fact that it's hard, but sitting in a room with your co-founders pulling all-nighters is fun.
What's the essential quality you need to have to be an entrepreneur?You need the ability to not accept failure, but to accept the pivot. It's more than likely that you're not going to get it right the first time, so it's important to be able to recognize where you failed and where you need to change the business.
There are way too many people who give up too soon or give up too late -- knowing when to quit is so important. We've failed so many times, but we also knew when that failure could turn into something else. An entrepreneur needs to know how to analyze a failure.
How do you do that? What information is needed to understand and analyze failure intelligently?You need to track a variety of metrics, such as how long people stay on your site or how many sign-ups you get from different avenues, such as Facebook or Twitter. Tracking metrics helps you build the business using real data and establish better relationships with stakeholders.
Another way to get feedback is to put together eight or nine one-liners about your product before going to a networking event. You can try out different one-liners and see how people respond. Being able to communicate your story in one sentence is important because that's how people learn about your product.
Related
Popular in the Community