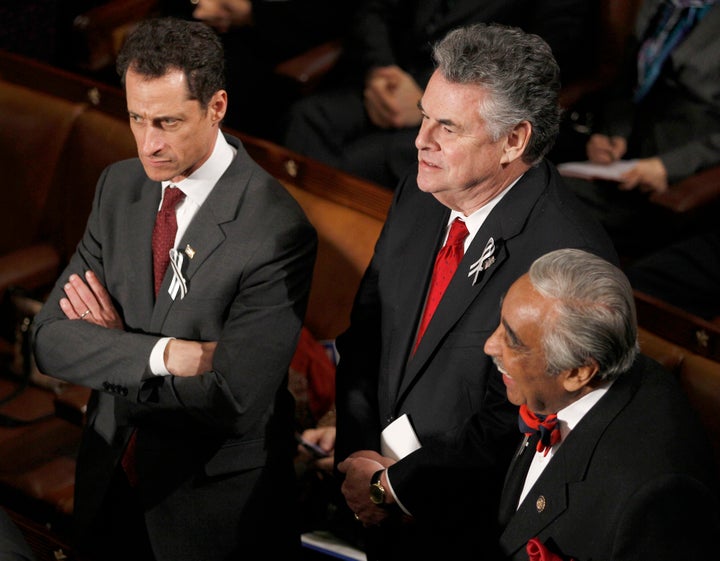 A female college student in Washington state who was sent an inappropriate picture from the Twitter account of Rep. Anthony Weiner (D-N.Y.), spoke out on her interactions with the congressman in an interview with the New York Times published online on Wednesday night.
Weiner initially denied passing along the image in question to 21-year-old Gennette Cordova, suggesting his Twitter account had been hacked. It wasn't long after, however, that the congressman confessed to dispatching graphic photos of himself and engaging in racy relationships with six women -- who he said he had never met in person -- online.
The Times reports that Cordova said she "figured it must have been a fake" when she received a picture Weiner in boxer briefs.
Ms. Cordova, who had traded messages with Mr. Weiner, a New York Democrat, about their shared concern over his conservative critics, said she had never sent him anything provocative. Asked if she was taken aback by his decision to send the photo, she responded, "Oh gosh, yes."
In the interview, Cordova discussed how prior to being sent the photo she grew to support Weiner's politics and wound up following him on Twitter. She also provided further details on how their social media engagements evolved over time.
"He was just very casual," she said of their online interactions. "It wasn't like talking to a U.S. congressman."
The Times reports that a Weiner spokeswoman did not dispute what Cordova told the publication.
The interview comes on the heels of news that the congressman's wife, Huma Abedin, is pregnant. At a press conference earlier this week, the New York lawmaker signaled that he does not plan to split with his wife amid the controversy.
"My wife has known about some of these online relationships since before we were married," he said in addressing the matter prior to reports of his wife's pregnancy. "But she did not know until this morning that I had not been truthful about the Twitter posting last week. I'm here primarily to express my apologies to my wife and family."
The AP reports on mounting calls from Democrats for Weiner to step down from office:
Weiner's prospects for political survival dimmed precipitously on Wednesday with the appearance on the Internet of an X-rated photo said to be of the congressman — and the first calls from fellow Democrats for him to step down.

...

By day's end Wednesday, at least six House Democrats had called for Weiner to step down.

[Rep. Allyson] Schwartz was the first, and politically the most significant because of her position as a senior leader on the Democratic Congressional Campaign Committee.

Weiner's predicament has rocked the Democratic Party, particularly the women who hold leadership posts and have faced a choice between calling for a resignation or hoping that refraining from doing so would lead him to quit without being told.
Click here to read more of Cordova's interview with the New York Times.
Popular in the Community