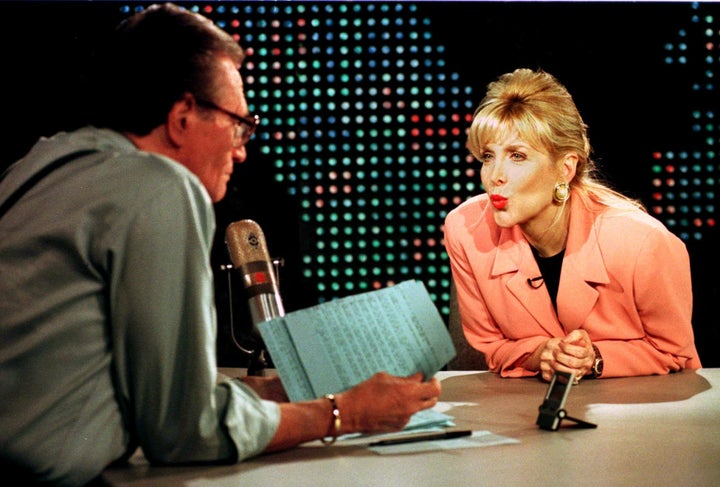 Gennifer Flowers, a model and entertainer who had an affair with Bill Clinton while he was governor of Arkansas, said that she will attend Monday night's presidential debate between Hillary Clinton and Donald Trump, at Trump's invitation.
Flowers' assistant confirmed her attendance to BuzzFeed. The Trump campaign did not respond to The Huffington Post's request for confirmation.
Trump threatened to invite Flowers if Mark Cuban, a celebrity billionaire backing Clinton, attended the debate.
Juanita Broaddrick, a retired nurse who maintains that Clinton raped her in 1978, told HuffPost that Trump had not asked her to attend.
"It's a little late to make travel arrangements but it would be delightful to attend such an epic event. Maybe I will get an invitation to the next one," she said in a Twitter message.
Monday night's showdown, which will be the first time Hillary Clinton and Trump appear on the same stage as candidates, is expected to draw upwards of 100 million viewers.
If Trump indeed invited Flowers to the debate, it will be a virtually unprecedented stunt for a presidential candidate.
President Bill Clinton admitted in sworn testimony in 1998 that he had had an affair with Flowers while he was governor of Arkansas. During his 1992 presidential campaign, he denied having the affair, which Flowers claimed lasted 12 years.
Trump experimented with dredging up 1990s-era conspiracy theories and scandals associated with the Clintons, including the former president's well-documented sexual peccadilloes. But he has mostly refrained from employing these attacks in recent months.
In inviting Flowers to the debate, Trump has decided it's wise to humiliate the first female presidential nominee from a major party for her husband's infidelities.
"Hillary Clinton plans on using the debate to discuss the issues that make a difference in people's lives," Clinton campaign spokeswoman Jennifer Palmieri said. "It's not surprising that Donald Trump has chosen a different path."
This story has been updated with comment from the Clinton campaign.
Popular in the Community