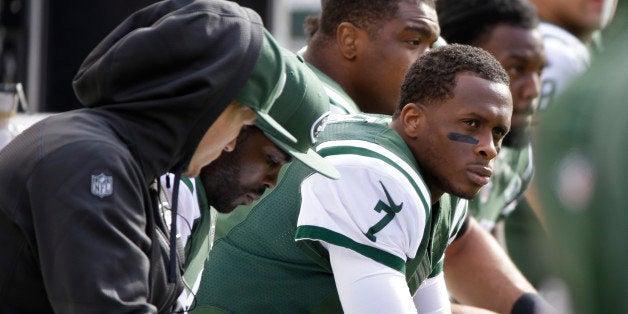 Who would have ever imagined a New York Jets quarterback would top the Butt Fumble?
In a legitimately-serious-but-equally-hilarious bit of news this week, it was announced that the Jets starting quarterback Geno Smith would miss the start of the NFL season due to a broken jaw he suffered when teammate Ikemefuna "IK" Enemkpali punched him in the face over $600.
Firstly, the most important thing is well-wishes to Smith, whom everyone hopes makes a full and speedy recovery. Now that that's out of the way.
There are bigger implications here, such as why grown adults are getting into fights in the workplace (a theme that's become common this offseason, as seen in Carolina and Houston earlier this month). However because this happened to the Jets, of all teams, it's hard for the initial reaction to be anything but uncontrollable laughter.
If four days ago you had written a New York Jets fan fiction that had the quarterback getting punched in the jaw, a halfway-decent editor would have sent it back as lazy writing. Had you picked an average NFL fan at random and said that a QB had been punched by a teammate, simply naming someone on the Jets roster would have felt like the easiest guess (though lets not sleep on Jameis Winston or Johnny Manziel, whom I'm sure many NFL fans would like to see get punched).
While it's easy to kick Jets fans when they're down (which appears to be their default setting), the reality is Geno being out might end up being a blessing in disguise.
Now in his third NFL season, Smith was in a make-or-break year. Not all highly-drafted quarterbacks are in their make-or-break year in season numero tres. However with this team, in this city, with a new head coach and a new general manager, it's clear Geno's time to prove himself is running short. He's now lost the first month of what might be his most important season, likely to be replaced by journeyman Ryan Fitzpatrick.
Anything can happen in the NFL, in any given season, on any given Sunday. That's one of the reasons fans stick with the sport; literally anything can happen. Serial-bullier Ritchie Incognito can get a second chance. Alleged domestic abuser and gun-enthusiast Greg Hardy can get suspended for as many games as ball-deflator Tom Brady. Even a team owned by a recovering prescription-drug addict can run a campaign publicly collecting prescription drugs. Oh, and on top of all that, any team can seemingly rise like a phoenix from the bottom of divisional standings to the Vince Lombardi Trophy.
That being said, while the gridiron may allegedly flow with milk and honey, the supply of Jets fans who thought Geno Smith was capable of leading them to glory were few and far between, even before a teammate felt the need to ruin his grill piece. Home team confidence in Geno was lukewarm, at best.
Now, Fitzpatrick isn't some Kurt Warner circa-1999 either. Nor is 4th-round rookie Bryce Petty likely to take the league by storm, a la Tom Brady or Russell Wilson (though admittedly, that feels more likely than rapid improvement from Smith).
However, it is plausible, even likely, that in the first four weeks, Fitzpatrick accomplishes more than Geno can in the remaining dozen. Due to this injury, Jets coaches and management will be forced to see what the offense could look like with someone other than Geno running the show. If Smith returns and fails to make the Gang Green offense hum to even the modest levels Fitzpatrick will likely reach, it will be a clear indicator that the issue is not the linemen, the playmakers, or the scheme.
The issue will be the quarterback.
If that's the case, New York Jets management will be able to enter the 2016 offseason with indisputable evidence of a conclusion the rest of us have already jumped to.
Geno Smith probably isn't the answer.
In the meantime, #LOLJets.