In the span of just three weeks, New York Jets quarterback Geno Smith's rookie season has become a disaster, and it reached its lowest point against Miami on Sunday. On the heels of woeful back-to-back road performances in Baltimore and Buffalo, where he completed a mere 17 of 45 passes with five interceptions and zero touchdowns, Smith came home to engineer five failed drives, three of which were 3-and-outs, in the first half. The animosity of the home crowd was so intense that one could almost forget the vitriol once dedicated to the Jets' previous embattled quarterback, Mark Sanchez.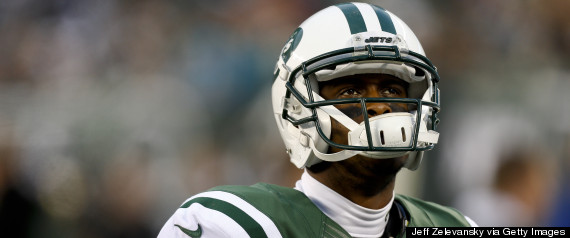 "I have complete confidence in myself," Smith said after the 23-3 loss to Miami, during which head coach Rex Ryan benched him for the second half. "It's been a tough three weeks, but I think I am the best option for this team."
Playing quarterback in the NFL is tough, and playing the position in New York doesn't make it any easier. Smith was a highly decorated high school recruit who enjoyed a successful career at West Virginia. He then plummeted into the second round of last April's draft, where the Jets finally took him with the 39th pick. One of the knocks on him throughout the evaluation process was that he was selfish and didn't command respect among teammates. Nolan Nawrocki of Pro Football Weekly also suggested that Smith would "struggle to produce against NFL defensive complexities."
That certainly has seemed to be the case for much of Smith's rookie campaign, including a 4-10, 29-yard first-half performance against the blitz-happy Dolphins. You also don't have to be a quarterback expert to notice Smith's glaring deficiencies in the pocket: He rarely steps into throws and often locks onto one target instead of going through his progressions.
He isn't helped by a glaring lack of talent around him. His two best receivers, Santonio Holmes and Jeremy Kerley, have missed time because of injuries, and Smith has been hampered by a porous offensive line and shaky tight end play. Smith has also come into a league where outstanding performances by rookie quarterbacks is much more common. Just last season the trio of rookies Robert Griffin III, Russell Wilson and Andrew Luck all played beyond their years.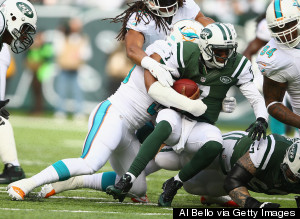 After throwing for just 29 yards during the first half against the Dolphins, Smith was benched in the second half. (Getty Images)
But something is definitely amiss with his performance on the field, which was often true of him in college as well. Forget about his arm strength, his questionable decision making, even his league-worst 60.4 passer rating. He doesn't behave like an NFL quarterback, but often appears scared and overwhelmed.
With Sanchez's shoulder injury and a pair of marginal backups in Matt Simms and David Garrard, it would appear that, for better or worse, Smith is right about being the Jets' best option. He is likely to retain the starting job for the rest of this year for this 5-7 team.
And if Smith can't improve his game enough to beat out those guys, perhaps the Jets will finally come to the conclusion that many of their fans already have.
Calling all HuffPost superfans!
Sign up for membership to become a founding member and help shape HuffPost's next chapter