Genoveva Nunez-Figueroa, 30, was arrested Sunday morning after police say she spent a few hours stuck in a chimney of a home of a man who had recently ended a relationship with her.
A neighbor heard the suspect crying at about 5:45 a.m. and called 911. The Ventura County Fire Department's search and rescue squad came to the scene and found Nunez-Figueroa stuck in the chimney about eight feet from the top.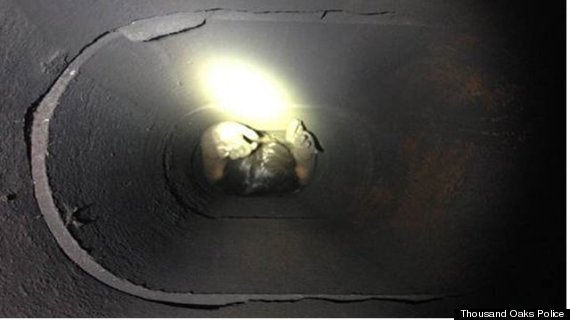 She had been there an estimated two hours, Capt. Renee Ferguson of the Ventura County Sheriff's Department told KTLA TV.
The suspect was finally removed from the chimney around 8:15 a.m. and was transported to a hospital to be evaluated, according to KABC TV.
The suspect's bail was set at $2,500 and she is due in court on Tuesday.
The homeowner, who only gave his name as "Lawrence," was away from the house when the incident happened.
He told CBS Los Angeles that he knew Nunez-Figueroa.
"It wasn't Santa Claus, for sure," Lawrence told the station. "Having someone in your chimney is like kind of a weird thing you wouldn't expect to come home to."
Lawrence told authorities he had met the suspect online and went out with her six times before ending things recently.
"It's actually the second attempt for her trying to access the inside of my house, from the roof," Lawrence told CBS Los Angeles. "Which just goes to show you," he said, "you have to be careful who you meet online."
Although Lawrence now has to deal with a dismantled chimney, Nunez-Figueroa's family has offered to pay for the repair, saying the suspect is a good person.
Calling all HuffPost superfans!
Sign up for membership to become a founding member and help shape HuffPost's next chapter