SproutEd making their presentation.
Recently I wrote about the brilliant students that worked all summer on SproutEd, their winning technology business. Last week, they had the chance to pitch a new mobile app to one of the heaviest hitters in venture capital, Andy Weissman, Partner at Union Square Ventures (USV). While listening to entrepreneurs pitch their ideas is nothing out of the ordinary for Weissman, this was the first time he heard a pitch from entrepreneurs that are still in high school.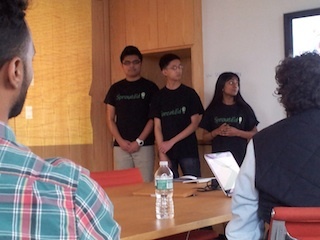 SproutEd making their presentation in the USV boardroom.
How did five New York City high schools students get to pitch at USV, the firm that helped launch transformative web properties such as Twitter, Tumblr, SoundCloud and Kickstarter? They earned their spot in USV's boardroom by winning NYC Generation Tech's 2nd annual Demo Night on September 19.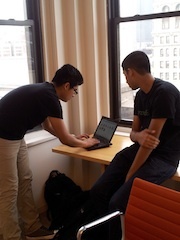 SproutEd hard at work on their pitch.
Their winning enterprise, SproutEd is an education network that brings the classroom experience to mobile devices, empowering students to collaborate with peers and discuss school-related topics and events. The app is to be released on Google Play soon. SproutEd was designed and co-founded by Karishma, Melverton, Jayson, Alan, and Jin.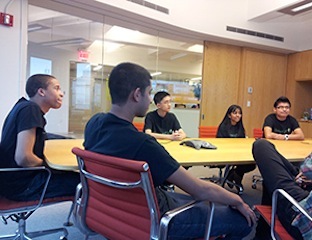 The founders discuss their plans.
Of his experience in GenTech, SproutEd's Operation Officer, Melverton said,
GenTech changed the way I think in many ways... I actually have the chance to create my own business. When I was younger, I never thought I would have the skills to create a business, but with the skills GenTech gave me I believe that I can be a technological mogul. Generation Tech opened many doors for me and I can't wait to see what's next.
And, that's what sets GenTech apart from the crowd: not only do students learn to code, they also receive entrepreneurship training so that they can employ their newly learned skills to create businesses.
After demoing their app and presenting their business plan, the SproutEd team sat down for an open discussion with Weissman and USV Analyst, Brian Watson. Weissman and Watson provided the team with helpful advice on how to grow a user base and encouraged them to bring their app to market as quickly as possible. If the app gains traction early on, follow-up conversations could be in the future. As SproutEd continues to develop their product, we will continue to follow their progress.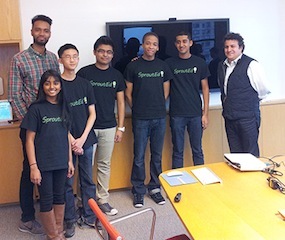 NYC Generation Tech (GenTech), conceived and run by NFTE NY Metro and the New York City Economic Development Corporation (NYCEDC), took place over 11 weeks during the summer. The program's 43 student participants learned the principles of entrepreneurship and received advanced training on how to write code and create mobile apps. GenTech culminated at Demo Night where SproutEd beat out 8 other student teams after demoing their product and pitching its market potential to a judging panel that included the likes of Alexis Ohanian, Co-Founder of reddit, and Dave Gilboa, Co-Founder and Co-CEO, of Warby Paker. You can learn more about this program here: http://www.nycgenerationtech.com/.
REAL LIFE. REAL NEWS. REAL VOICES.
Help us tell more of the stories that matter from voices that too often remain unheard.