Ann Weber, a sculptor from Emeryville, California, one of the rapidly emerging "creative cities" author Richard Florida talks about in The Rise of the Creative Class, is just ending her "artist in residency" at the LUX Institute in Encinitas, CA. She is going home to her live/work studio in Emeryville, California, an unusual coop that provides affordable artist-owned housing.
Started in 1973, it has "grown from a dozen studios in one converted warehouse building to nearly 60 studios in three buildings." The artists renovated obsolete industrial warehouses into live/work spaces, and now offer tours to those living or just visiting Emeryville--thereby enriching the city of Emeryville culturally; and established a Youth Art Program which initially offered tutorials and field trips to promising high school students. The Cooperative's Emeryville Youth Program has now been "integrated into the Emeryville Unified arts curriculum bringing professional artists into the classroom."
Today, as a non-profit, limited-equity housing cooperative, The 45th Street Cooperative, as it is called, claims to be "a national model for affordable artist-owned housing."
What artist group can afford to buy in today's real estate market? The soaring rents that most markets require coincide with the demand for artists and art and cultural districts to give a city vibrancy and economic growth. Randy Cohen, who researches and promotes sustainable arts policies at Americans for the Arts, acknowledges the dilemma and is fearful that cities will fail to come to grips with the urgent need for affordable artist housing. And thus, fail to make the transition to the new creative and innovation economy.
Unfortunately, given the cost of housing in some areas of the country--usually attributable to the artists and/or the art and cultural districts, which have grown up around them--it is probably too late. A crisis is looming.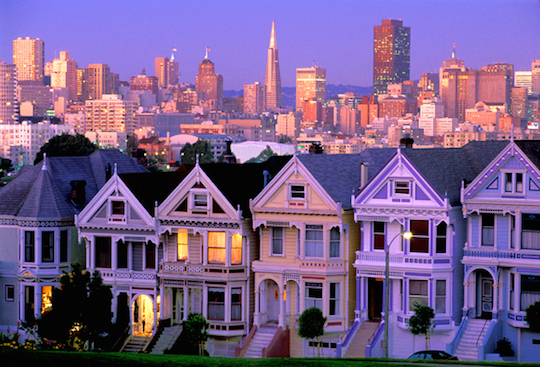 Take San Francisco, just a few miles away. This is a city/county, in real trouble. Thanks in part to spillover of high tech startups in nearby Silicon Valley, San Franciscans now pay the highest median rent per bedroom in the country... about 4.5 percent higher than New York. According to KQED, " Housing is a major issue for artists in San Francisco. The city does well compared with others around the nation when it comes to funding artists' work. But the city's efforts to create affordable live/work spaces for artists haven't panned out. Many local artists are now worrying that the high cost of housing will force them to leave the city and abandon their creative community."
Tom DeCaigny, cultural affairs director for the San Francisco Arts Commission, applauds the formation of The Community Arts Stabilization Trust (CAST) which will be purchasing and leasing space for the exclusive use of nonprofit arts organizations. CAST says, "Without our support, some of San Francisco's most vital arts organizations might be forced to leave because of the rising cost of real estate." He has expressed concern, however, that the cost of a studio or one bedroom is over $3000 per month in the heart of the city and is working with the Housing Authority and the Mayor's Office to find solutions. He knows that government can't solve these problems itself and is looking to private philanthropy and the nonprofit sector to foster new innovations in shared nonprofit space.
Some non-profits like Project Artaud, a pioneering arts complex in San Francisco's Mission District, rehabilitated and converted a factory, and an entire city block to create housing and studio space, artists' resources and community homes to over 70 painters, sculptors, designers, photographers, filmmakers, writers, musicians and performers. Project Artaud is supported by its membership, by grants from the Cultural Facilities Fund Bay Area Program and the San Francisco Art Commission's Creative Space Program, and by individual contributions.
There are others of course, spread across the city, trying to raise funds to buy properties and advocating for artists but making only a small dent in a much bigger problem. For San Francisco, and most cities, a more comprehensive, proactive strategy and plan is called for.
Minneapolis based Artspace has been tackling this problem since 1979 and today "own(s) and operate(s) 35 projects across the country. Twenty-six are live/work or mixed-use projects comprised of more than 1,100 residential units. Our portfolio of projects is rounded out with non-residential projects that provide space for artists and cultural organizations."
It was always an advocate for artist housing and in the early beginning, provided a referral service for artists looking for housing. After a short time however, said Melodie Bahan, V.P. of Communications for Artspace, they began to see the same faces, the same artists, looking for a place to live. They then "made the leap from advocate to developer", and began to build and take a more proactive role.
Their first "live/work projects were in Saint Paul: the Northern Warehouse Artists' Cooperative (1990), Frogtown Family Lofts (1992), and Tilsner Artists' Cooperative (1993)." They now have developed properties in 35 states , and growing. "Twenty-six are live/work or mixed-use projects comprised of more than 1,100 residential units. (Their) portfolio of projects is rounded out with non-residential projects that provide space for artists and cultural organizations."
With support form the Ford Foundation, the Kresge Foundation and not surprisingly ArtPlace which receives funding in part from some of the same foundations, Artspace is now a national leader in the field of developing affordable space that meets the needs of artists through the adaptive reuse of historic buildings and new construction with offices in Los Angeles, New Orleans, and Washington D.C.
Communities that know the value of vibrant communities must insure that the artists, who helped foster that vibrancy, not be forced to move as the art and culture districts--often at the center of the community--are forced to move because of the increase in the price of real estate or rental costs. It's that simple but often not thought of until its too late.
Related
Popular in the Community