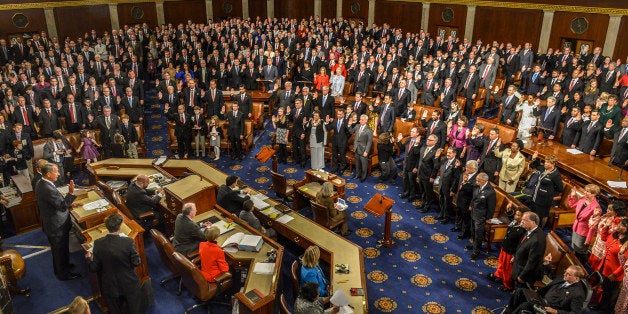 These days you wouldn't be off base to assume GOP stood for Genuinely Outrageous Priorities. They tried to hide their true agenda and moderate their image throughout the 2014 campaign. They spent time on the trail offering up shiny objects like over-the-counter birth control in an attempt to distract from the fact that every time they're in charge they make it harder for women to plan their families. Much harder.
Well, the new GOP-led Congress has been sworn in all of a week and they've done it again. Introducing over the counter birth control? Nope, six anti-choice bills in about as many days.
Rep. Trent Franks reintroduced his old bill, an abortion ban that challenges the ruling of Roe v. Wade. Only this time he did it with a woman co-sponsor, because clearly the problem last time wasn't the backwards substance of the bill but with its presentation.
Rep. Diane Black is trying to bar Title X funds to all groups that perform abortions, including Planned Parenthood. What Black won't tell you is that defunding Planned Parenthood puts the health of millions of women in jeopardy -- even women who visit their clinics for breast exams and cancer screenings.
Senator David Vitter has also been keeping himself busy introducing legislation that would make it more difficult for women to access necessary health care, including legislation that has already failed in Congress in the past.
And it's not just Republicans in Washington -- the RNC Winter Retreat may have taken the GOP to the left coast but there's no question about the direction their policies are going in.
They've gotten the band back together for a greatest hits tour, even Mitt is dusting off his microphone for a speech to the Winter Retreat crowd. Others vying for the spotlight include those dueling for title of most-extreme: Wisconsin Governor Scott Walker, Dr. Ben Carson and former governor and -- who's the third guy? -- Rick Perry.
He shouldn't worry though, as the RNC is likely to limit the number of primary debates in the 2016 election. Because they wouldn't want these candidates to actually have to tell the American people where they stood on the issues.
The people who want to lead the Republican Party through the next election are scary enough; then, we have to remember that if they win, they actually get to make laws. And the consequences of 2014's elections are already playing out in Washington where the new Republican majority has wasted no time trying to roll back the clock.
This is what they choose to prioritize in the first week. No matter what kind of plans or "autopsies" or happy talk comes out of this winter retreat, one thing's clear: the GOP's priorities are more outrageous than ever.
Calling all HuffPost superfans!
Sign up for membership to become a founding member and help shape HuffPost's next chapter