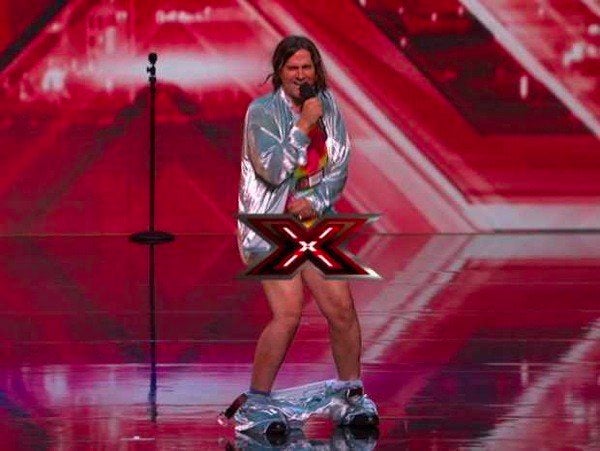 UPDATE: The contestant amidst controversy, Geo Godley, tells TMZ, his outfit was nothing worse than what you see at the beach. He further insists that his performance was inspired by his Greek Island culture. "We always dance in g-strings." Godley told TMZ, "G-Strings are legal. The PTC have no complaint to make."
But Godley admits, he still got a little carried away, adding, "I apologize to anyone that was exposed to my behind ... I had no intention of showing it and it was an accident when I fell. I was caught up in the moment."
Looks like the Parents' Television Council is casting its vote for "American Idol."
The oft-angry conservative organization is filing a complaint with the FCC over contestant Geo Godley's pants-dropping audition on the premiere of Simon Cowell's new music competition series. During the broadcast, which took place just after 8PM in the Central Time Zone, the singer dropped trou, much to the disgust of the judges, with Paula Abdul walking away and LA Reid blasting the display.
The producers covered the nudity with the show's logo, but that wasn't enough for the organization.
"While a digitally imposed 'X' partially covered Mr. Godley's genitals, the scene lingered on his nudity while editing in the shocked responses of the judges and other members of the audience," the complaint says (via The Wrap).
"Families were led to believe 'The X Factor' would be family-friendly programming and instead were assaulted by graphic nudity. In fact, judge Paula Abdul walked out during the performance, apparently becoming physically ill by what happened," the statement continues. "The content in this case included prolonged, un-fleeting nudity used to shock the audience. The program did not air live, so every second was carefully edited by the Fox network and cannot be attributed to a 'mistake.'"
According to Reality Blurred, a fellow auditioner claims that Godley wasn't actually nude, but wearing a "very revealing thong."
Host Steve Jones told The Sun earlier in the summer that, nude or not, Simon loved the stunt.
"I spoke to Simon backstage after and asked him what he thought," he told the paper. "He said it was probably his favorite audition ever -- and I agreed. But he didn't get through -- they said No and sent him packing to get help!"
REAL LIFE. REAL NEWS. REAL VOICES.
Help us tell more of the stories that matter from voices that too often remain unheard.