This is the ninth installment in a series titled "FABRICATIONS" that elevates the work of up-and-coming queer individuals working in the fashion world. Check back at HuffPost Gay Voices regularly to learn more about some of the designers of tomorrow and the way their work in fashion intersects with their queer identity.
Geoffrey Mac is a queer fashion designer and artist living in and operating out of New York City. A mash-up of futurism and vintage eras, his designs span a wide spectrum of styles and have been worn by Lil Kim, Jake Shears, Debbie Harry, Icona Pop, Sharon Needles and Carmen Carrera, among others. With a focus on sculptural pattern making, intricate construction and the use of unusual materials, Mac has recently expanded his brand to include both streetwear and jewelry. Read the interview below to learn more.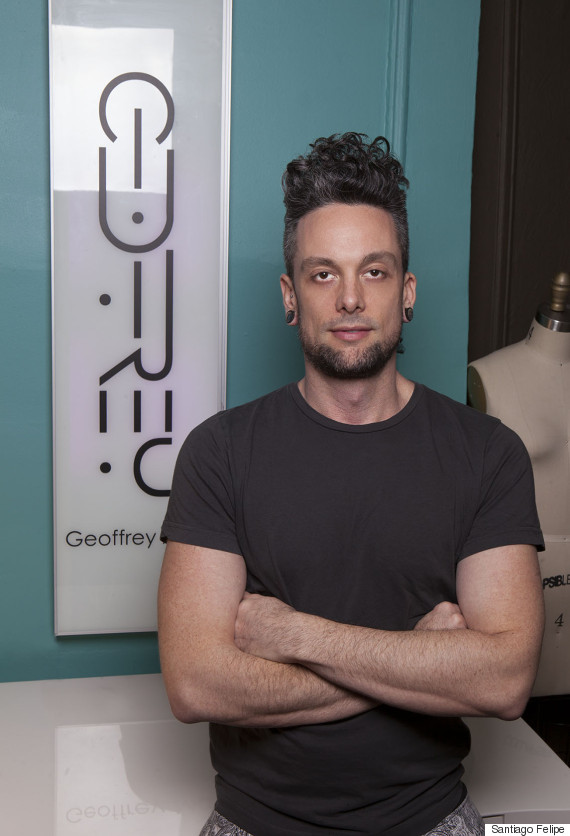 The Huffington Post: What has your journey as a queer artist and fashion designer entailed?
Geoffrey Mac: I have been an artist for as long as I can remember and always obsessed with aesthetics. After graduating from the School of the Art Institute of Chicago, I launched Geoffrey Mac, an all-latex clothing line that focused on club wear. I never considered it a fetish line, but our clients became primarily fetish boutiques. It was difficult to be taken seriously as a designer when all the garments were latex. Knowing how to design custom, precise, difficult, perfect fitting garments made transitioning to a fabric line easy. The response was very well received. At the time, I was also a part-time instructor at the S.A.I.C. and the Illinois Institute of Art. On weekends I hosted parties in gay clubs creating unique and outrageous "looks" and eating/breathing fire. It was there that I felt most creative.
After ten years in Chicago I had a surfing accident in Costa Rica that inspired me to rethink my life. So, I resigned from my teaching positions and moved to New York City for the opportunity to pursue the only career I have a true passion for. For a year I was the production director for Cynthia Rowley, but missed the creative work of my own design. It wasn't long before I found one of my first great muses, when I started doing custom work for Lady Kier, formerly of Deee-Lite. Additionally, long before "RuPaul's Drag Race" became a phenomenon, I found inspiration designing for a long list of top drag performers. Drag artists are great as clients because they constantly need to churn out tons of looks, they always need to up the ante and it's fun bringing to life their outrageous fantasies. More recently, for the past several years, I've done a lot of consulting, pattern-making, construction and production work for well-known designers Zaldy and Desi Santiago. This has included work for high-profile clients like Britney Spears, Lady Gaga, Ke$ha, Madonna, and "Hedwig" on Broadway.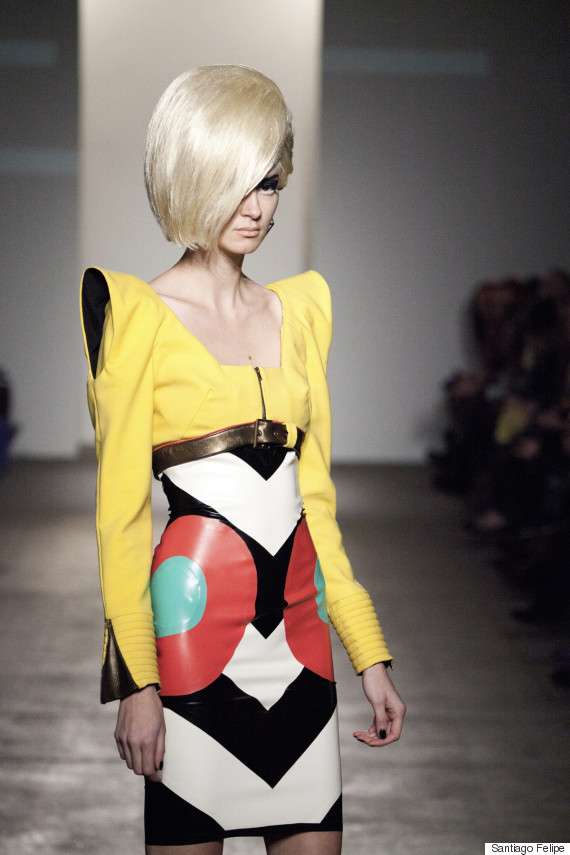 When I launched a ready-to wear-line with my NYFW debut in 2012 we gained some momentum and delved back into production. However, I was also reminded of all the politics that go along with that. Our mission to be "Made in NY" is an expensive venture that pushes our pricing outside many of our ideal shops. That being said, we began to rethink our approach and focused instead on online sales. We presented "GMAC by Geoffrey Mac," our premier street wear line in 2014 with a focus on streamlined designs. We found ways to drive down production costs and offer a more affordable price point, while maintaining NY and domestic-based production.

Where have your designs appeared?
One of my first collections was featured in a memorable runway challenge on "America's Next Top Model," where the models were literally set on fire (no garments were harmed!). I've done runway shows and presentations in New York, Los Angeles, Chicago and Denver. My latex creations have been worn in music videos by the likes of Lil Kim and Jake Shears. I've produced many complicated, unusual garments for some of the top touring artists. I've created custom designs for countless performers, ranging from emerging acts to notable artists like Debbie Harry, Icona Pop, Neon Hitch, Adore Delano and Sharon Needles.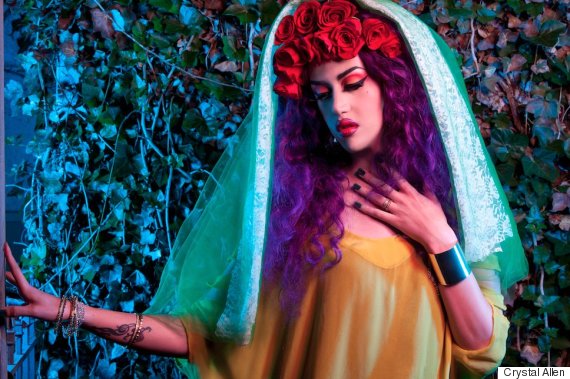 You describe your designs as a mash-up of futurism and vintage eras. Can you elaborate on this?
I have always been obsessed with pushing design forward. I like a nod to the past, whether it's in the silhouette or detailing, but I also like to keep the design unusual, sleek and suited for the future. Ultimately, my goal is to create pieces that are timeless. I don't follow trends very closely but rather try to follow my passion and thought process so that all of my designs are heartfelt and not influenced by the latest "trends." I am obsessed with processes and materials. We launched a jewelry line that was all hand-poured silicone and resin -- it was exciting and refreshing to be sculpting again and lit my fire for more knowledge about materials. Following the jewelry line, we have utilized the same resin casting techniques -- which we perfected to produce a series of masks working with designer Desi Santiago -- to be featured in the epic Alexander McQueen "Savage Beauty" retrospective opening in London at the Victoria & Albert Museum in March.

What does it mean to you to be a queer designer? How does your queer identity intersect with your work?
Being a queer designer has allowed me to express myself to the fullest and most bad ass extent of my fantasies. Being queer has encouraged me to be fearless -- it's given me a sense of invincibility and the creative freedom to transform the ordinary into extraordinary. It's given me an experimental spirit: to use make-up, wigs, unconventional materials to transform and create without having to justify my methods or materials. I am gay, it's what I do! It's also defined a sense of community and brought about collaborations with a lot of amazing artists.
Who is the target audience for Geoffrey Mac designs?
Everyone! I have a broad range of clients. My NYFW debut collection was targeted toward sophisticated career women. For that show we used beautiful wools, leather embellishments and silk to create sophisticated classic designs. More recently we did a punk and Pop Art inspired collaboration with Sharon Needles X GMAC called "NEEDLES," which has done well and sold at the Patricia Field's boutique. For this line we were targeting a younger demographic. We currently also have a popular new men's underwear line collaboration with rapper Cazwell called "Ice Cream Truck." It's proven to be a big hit with gay men, with the underwear selling out after only two weeks! We are currently developing new styles and waiting for new stock to arrive. Lines like these have been fun to do and successful, but I always get the most fulfillment from custom projects. My passion is creating something challenging. I have a loyal following of drag queen stars -- some have been winners or finalists on "Drag Race." I have also had the honor of designing for some of my favorite iconic performers like Deborah Harry. I even recently designed costumes for kittens as a part of Pepsi's "Kitty Purry" Cat Halftime show. I love a challenge and my audience is really diverse.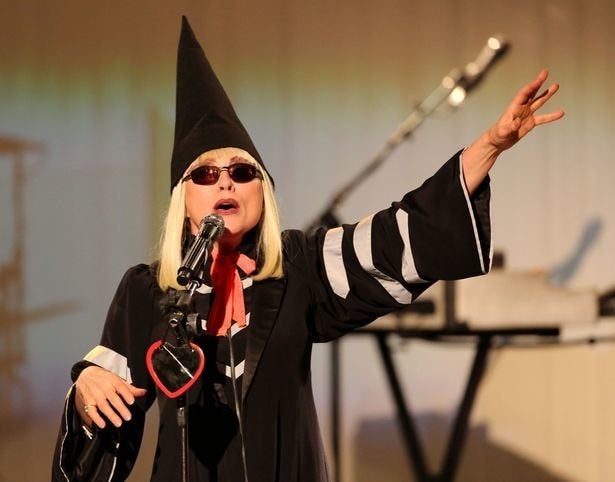 Geoffrey Mac

At HuffPost we've seen an emergence of clothing lines that cater to queer and trans bodies whose needs aren't met by traditional designers. Do you think we'll see more of this in the future? What does this say about the future of fashion?
While I have never created a specific line for the trans community, fashion is for everybody. I had the honor of having the amazing beauty Carmen Carrera walk in my "NEEDLES" runway show. I have created custom garments for drag queens, trans, straight, gay, young, old, skinny, curvy, old and young -- we all want to improve our look. Custom design provides answers for all body types. Custom design is transformative. Each piece can be tailored to change and enhance the "look" that the client wants. I also love to develop unisex styles in my collections -- this was a big focus of our GMAC street wear line. The trans community is a massive market and not be underestimated. If people pay for a new or improved body, you can assume they will demand garments that are perfectly suited to the work they had done.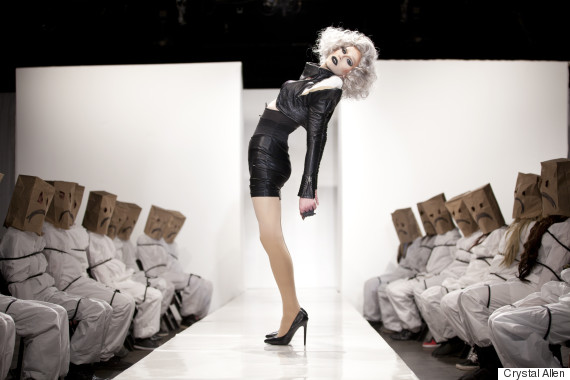 What does the future hold for Geoffrey Mac?
The future is looking amazing here in Brooklyn! Currently we are designing several dresses for Bjork's tour. She has contributed so much to the art world through fashion, music, videos and film. It has been, hands down, the biggest honor of my life working closely with her to design these special garments.

I love designing unconventional creations. When I challenge myself and stretch even my own boundaries of style, I am the most creative. I want to convey my design aesthetic in all that I do and always be sure that I enjoy the process. When I do that both my clients and I are happy. This is why we are always exploring new ventures, materials and techniques here at Geoffrey Mac. We've been having more demand for styling and wardrobe projects, which we enjoy as well.

Moving forward, we will continue to have a big focus on custom design work that matches the need and desires of my clients.
Want to see more from Geoffrey Mac? Head here to check out the designer's website. Missed the previous installments in this series? Check out the slideshow below.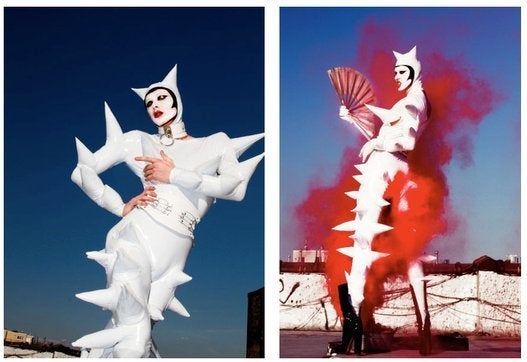 FABRICATIONS
Support HuffPost
Every Voice Matters
Popular in the Community