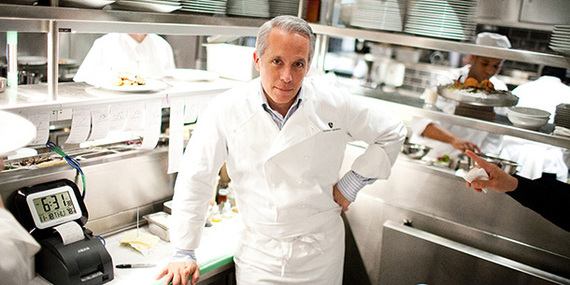 Iron Chef Geoffrey Zakarian - Photo by Norwegian Cruise Line
Food Network star Geoffrey Zakarian brought his fine dining style to the open waters by launching a seafood restaurant aboard the Norwegian Breakaway: Ocean Blue by Geoffrey Zakarian. We pressed him to tell us his favorite dish (and threw in some questions about travel), and here's what he had to say:
Do you have a cruise planned?
I [sailed] on the Breakaway on May 8th. Not only was this my first cruise, but an inaugural one — I feel like I won the lottery.
Where do you like to travel?
I'm an avid golfer, so I love to play golf in Bermuda — great weather, great courses.
What dish would you order from the menu at Ocean Blue? Why?
Dover sole. It's my favorite type of fish to eat, hands down. We fly it in from Holland specifically for Ocean Blue via one of my trusted importers. The simplicity and classic preparation makes this one of the most elegant dishes on the menu.
What two flavors do you think complement each other most perfectly?
Well … can I say three? We are serving a stunning drink on board called "The Gold Rush" — it marries bourbon, lemon, and honey. The flavors work expertly together.
What inspired you to become a chef?
My time traveling through France when I was in college — I fell in love with the art of hospitality. I would save up all week to splurge on [a meal in a] Michelin-starred restaurant just so I could learn and see how it all worked.
By Polina Myagkov, Contributing Writer