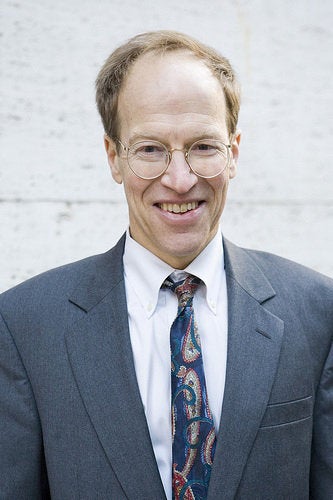 Tom Geoghegan unveiled a slew of endorsements Monday in the tight race to succeed Rahm Emanuel in Congress.
Liberal Democratic lion Abner Mikva, a former Congressman, Clinton White House counsel and federal appellate court Judge, highlights the list, which also includes former Ald. Marty Oberman, single-payer health care crusader Dr. Quentin Young and Geoghegan's law partner, the venerable former Hyde Park Ald. Leon Despres.
Oberman's son, Justin, withdrew from the Fifth District race last month. He has not yet publicly endorsed another candidate.

MARTY OBERMAN, ABNER MIKVA, DR. QUENTIN YOUNG, LEON DESPRES
ENDORSE TOM GEOGHEGAN FOR CONGRESS

(CHICAGO) - Legendary progressive reformers Hon. Marty Oberman, Hon. Abner Mikva, Dr. Quentin Young, and Hon. Leon Despres have endorsed Tom Geoghegan for Congress.

MARTY OBERMAN
Tom earned the endorsement of Marty Oberman, former 43rd Ward Alderman and long time independent voice in the Chicago City Council.

"We need to elect Tom Geoghegan to begin the repair of the recent damage to Illinois' political landscape," said Oberman. "Tom's candidacy is steeped in the great progressive tradition of Paul Simon and Adlai Stevenson. He is unmatched for both his serious thought and successful action in the interest of social and political reform."

ABNER MIKVA
Tom also earned the endorsement of former congressman, alderman and Clinton White House adviser Judge Abner Mikva.

"Tom Geoghegan has stood for integrity his entire career," said Mikva. "He believes politics and government must be honest to meet people's needs. That's why he'll make a great congressman."

DR. QUENTIN YOUNG
Dr. Quentin Young is the head of Physicians for a National Health Program and a leading advocate of single payer health care.

"Tom understands and is committed to single-payer national health insurance - 'Medicare for All'. He is a genuine progressive; he supports economic reform that meets the needs of the people, not the Wall Street predators who got America into this mess," said Dr. Young.

LEON DESPRES
Also endorsing Geogehgan was legendary progressive and former alderman Leon Despres.

"Tom doesn't need a 'listening tour' to understand what working Americans face every day," said Despres. "He's represented nurses, steelworkers, truck drivers and railroad workers. He's not afraid to stand up against tough odds and makes change happen.

"His work has focused on protecting workers affected by plant closings, securing health care for the uninsured, and stopping the abuses of payday lenders. He'll make an outstanding congressman."

Mr. Despres and Mr. Geoghegan are partners in the law firm of Despres, Schwartz and Geoghean.

Other endorsements include: American Nurses Association; Democracy for America; Blogpac; Progress Change Campaign Committee; Global Solutions PAC; Greater Chicago Caucus (GCC; )National Nurses Organizing Committee; Progressive Democrats of America (PDA); Progressive Democrats of America Chicago Chapter; Steelworkers Local 7243; Students for a New American Politics (SNAP); Teamsters Local 743; The Nation Magazine; James Fallows, The Atlantic Monthly online; Thomas Frank, The Wall Street Journal; Hendrik Hertzberg, The New Yorker online; Alex Kotlowitz, Author; Sara Paretsky, Author; Katha Pollitt, The Nation; Don Rose, The Chicago Sun-Times; David Sirota, The Huffington Post; Rob Warden, Author; Garry Wills, Author.

ABOUT TOM GEOGHEGAN
Thomas H. Geoghegan is a lawyer, author, and candidate for U.S. Representative from Illinois' fifth district. He is a graduate of Harvard Law School and Harvard University, and lives in Chicago's Lakeview neighborhood.
Calling all HuffPost superfans!
Sign up for membership to become a founding member and help shape HuffPost's next chapter