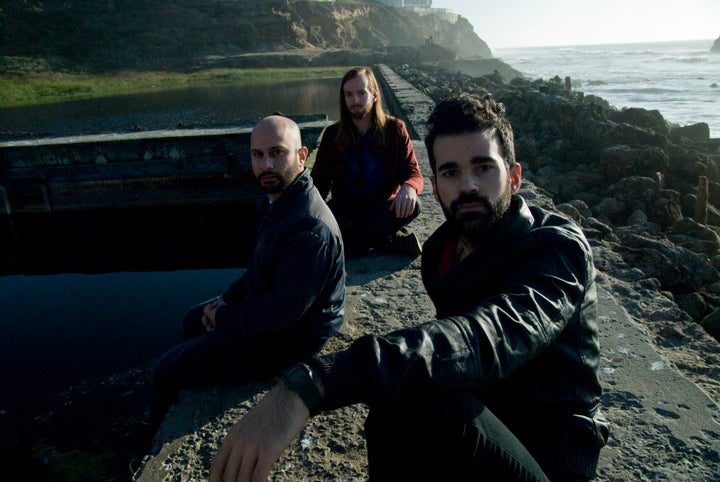 Current gig: The soaring voice and creative force behind Geographer, San Francisco's increasingly word-conquering blissed-out indie-rock sensation that's going to be anchoring a stellar line-up of local bands at this year's Outside Lands Music and Arts Festival.
Current 'hood: Noe Valley.
Favorite spot in the city: "The area between my apartment and Twin Peaks. I really like walking around and stumbling onto a park you've never been to before even though you've lived in the neighborhood forever."
Favorite place to eat: "Zaab, it's a Thai place on Clement Street. I have a friend who spent a lot of time in Thailand and so I've had a lot of Thai food. This is, by far, the most accurate recreation of what the food is really like there. Also, they have a dulcimer at the restaurant and when they heard I was a musician they let me play it."
What made you come to San Francisco? "Well, I was living in my mom's basement in New Jersey...[laughs]. I was thinking about moving to Brooklyn, but all my friends who were living there were moving away and starting out in New York on your own was kind of scary to me as a staving musician without a job or a place to live. But I had a couple friends who lived out here, so I decided to give it a shot."
Did you move to Noe Valley straight away? "No, I lived in a whole lot of neighborhoods before coming to Noe Valley. When I first moved here, I was crashing on my friend's couch way up on a hill in the Upper Haight. My friend had a room with these huge Bay windows and I could see the fog rolling in on three sides.
But I love living in New Valley now. I love walking around outside at night--that's when I write most of my lyrics. It's so quiet there, when I play guitar I'm the loudest thing in my neighborhood. I really like that."
Have you ever been to Outside Lands before? "I went the first year just to see Radiohead--it was like an $80 Radiohead ticket."
Geographer gets compared to Radiohead a lot, at least in your vocals styles. "I've loved that band since I was in high school and Thom Yorke essentially taught me how to sing, but I think our voices are really different. Any Radiohead comparison is cool--an honor, really--but with bands like that you want to be as good as them but not sound specifically like them. There are times where we'd be in the studio and lay down some part and be like, 'that sounds too much like Radiohead,' and then we'd dial it back. Although, if you're influenced by the right people, you'll never really be able to sound exactly like them."
Have you played big festivals like OSL before? "We've done smaller stuff like [Live 105's] BFD, but OSL is going to be the biggest festival we've ever played. Festivals are totally different than playing clubs. On stage, you're always working to fill the space you're in. In a club, it's usually dark and you have lights going; but, at a big festival, bands often fill that space up with money--like Pink Floyd's inflatable pig or building a giant wall onstage--but we don't really have that. We don't even have our own light show. So, to compensate, we get together before out set and try to think about the story we're trying to tell and look at how best to do that onstage."
What can people expect from a Geographer live show? "I really hope that people get there and just enjoy the wash of sound that we put out. The way I enjoy a concert is to stand there and stare intensely at the band. It's a very internalized thing for me. I'm not dancing or clapping along to the music or anything like that--except for a Bruce Springsteen show. But, I mean, that's Bruce Springsteen."
How did Geographer start? "I went to a lot of open mic nights in the city when I was just starting out. I met Kasey Johansing at one of them and we started a band called Parasol, and that's how I was introduced to Nate [Blaz] and Brian Ostreicher. Kasey then transitioned out of the band and it eventually coalesced into the three of us."
How did doing all those open mics affect the way perform? "Open mics are some of the most humiliating and difficult experiences a young musician can go through. No one cares about you at an open mic. Most of the people are musicians themselves and are only waiting for their turn to play.
I came from a small college in Vermont and was in one of only two indie-rock bands on campus, so we were huge. When I came here and no one cared it showed me how hard I had to work and how much I needed to put into all the parts of being a musician that aren't glorious if I wanted to make it. It also helped me get over what was left of my stage fright."
How did you come up with your band name? "At first we were called Parasol, but there was another band already called that so we had to change. It seemed like every good one-word name was taken. I was like, 'Greenland?!'. Nope. [Laughs.]
But we stuck with Geographer because I liked the metaphor of the songs being like maps of emotional states. Like if you're standing in Croatia, it's a different experience than looking at a map of Croatia. But, at the same time, just standing there and looking at a hillside probably wouldn't give you as good of an understanding of a place reading a map--it's sort of abstracted, but it makes the thing immediately comprehensible. That's what I think songs do and I liked that idea.
You interned at the Atlantic and that explanation had a literary bent to it. Have you done much writing and, if so, did it influence your songwriting? "I was a creative writing major in college and wrote a couple of novels. I wanted to be a novelist but I realized I most enjoyed being a novelist than the actual, solitary act of writing books. You don't get that same feedback as when you're a musician. You sit and write a book for a year, alone, and then people go out and read it, alone. With music, you're on stage and you have that connection with your audience immediately.
What appealed to me about writing songs instead of books is that I don't have to actually tell a story. I get idea and fill it out with something visceral instead of something narrative. I'll often write a character into a song, but it's rarely like 'this happened and then that happened and then that happened.' It's more like I'll come up with what happens in my head but then he song will be about how the people in the song feel as they're reacting to things rather than a bunch of plot points."
What was your book about? "Well, the book was bad [laughs]. It's a comedy that was also supposed to serious and heartwarming about a guy who was in a boy band and performs the first concert in space. It's kind of based off the story Lance Bass trying to go into space. The guy, in bed with his girlfriend, wakes up one day realizes he life has no meaning and he can't get over it. He just goes out to the store one day and never comes back."
Calling all HuffPost superfans!
Sign up for membership to become a founding member and help shape HuffPost's next chapter
BEFORE YOU GO