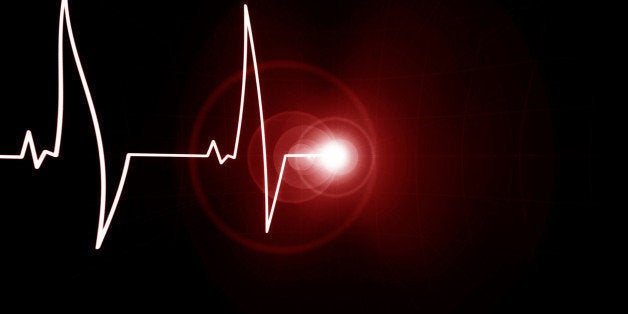 As we mark American Heart Month this February, my thoughts turn to my late father who died of a heart attack/cardiac arrest when I was only 4 years old.
Sadly, there are too many Americans like my father who have succumbed to cardiovascular disease, America's largest killer. Indeed, cardiovascular disease is endemic: each year, Americans experience an average of 935,000 heart attacks and 383,000 people suffer from cardiac arrest — when the heart stops pumping entirely. Both heart attacks and cardiac arrests carry with them the serious risk of death and disability. In fact, the survival rate for sudden cardiac arrest in this country is less than five percent.
What is remarkable about cardiovascular disease is not just these high numbers, but how easily death and serious complications resulting from heart problems can be prevented by the right technology and training. Even in a country as wealthy as the U.S., gifted with some of the world's best cardiologists, there are rural areas where the necessary medical equipment and expertise to treat cardiovascular disease are few and far between. As just one example: in Iowa, a whopping 30 percent of patients suffering severe ST elevation myocardial infraction (STEMI) heart attacks don't receive any immediate treatment. As a trained paramedic, I have witnessed the difference minutes can make in outcomes. The rapid response of a professional first responder or a trained bystander really can save a life.
As a rural resident of South Dakota myself, I don't think geography should determine destiny when it comes to accessing lifesaving care. That's why it's important to expand access to programs and technologies that can make a life-or-death difference for rural Americans suffering from cardiovascular and other life-threatening diseases.
One such program is Mission: Lifeline, a project of the American Heart Association that is improving emergency readiness and response to heart attack patients. In the rural Midwest, the Helmsley Charitable Trust, where I am a trustee, has provided support for this initiative to outfit every ambulance service in seven Midwestern states — with electrocardiogram equipment and training. The program also supports regional plans for rapid transport and transfer of patients so that people suffering heart emergencies can receive expedited care.
Already these technological advances are making a difference. In South Dakota, field transmissions of electrocardiograms — which are essential for recognizing heart attacks — increased 161 percent between 2011 and 2013. And the percentage of heart attack victims who receive timely percutaneous coronary intervention (PCI) — the most effective therapy for treating severe heart attacks — recently rose from 58 percent to more than 93 percent in less than two years. This means a 35 percent increase in the number of potential lives saved in the state, thanks simply to having the appropriate medical care on hand.
Automated CPR devices are also making a difference in the lives of the more than 480,000 Americans who suffer out-of-hospital sudden cardiac arrest. While TV shows may provide us with familiar images of paramedics conducting CPR, the reality is CPR is very difficult to perform correctly, especially in the high-pressure situations and fast-moving ambulances that characterize most treatments for out-of-hospital cardiac arrest. Studies show that immediate sustained treatment can more than double a victim's chance of survival, while manually-delivered compressions degrade after only one minute. Especially in rural areas where there are fewer trained paramedics and longer ambulance rides to hospitals, automated CPR devices can be crucial lifesavers.
That's why the Helmsley Charitable Trust has provided funding for 2,000+ LUCAS 2 Automated Chest Compression Systems to ambulances and hospitals in the Midwest, across a region covering more than 13 million people. Not only do the portable LUCAS 2 systems provide more effective, consistent and uninterrupted chest compressions, but they deliver hands-free care, which means medical personnel are free to address other injuries and conditions of the patient.
We've witnessed how quickly these devices can save lives. Last fall, a Nebraska ambulance service which received and trained on their device in the morning used it to save a life that very same evening. With sophisticated tools, first responders' services can begin the moment they arrive at a patient's door and, even in inclement weather or travel conditions, they can initiate a streamlined healthcare delivery process coordinated with the cardiac team at a hospital. Equipping these brave responders with the best tools available to work quickly and efficiently is an important strategy for improving survival rates in heart attacks, where even 20 minutes saved are significant. For my father, minutes could have made a difference.
Thankfully, in North Dakota, South Dakota, Nebraska, Iowa, Minnesota, Montana, and Wyoming, EMS services now have the most comprehensive tools available to respond to cardiac emergencies in the nation. For patients facing heart emergencies in the Upper Midwest, that means a new system of care across the region is ready to help. It was made possible through grants of over $67 million from the Trust, in a partnership with the American Heart Association and the Midwest State Departments of Health — a testament to what can happen when state governments, volunteers, funders and technology work together.
I encourage everyone to learn more about heart care and support your local first responders. The life they save may be of a family member or friend — even your own.
Walter Panzirer is a trustee of the Helmsley Charitable Trust.
Related