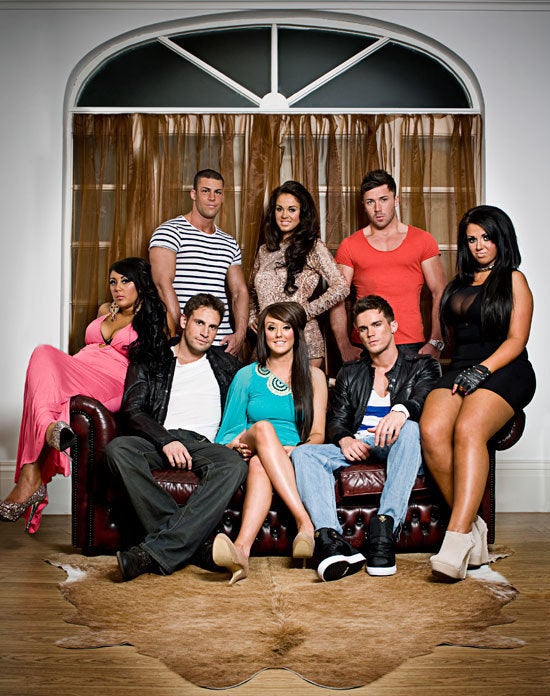 Might want to beef up the security at the Royal Wedding; fist pump partying is invading Britain.
While MTV sends the cast of "Jersey Shore" to Italy, England is getting its very own cast of hard-partying, drink-happy characters, as they've announced the cast of "Geordie Shore." Based, obviously, on the format of the American show, "Geordie Shore" will feature eight young scholars from the city of Newcastle -- conveniently, those from that city are known as Toons.
The cast looks similar to the American show; muscle-bound guys and girls fond of eye shadow predominate, and many of them match up to their American cousins.
Diva Jay is rarely pictured with his top on, but who can blame him with a body as buff as his? This deeply tanned stallion works his signature look of heavily waxed eyebrows and tight t-shirts, in an effort to get the lasses back to his bed. 'Whoever' & 'whenever' is Jay's mantra in life.

Jay is a partying machine who hits the town every night and prides himself on having a different girl on speed dial for every day of the week. He says his worst nightmare would be starting a relationship in the Geordie Shore house.
James only works 10 hours a week at his dad's transport business, with the rest of the time devoted to pumping iron, boozing and pulling. Sometimes he'll mix work and pleasure moonlighting as a topless male host, which gives him free reign to chat up fit girls whilst earning a bit of wedge. It also means he's got a great excuse to spend a lot of time and money on his appearance. He aims to hit the gym at least 14 hours a week and has regular sunbeds, facials and waxing sessions and always wears expensive clothes. Being the man about town that he is, James likes to keep everyone happy and avoids conflict whenever possible as he is all about the 'good times'. But he says the one thing that would make him completely lose it would be if someone stole his hair straighteners - completely unacceptable in his books!
And there's Sophie/Snooki:
Nutter Sophie is a real entertainer who loves to have a laugh wherever she goes. Despite her bright girlie wardrobe and bling accessories, she's a tomboy at heart but has no problem dancing on tables or flashing her boobs- basically anything goes for this pint sized bundle of fun.
WATCH:
Popular in the Community