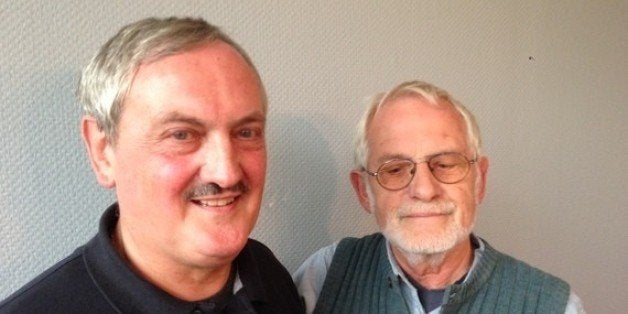 Note: This article was written in cooperation with gaystream.info – the gay online portal for news, discussions and lifestyle articles. It was published on HuffPost Germany and translated into English.
For almost half a century, Georg and Dietmar have been a happy couple. But Georg knows that other gay people their age weren't so lucky and that lives were destroyed by laws and by being ostracized by society. This is why he has committed himself to fighting for justice, with a mix of youthful energy and old-age wisdom.
65-year-old Georg smiles at me with young eyes, as I talk to him about his long-term relationship with Dietmar and ask him to give our readers some advice for a successful partnership. He feels he isn't able to do so "since every relationship is very different and everybody has to figure out for themselves what works. You know, sometimes we ourselves are still blown away by the fact that we've been together for almost 44 years, and especially by how time has flown."
He's also happy to share that they've been in an open relationship for a few years now, which has been very fulfilling for both of them. However, that's not what defines the relationship: "Our loving relationship goes way beyond sexuality," Georg states, and Dietmar agrees.
The one vital thing is that they have so much in common after all these years. Their shared memories and experiences are continually deepening.
Finding each other in 1971
In the fall of 1971, Georg moved from Bavaria to Berlin for his job. In Munich, he'd had a two-year relationship with an older, high-profile man, which ended very unhappily for Georg.
"After that experience, I certainly didn't feel like getting into another relationship too soon. But then, three days after arriving in Berlin, I met Dietmar at my job. In November, we got to know each other better, and we've been together since."
When he was asked a year later if he was going to stay in Berlin, Georg replied that he didn't like the city, but that he had found the man of his dreams in Dietmar and wanted to stay together with him forever –- and that was only going to work in Berlin.
At this point, things seemed like they were going a little too implausibly smoothly, and I inquire again about whether they've faced serious relationship crises.
"There haven't been any problems in our relationship, and not with our two families either, other than the ordinary little frictions that are simply human," says Georg.
However, outside of the happy relationship, the societal framework then was very different than it is now. This was a large part of the reason I wanted to meet Georg, and learn more about what our gay parents and grandparents struggled with. I found out very quickly that there are several factors that continue to affect gay people to this day.
In court for spending the night at another gay man's house
Georg had his first sexual experiences in 1968, at which time "unnatural fornication" was considered a serious punishable offense in accordance with Article 175 of the German Criminal Code. Georg, having been brought up in a liberal household, and feeling youthful and carefree, didn't feel he was doing anything wrong. He wasn't too concerned with that law, and the atmosphere among Munich's students was just as liberal.
"I was studying in Munich, and I remember that some of my colleagues considered the fact that I was attracted to men as something special and even elite. I even had to take some of them to so-called 'homo bars,' which were then mainly atrocious places full of plush furniture."
Georg's carelessness came to an end in the spring of 1969. An acquaintance informed him that criminal investigations against him had been initiated because of his offense against Article 175 of the Criminal Code, and that he would have to testify shortly.
He had spent two weeks at a friend's in Donauwörth, in Bavaria.
"The fact that two young men were staying together in one apartment, and that one of the men, my friend, looked very different and flamboyant, was enough for someone to denounce us. That was how society still felt, even as the article was close to being repealed."
The investigations were stopped, since Georg truthfully testified that he had only temporarily stayed in the apartment and that there had been no sexual contact. However, he still remembers "with the utmost reluctance" how much the investigations violated his privacy.
Article 175: The injustice of the Nazi era continued beyond 1945
Georg's own experience inspired him to take a closer look at the history of Article 175, and he still likes to remind people that not everyone was lucky enough to "be born late enough."
About 100,000 investigation proceedings and about 50,000 convictions under Article 175 are documented for the Federal Republic of Germany between 1945 and 1969, and about 1,300 convictions for the German Democratic Republic up to 1959. The National Socialist version of the article was retained in areas occupied by the West in 1945, and in the Federal Republic of Germany from 1949 on. The version that had been incorporated into the German Imperial Criminal Code in 1871, which stated that "unnatural fornication exercised between persons of the male sex is to be punished with a jail sentence," was once again made harsher in the Nazi era.
From that time on, even an erotic glance could have you arrested. Between 1933 and 1945, tens of thousands of gay men were arrested and several thousand killed in concentration camps. After 1945, gay men were no longer able to understand their persecution as a part of radical Nazi policy. After being freed from the concentration camps, some men were arrested anew to serve out their "remaining sentence." There are examples of gay men who had escaped the concentration camps, but many were detained again in the 1950s because they were in violation of Article 175. Only this time they weren't incarcerated in a concentration camp, but in prison.
For gay men, there was no liberation after May 8, 1945; the persecution continued. Georg finds it important to emphasize that the Catholic Church had been very active in swaying the decision makers to retain the article of injustice.
Outraged about rehabilitation
Once Georg and I start talking about reparations, you notice how deeply this otherwise very calm man is affected by this topic. He has met too many men who suffered great injustice in the name of Article 175.
He states that, for at least 20 years, different groups have been demanding measures for the rehabilitation and compensation of men convicted between 1945 and 1969 due to Article 175.
"The claims were always denied, using the argument that the convictions were constitutional and did not present any injustice under the law at the time," he says. In 2002, the German Bundestag adopted a law repealing punishments under the Nazi regime, which included convictions under Article 175. Those few men that were still alive were able to apply for reparation payments. While this step was essential, Georg is still not fully satisfied.
"You have to understand that a man convicted before 1945 would be considered exempt from punishment, but if the conviction took place after 1945, he still has a criminal record," he says, referring to the decades after the war in which Article 175 still criminalized homosexuality.
Real justice is more important than individual laws that can always be changed
Georg is very familiar with the elaborate arguments lawyers use to explain the situation, but he's not interested in them. He's seen too much in the course of his long life, and he has experienced how quickly such seemingly irrefutable principles and arguments can change in the course of time. What he himself focuses on is bigger, and it is not relative: real justice.
Calling all HuffPost superfans!
Sign up for membership to become a founding member and help shape HuffPost's next chapter