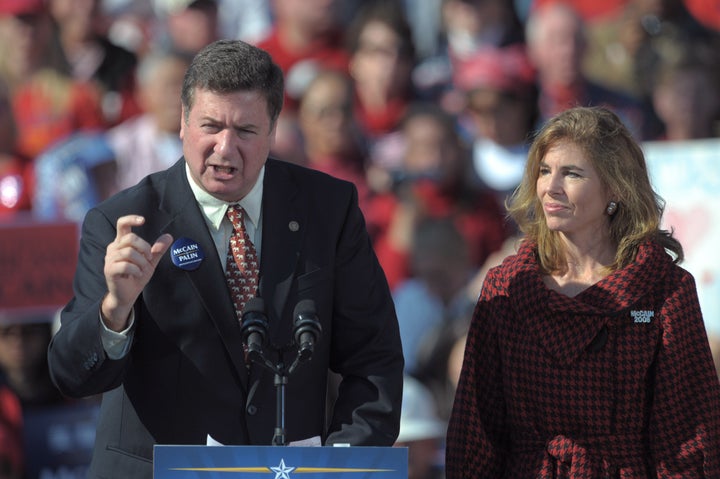 WASHINGTON -- A former Republican National Committee finance official who was forced to resign last year following allegations that she had spent party money at a jewelry store has found a new home in the free-spending campaign of Virginia GOP Senate candidate George Allen.
She got the boot along with the RNC's finance director, Rob Bickhart, amid complaints that then-Chairman Michael Steele was a profligate spender who was not minding the books.
Just days before LeHardy and Bickhart were eased out, news surfaced that RNC finance officials had signed off on a $2,000 spree at a bondage-themed strip club. There were complaints about Steele's lavish travel style and the expensive locations he chose for RNC retreats, among other issues.
Those problems apparently did not discourage Allen from hiring LeHardy as a consultant and paying her well. According to Federal Election Commission records, her firm has received more than $75,000 for advice since February.
Allen spokeswoman Katie Wright did not address LeHardy and her past specifically, but said the campaign was confident it had assembled a good team that would keep it competitive in the Senate race.
Part of LeHardy's allure for the campaign may have been her institutional knowledge of the GOP and its donors.
"We got into the race knowing we would potentially be going up against the former chairman of the [Democratic National Committee]," Wright said, referring to Tim Kaine, who is also the former governor of Virginia. She argued that Kaine has access to the DNC's full campaign apparatus and is the only Senate candidate who sat at the table with President Barack Obama's elite fundraisers in Chicago.
LeHardy seems to have landed at a campaign that spends as freely as Steele did. While Allen's FEC reports do not show the same level of extravagance -- beyond the good restaurants and alcohol purchases often seen in such records -- they do show that he is tearing through his cash at a rapid rate. While he raised just over $900,000 in the last quarter, he spent more than $750,000, for a burn rate of better than 80 percent. That's left his campaign with a bit more than $1.8 million in the bank.
Kaine, who got into the contest nearly four months after Allen, has nearly $2.6 million in the bank. He raised $1.3 million in the last quarter and spent just over $600,000, for a burn rate of less than 50 percent.
A Democratic political observer said the burn rate was important because cash would be vital at the end of the race when television advertising is key. "You need to be banking that now," the Democrat said.
Wright noted that Kaine had more of a campaign structure already in place and suggested that Allen was spending more now to catch up. She again insisted that Allen would have the tools to compete come next November.
"We have a good team in place," said Wright, "and we are raising the money needed to be competitive and get our message out."

Popular in the Community