"Wait for what?!"' shouts young George Bailey to the miserly Mr. Potter in one of the opening scenes of It's a Wonderful Life. Mr. Potter has suggested that the poor residents of Bedford Falls must wait before living in a decent home. George, indignant, does not agree.
At St. Luke Haiti, there is an oft-repeated phrase: "If not us, who? If not now, when?"
The Haitian-led staff of St. Luke' Hospital lives this mantra daily. They see the patient in front of them, and they act quickly to do whatever they can to help. Recently, the many stateside friends of these Haitian leaders took a page from the St. Luke Haiti book, acting swiftly and as one to meet a great need through urgent action that was at once personal and collective.
The St. Luke Haiti All for One Christmas Parties are wrapping up in these days, and we are truly grateful for the diverse group of friends who united to fight for St. Luke's Hospital this December. This grassroots effort has included parties and events in over 25 cities across the country, and has now raised over $200,000. These parties were planned and organized by our friends. They found out that the hospital was experiencing tough times, and just like George Bailey's friends, they acted.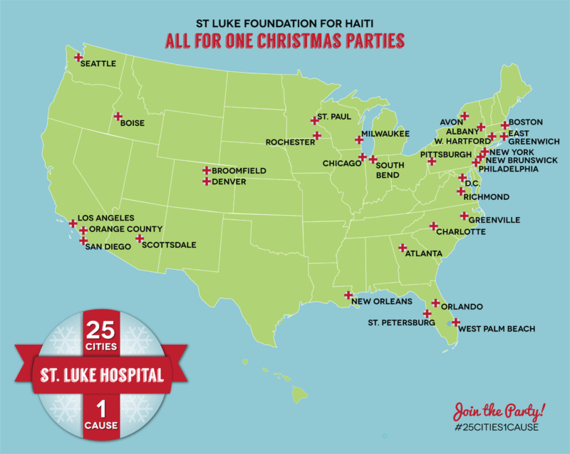 Ceci in St. Petersburg invited friends and neighbors to her home, and auctioned off one of her beautiful paintings. Mary, David, Michelle and Maria in Rochester, and Jen, Megan, Ann and Bhavesh in Scottsdale were among the first to volunteer to host events. St. Luke holiday parties were organized by Mary Ellen and Ryan in Charlotte, and Jan and Phyllis in Denver. Rich in Milwaukee had eight friends over for dinner. Kenneth Cole and Adriana Lima hosted an event in New York. Karen, Mike, Chip and Nolan threw a house party in New Orleans. Doctors across the country, who had witnessed the work of St. Luke's Hospital, hosted events in their home towns. Wendy and Greg in Greenville, Donny and Crystal in South Bend, Mike in Pittsburgh, Tish in Rhode Island, Nicole in Irvine. Kate, Mary and Dan invited friends in St. Paul to share Haiti stories and raise funds. Over 500 young professionals attended the Fuel the Cure event in Philadelphia. Jim, Amena, and Mary created an online initiative in West Palm Beach, as did Stacey in Albany. Bruce had a company party in Ann Arbor. Patty sold Haitian art in Scranton. The list goes on.
In the final scene of It's a Wonderful Life, George Bailey stands in awe, humbled and teary-eyed as his friends pass by dropping dollars into a basket. These dollars will allow him to continue the good work he's devoted his life to.
St. Luke's Hospital stands grateful to the many friends who put what they could in the basket this year, and in particular, this Christmas.
The financial pressures in Haiti will not go away anytime soon, and as we turn the page to 2014, we know we will face many more challenges. "Haiti fatigue" is real and conventional sources of funding are growing thin. St. Luke Haiti will continue to look under every stone and knock on every door in order to fight for our patients, students and friends. Big grants, small grants, in-country revenue, cost saving measures -- we will continue to try it all. But amid the uncertainty of these efforts, the thing that we know we can count on, is our friends. Thanks to this ever growing group of dear and loyal friends, St. Luke's Hospital steps into the New Year with an enormous shot in the arm, and with enough financial fuel in the tank to keep the hospital running and saving lives.
So as the ball drops in New York City, and as we sing "Auld Lang Syne" again, our friends in Haiti will be at the hospital treating patients, and grateful as always, for the chance to do so. Here's to their great courage, and here's to their extraordinary friends.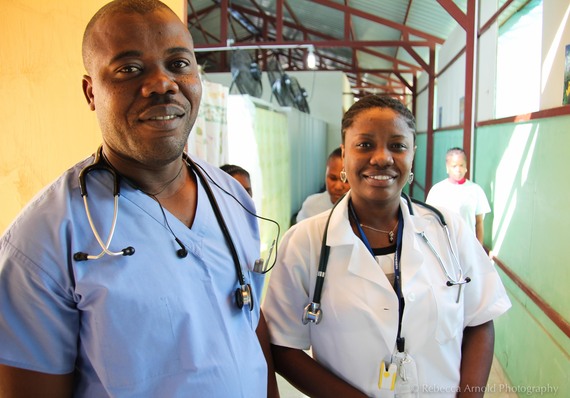 REAL LIFE. REAL NEWS. REAL VOICES.
Help us tell more of the stories that matter from voices that too often remain unheard.