Right now, New Yorkers have the unique opportunity to take in two of George Bernard Shaw's masterpieces -- works frequently studied on the page, but infrequently brought to the stage.
In Tribeca, Theatre Bedlam is offering a rough and tumble take on Saint Joan -- where three guys (Ted Lewis, Tom O'Keefe, and Eric Tucker) play the myriad nobles, clergy and commoners who stand by, against, and just apart from the titular heroine/martyr (played by Andrus Nichols).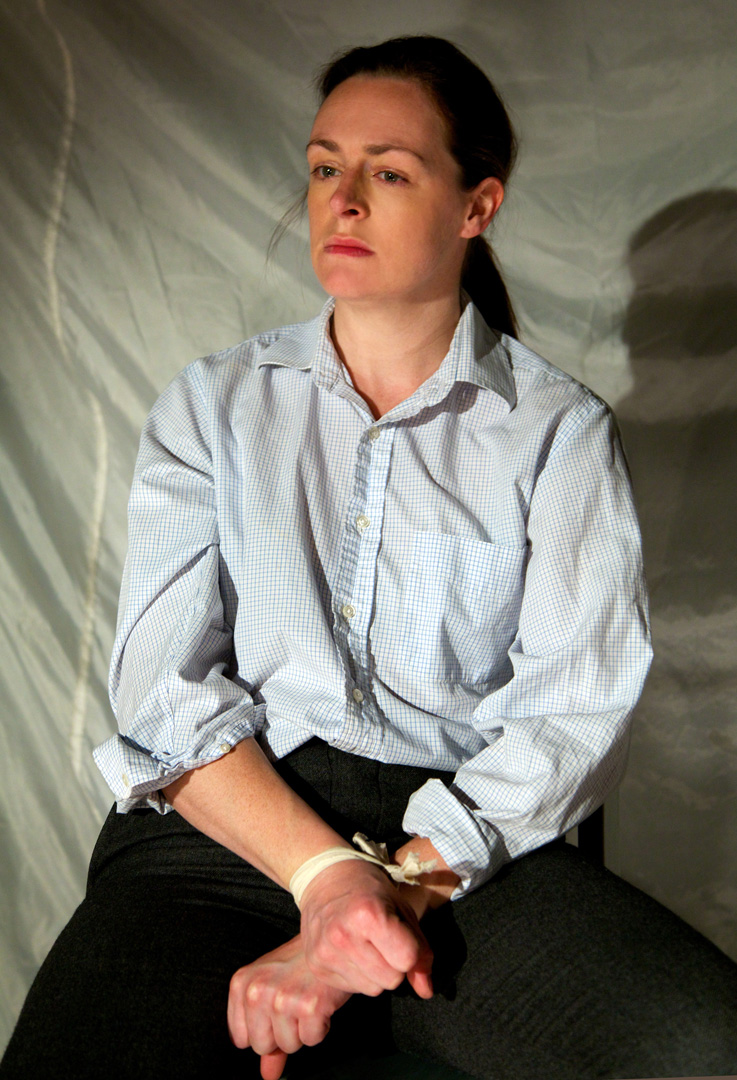 Andrus Nichols in Saint Joan. Photo: Michael Mallard
It's an audacious concept for the production, one that showcases both the human drama of the piece as well as the philosophy that abounds in the text about the nature of warfare, the church's role in man's life and so much more. And though director Eric Tucker's conceit of shuttling the audience from the theater to the lobby for various scenes may strike some as a mere gimmick, there's little question that he has a superlative sense of stagecraft. The way in which he allows us to sense a wind-changing direction by virtue (pun intended) of Joan's presence is nothing short of genius.
The men prove adept at sharing roles and switching between them with terrific specificity (it's a great way of indicating the uniformity of the people Joan's up against) and remarkably, it's a concept that proves much easier to follow than you might imagine. If one of the actors is fiddling with a goatee, he's the fop and if he's nervously clutching at a shirt plait, well, he's the archbishop.
At the center of the show is Nichols' exceptional turn as Joan. There are times when her performance is nothing short of a hyperactive child, which is strangely endearing, and there are other times, particularly when her voice falls into its lower, deliciously smoky, register that she does seem to have a spark of an otherworldly divinity in her.
The show only runs through Sunday. It's well worth checking out.
Even less frequently seen on stage -- at least with both its central section and its "Don Juan in Hell" sidebar -- is Man and Superman, playing at Irish Rep in Chelsea. If anyone were to produce this one uncut, it would run somewhere around 6½ hours. Director David Staller isn't asking for that much of your time -- he's carefully pruned the piece, so that it comes in just under three hours. And in doing so, he's made sure that you don't lose the flavor of the blithesome love triangle at the show's center or the Nietzsche-infused surrealism of the "Hell" sequence.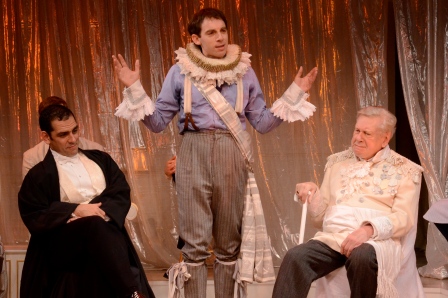 Jonathan Hammond, Max Gordon Moore, and Brian Murray in Man and Superman. Photo: James Higgins
Staller's got some terrific Shavian veterans at his disposal for this one, particularly Brian Murray, who can whip his lines into frothy delicacies. Particularly choice is his rendering of this brief tirade:
I have in my hand a copy of the most infamous, the most scandalous, the most mischievous, the most blackguardly book that ever escaped burning at the hands of the common hangman. I have not read it: I would not soil my mind with such filth; but I have read what the papers say of it.
You'll also find that Jonathan Hammond cuts a particularly fine, well-spoken figure as The Devil once the show's moved from this world to the next (and by the way, James Noone's set is both a rococo and abstract confection) and as a young woman intent on marrying the son of an American industrialist, Margaret Loesser Robinson proves to be an utter joy, particularly as she manipulates said magnate around her little finger.
As with Saint Joan, there are a few blips in the production. I'm not at all sure Staller needed to fill the scene changes with Shavian soundbites, and there are times when some of the performers are a bit "actory" with the language. What overcomes these minor obstacles, though, is simply the joy of getting to savor this work onstage for a few hours (which seem to just fly by).
Related
Popular in the Community