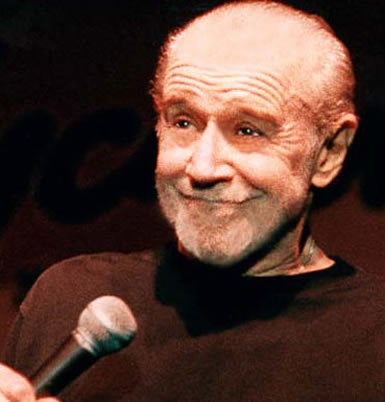 Comedian George Carlin, best known for his scabrous, unflinching style and his rivetingly observant social satire, died of heart failure Sunday night in Los Angeles. Carlin was 71 years old.
In a career spanning a half-century, Carlin's comic routines tended toward social commentary and satire, with a deep and abiding love for the vagaries and peculiarities of the English language and a fearless embrace of the profane. The apotheosis of Carlin's comic mind probably came in the form of his famous "Seven Words You Can't Say On Television" routine. The original routine can be read here. Below, Carlin does a variation. Yeah, it is Not Safe For Work.
Carlin's career took him from the stand up circuit to a television career that spanned four decades and included fourteen HBO specials, including 2008's It's Bad For Ya. He also appeared in over fifteen movies, most notably in the "Bill And Ted" franchise and a handful of late-career appearances in the movies of Kevin Smith. He's won a Grammy Award and was named the second-greatest stand-up comedian of all time by the Comedy Central network, behind only Richard Pryor. Carlin was often a deeply dark, deeply cynical, and deeply accurate observer of human nature. You probably should have listened to him, especially with the AP running a story this weekend with the fatalist headline "Everything seemingly is spinning out of control." His death is an irreplaceable loss.
RELATED: HuffPo's Rachel Sklar had the opportunity to interview the comedy legend earlier this year. For their conversation, click here.
Calling all HuffPost superfans!
Sign up for membership to become a founding member and help shape HuffPost's next chapter