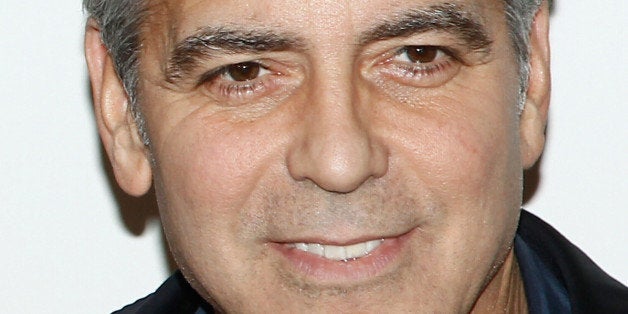 Award-winning actor and self-proclaimed perpetual bachelor George Clooney surprised everyone when news leaked of his engagement to girlfriend, Amal Alamuddin, a British attorney who studied at Oxford and New York University. Married once and divorced decades ago, George was completely upfront about never wanting to get married again. He settled into several serious relationships since his divorce in 1993, but they all ended just short of a proposal. George's change of heart raises the question, what was different about this woman and the connection they have that allowed him to do something he vowed never to do again? And does this mean George is no longer the poster boy for bachelorhood?
The fact that he was so open about not wanting to walk down the aisle again may have factored into the formula that kept him from doing it -- perhaps he was enjoying himself and participating in great romances, but didn't have his eye out for someone he imagined could one day be his wife. In other words, if finding a spouse wasn't his goal, then that might be a big reason he never did. Declaring that he would be a lifelong bachelor may have been its own form of a self-fulfilling prophecy. Maybe because that decision was so front and center for him, he wound up in relationships with women who when the discussion of marriage arose it automatically became the breaking point for the liaison.
Sometimes, though, you may find yourself wanting to do something that generates so much excitement and interest that it overpowers the resistance you may have had all along. In fact, when you feel so positive and strongly about it, your desire can trump your disinclination and push you beyond your previous limits. The force of that energy can propel you past the usual fears and issues that have been at play for so long. The fact that George is now engaged suggests that with Amal he was able to do just this, and step over the line he drew in the sand all those years ago. When the decision to get married feels like a gain rather than a loss, it becomes an easier choice to make. If you've been married previously and vowed to never do it again, while that might seem like a permanent position for a long time, this may be where the old adage never say never can come to life. If anyone is testimony to that it is George Clooney.
Seemingly this is the first relationship that challenged George's notion of remaining a bachelor. And while he may have been looking for a partner and not a wife, with Amal he found himself feeling differently than before and ready to make room for this new chapter in his life. So whereas he may no longer be the go-to bachelor, perhaps his intended new role as a husband will be inspiration for other bachelors to take the next step into marriage.

Please tune in to "Let's Talk Sex" which streams live on HealthyLife.net every last Tuesday of the month at 2 PM EST, 11 AM Pacific. We look forward to listener call-in questions, dealing with relationships, intimacy, family, and friendships, at 1.800.555.5453.
Connect with Dr. Jane Greer on Facebook, at www.facebook.com/DrJaneGreer, and be sure to follow @DrJaneGreer on Twitter for her latest insights on love, relationships, sex, and intimacy.

For more on Dr. Greer, visit http://www.drjanegreer.com.
Popular in the Community