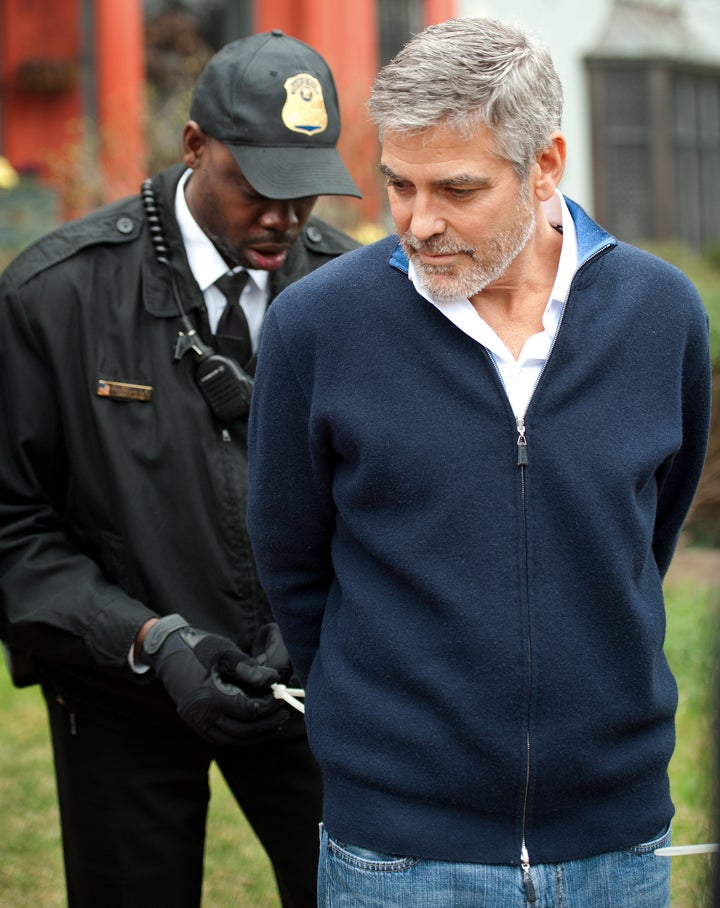 It sounds like the beginning of a semi-decent joke: A movie star, four Congress members, leaders of several NGOs including the NAACP, two rabbis, a journalist and a great comedian walk into a jail cell.
Last Friday, that is what happened though.
Led by George Clooney -- who is in so many ways, so very much more than easy on the eyes -- this unlikely crew sat together for nearly three hours, got to know each other, basically got to like each other, and, most importantly, began plotting about how to turn things around in Sudan. Parts of that nation are about to undergo famine and hunger while the world watches -- sadly nothing new -- the world often just sits and watches tragedy in Sudan. We wanted to talk about what we could do to change that well-worn pattern and come up with a creative new plan.
We had just staged a protest at the Sudanese Embassy knowing that the police were going to arrest us, put us in their paddy wagons and take us to jail. What I think surprised us was that the police were not particularly gentle with us and that we were going to be together for hours in this hell hole of a jail cell where the only place to urinate was in almost plain sight. We did what boys, men (not much difference when you are in a jail cell) do. We told stories and jokes and just got along quite well. It was fun. George Clooney's very impressive dad, Nick, a journalist from Kentucky, was probably the classiest guy in the room. He and Dick Gregory, yes, I said, Dick Gregory, kept us entertained with the breadth of their life experiences. The members of Congress, Jim McGovern (Ma.), Al Green (from my beloved Texas -- I am a Texan), John Olver (Ma.) and Jim Moran (Va.) were not members who had to tell you how special they were -- no, these were guys who got arrested because they hate suffering in the world. They use the status of their offices to make a difference. In any event when sitting in a room with the likes of Clooney and Gregory, they had a high hill of status to climb before they were near the top of status mountain.
Rounding out the room were Martin Luther King III, son of the great civil rights leader; John Prendergast, co-founder of Enough, who has been a leader and a hero in fighting against atrocities in Africa and across the globe; Tom Andrews, President of United to End Genocide, the organization that organized the event so very, very well; Rabbi David Saperstein, Director of the Religious Action Center of Reform Judaism, and one of my personal friends and mentors; Ian Schwab, from American Jewish World Service, a terrific policy associate who was there instead of the irrepressible Ruth Messinger, my friend, ally and leader in so much of this anti-genocide work; Fred Kramer, executive director of Jewish World Watch; and Ben Jealous, president of the NAACP. There were women arrested but in the culture of the age, they were in a different cell than we were so even if Ruth Messinger had been arrested, she would not have been with us.
How rare that such people would ever be together for such a long time. Generally, some of us might see each other here or there but never in such long and forced togetherness. After an hour or so of camaraderie, the conversation turned to Sudan and where to go from here.
George Clooney and John Prendergast, who had just spent some time with President Obama and Secretary Clinton and who had also just returned from the difficult and harrowing areas of Blue Nile and the Nuba Mountains in Sudan, set the stage and let us understand how serious the impending famine would be in the next few months if nothing were done -- scary, sad stuff. We came up with some plans. There was a good deal of strategic brilliance and powerful resources in the room -- these were bright people. We began to think in terms of both a planned strategy and how to make the plan happen. It was clear to us that we could do much -- our challenge was to do the work and stop the famine. I think we realized that if we did help, few would ever know that it was us but that did not matter; we were not in this for notoriety just for the Sudanese people. Only time will tell what we actually do. Often the best laid plans get eaten up because of other commitments. Still, the idea of tens of thousands, maybe hundreds of thousands of people dying of starvation ought to impel us to do what we can and to make some difference.
I think that the feeling in the room was best summed up by two things. Firstly, there was no rhyme or reason as to why some got out early and some stayed till near the end, but no one complained. No one said: 'I am important -- why not me?' Second, as each of us left, that person would walk around the room hugging all that remained. It was sweet -- became our ritual and spoke wonders about how quickly love and concern can grow if we just let it.
Related
Popular in the Community