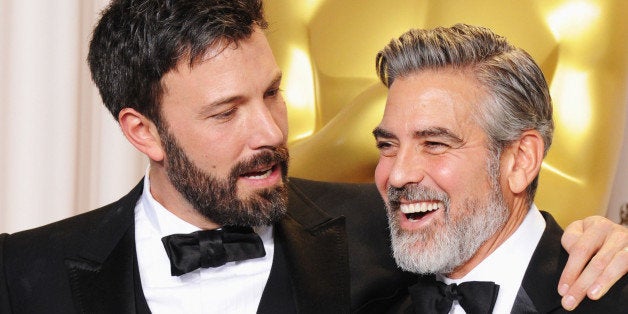 George Clooney is a pretty great movie star who also happened to be a pretty bad Batman.
"Batman is still the biggest break I ever had and it completely changed my career, even if it was weak and I was weak in it," Clooney told Total Film in a 2011 interview. "It was a difficult film to be good in. I don't know what I could have done differently."
With that kind of perspective on things, did Clooney offer Ben Affleck -- Clooney's producer partner on the Best Picture-winning "Argo" -- any advice about taking the Batman role in "Man of Steel 2"?
Despite that, Clooney did provide some comment to those Batman fans who were so enraged by Affleck's casting in the first place. "I tend to look at it like this -- let's just see what the movie is before everyone starts beating him up," he said. "He is a smart man, he knows what he is doing."
Clooney's comments echo Matt Damon's words of support from back in August, when the Batfleck controversy was still quite fresh.
"I think it will be great. It will be terrific. I know there are a lot of people grousing on the internet. I just think it's kind of funny. You know, he's not playing King Lear. It's Batman!" Damon said to the Times of India. "[That's] certainly within his skill set. If anybody saw 'Argo' or 'The Town,' and all the work he's been doing lately, it's way more nuanced and interesting and way more difficult than Batman! Batman just sits there with his cowl over his head and whispers in a kinda gruff voice at people. Bruce Wayne is the more challenging part of the role, and Ben will be great at that."
Affleck will play Batman in Warner Bros.' "Man of Steel" sequel. The film is due out in theaters on July 17, 2015.
PHOTO GALLERY
Celebrity News & Photos
REAL LIFE. REAL NEWS. REAL VOICES.
Help us tell more of the stories that matter from voices that too often remain unheard.