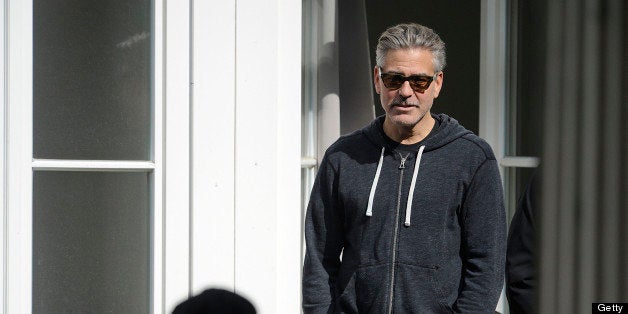 "I've been reading a lot about Daniel Loeb, a hedge fund guy who describes himself as an activist but who knows nothing about our business, and he is looking to take scalps at Sony because two movies in a row underperformed?" Clooney said to Fleming, referencing recent flops "White House Down" and "After Earth," two Sony releases that Loeb compared to notorious bombs "Waterworld" and "Ishtar." (As Kevin Costner has said in the past, "Waterworld" wasn't actually a failure.)
"When does the clock stop and start for him at Sony? Why didn't he include 'Skyfall,' the 007 movie that grossed a billion dollars, or 'Zero Dark Thirty' or 'Django Unchained'? And what about the rest of a year that includes 'Elysium,' 'Captain Phillips,' 'American Hustle' and 'The Monuments Men'? You can't cherry pick a small time period and point to two films that didn't do great. It makes me crazy." (Clooney directed and stars in "Monuments Men" alongside Matt Damon, Bill Murray, Cate Blanchett, John Goodman, Jean Dujardin and Daniel Craig.)
Loeb ruffled feathers earlier this week in a letter to investors that called out Sony Pictures Entertainment co-CEO's Michael Lynton and Amy Pascal as responsible for the "debacles" the studio released this summer. "After Earth," with Will Smith as star, earned just $60 million in North America; "White House Down" has barely cracked $70 million. (In global grosses, "After Earth" has made $242 million total; "White House Down" just $116 million.) Loeb wanted Sony Pictures Entertainment to spin-off into its own entity.
"How any hedge fund guy can call for responsibility is beyond me, because if you look at those guys, there is no conscience at work," Clooney said to Deadline.com. "It is a business that is only about creating wealth, where when they fail, they get bailed out and where nobody gets fired. A guy from a hedge fund entity is the single least qualified person to be making these kinds of judgments, and he is dangerous to our industry." (Hedge funds don't actually often get bailed out -- they tend to either succeed or disappear.)
PHOTO GALLERY
Celebrity News & Photos
Calling all HuffPost superfans!
Sign up for membership to become a founding member and help shape HuffPost's next chapter