George Clooney is one of the most beloved men in Hollywood, striking up a conversation with almost anyone he encounters. But when it comes to fellow stars, Clooney is historically cautious to open up -- unless, of course, they're Brad Pitt.
"The truth is that [Crowe] did send me a book of poems to apologize for insulting the sh-t out of me, which he did," Clooney explains. "He picked a fight with me. He started it for no reason at all. He put out this thing saying, 'George Clooney, Harrison Ford, and Robert De Niro are sellouts.' And I put out a statement saying, 'He's probably right. And I'm glad he told us, 'cause Bob and Harrison and I were also thinking about starting a band, which would also fall under the heading of bad use of celebrity.' And that's when he really went off on me," he continues. "'Who the f--k does this guy think he is? He's a Frank Sinatra wannabe.' He really went after me. And so I sent him a note going, 'Dude, the only people who succeed when two famous people are fighting is People magazine. What the f--k is wrong with you?'"
Clooney said Crowe eventually sent him "a disc of his music and a thing of his poetry" and claimed he was "all misquoted." "I was like, 'Yeah, yeah. Whatever,'" Clooney adds.
"You know, I can play. I'm not great, by any means, but I played high school basketball, and I know I can play. I also know that you don't talk sh-t unless you can play. And the thing about playing Leo is you have all these guys talking sh-t," Clooney explains, revealing that he and his friends "beat them three straight: 11–0, 11–0, 11–0."
"The discrepancy between their game and how they talked about their game made me think of how important it is to have someone in your life to tell you what's what," Clooney adds. "I'm not sure if Leo has someone like that."
"For a long time now, Brad has been the biggest movie star in the world," Clooney admits. "He's bigger than me, bigger than DiCaprio. And I really admire how he deals with that. It's not easy for him. But he tries to be the most honest version of Brad Pitt that he can be. And he also remains unavailable. He's still a giant movie star because you can't get to him."
"That doesn't mean that I don't think of him as incredibly talented and smart and all those things," he says, "But you also can't get to him."
UPDATE: George Clooney's publicist released a statement regarding Clooney's Esquire interview, clearing up the reports that he dissed Leonardo DiCaprio and Russell Crowe. "The Leo comments were all made in fun about basketball," his rep told E! News. "Not about Leo's life. The writer and George were laughing about basketball buddies. As for the Russell Crowe story. George was asked about it and told the truth."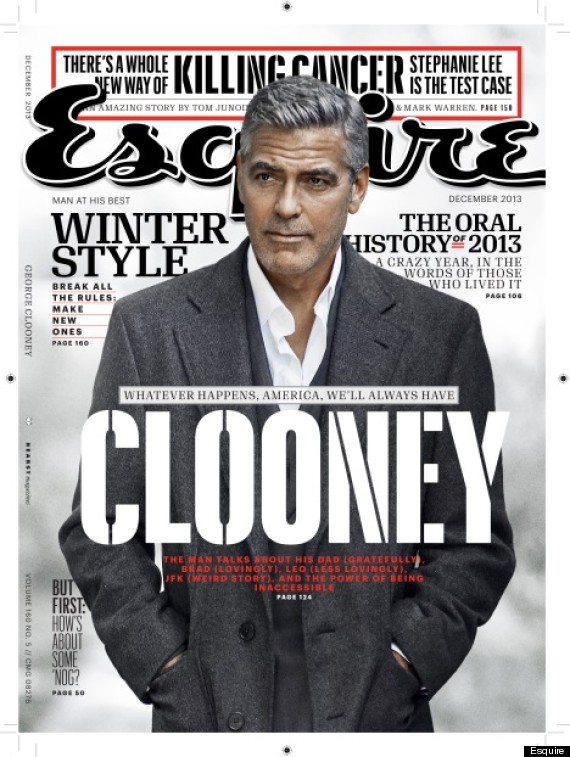 Popular in the Community