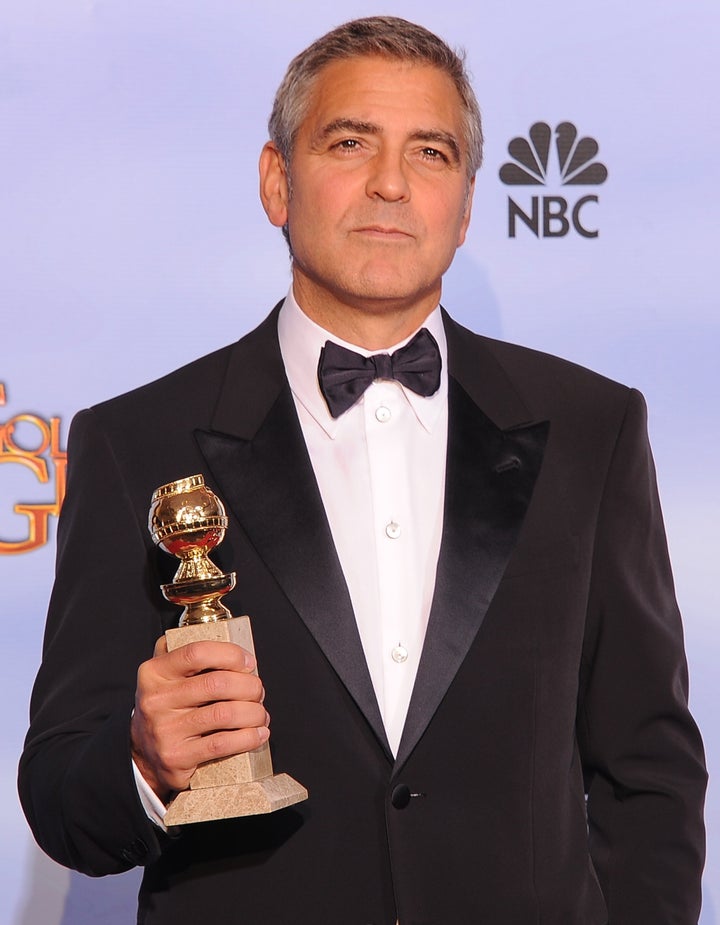 Ten years into his career behind the camera, George Clooney still thinks of himself as a novice director. The truth, however, is that he will likely earn his second Oscar nomination for Best Director on Tuesday, for his film "The Ides of March," and with four feature films under his belt, he's learned a thing or two about the craft.
While he's got a rolodex of A-list friends, he's learned to avoid casting people based on personal relationships.
"The first thing you learn and I think it's a fair thing to say is it's almost always a mistake to hire a friend in a part, because almost inevitably you've sort of changed your judgment to say, 'Well, they could do this,' and sort of worked them into something that they're not right for," he said. "And you'll end up probably cutting them out, which is going to give you another terrible conversation you're going to have later."
His "Ides of March" stars Ryan Gosling, Philip Seymour Hoffman, Paul Giamatti, Evan Rachel Wood and Marisa Tomei, amongst others, but, as in the rest of his films, there are no appearances by his most famous friends, Matt Damon and Brad Pitt.
Discussing "Good Night, and Good Luck," his 2005 film about newscaster Edward R. Murrow and his famous stand against Joseph McCarthy, Clooney revealed that the film was more than an historical document; while it told the story about an event that took place half a century prior, it was also an allegory for his own struggles at the time.
"'Good Night, and Good Luck' I wrote because I was mad because I was being called a traitor to my country because I said we should ask questions before we send people to war, and I found a way to express that in film," Clooney told the paper during its directors' roundtable.
Clooney, around the time the film was made, was a vocal critic of the War in Iraq, speaking out against the invasion before there were boots on the ground. He told Charlie Rose that he felt President Bush ran the government like the crime family in "The Sopranos," and that the approach to alleged problems in Iraq was haphazard.
"Are we going to try and talk [to Saddam Hussein] without jumping in and killing people first?" he asked the host rhetorically. "I don't believe we're going to wait until the last resort to do it. That's what bothers me."
Around the time's release, Clooney told PBS Newshour, "I was looking to open a debate, to have a discussion, to be able to talk about issues that I think are important. It's simply saying, as Murrow says in the film, we have to find a way to find a safe place between the protection of the individual and the protection of the state at the same time.
Still, one expert director told the LAT that he didn't mind casting a friend in one of his most acclaimed movies; in fact, he insisted on it.
"In 'Goodfellas,' the whole sequence with Joe Pesci doing his routine about 'Do you think I'm funny? You think I'm a clown?' was something that he did for me at lunch," Martin Scorsese remembered. "He said, 'I don't want to be in the film.' I said, 'Come on, you got to do this!' [He said] 'I'll be in the film if I do this one bit that happened to me,' he said. And he went up to my apartment and he acted it out and I said, 'You got it.'"
For more from Clooney and Scorsese, as well as intimate thoughts from Alexander Payne and "The Artist" director Michel Hazanavicius, click over to the LA Times.
REAL LIFE. REAL NEWS. REAL VOICES.
Help us tell more of the stories that matter from voices that too often remain unheard.