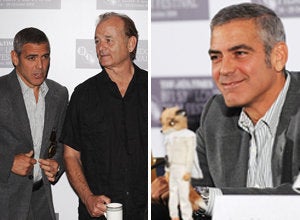 ***AP Text, scroll down for PHOTOS***
LONDON - George Clooney and Meryl Streep were due on the red carpet in Leicester Square on Wednesday for the opening of the 53rd London Film Festival.
The stars provide voices for the lead characters in the opening-night film, the world premiere of director Wes Anderson's animated adventure "Fantastic Mr. Fox."
Anderson's stop-motion kid-flick is adapted from Roald Dahl's book about the battle between a suave, chicken-stealing fox and evil farmers Boggis, Bunce and Bean.
Jason Schwartzman, Bill Murray, Willem Dafoe, Michael Gambon and musician Jarvis Cocker also provide voices for the playfully lo-fi feature, which brings the hipster sensibility of Anderson's "Rushmore" and "Royal Tenenbaums" to Dahl's children's classic.
Although the film takes liberties with Dahl's story -- giving Mr. Fox additional neighbors and family members -- the filmmakers had the blessing of Dahl's widow Felicity. Anderson and co-writer Noah Baumbach even wrote the screenplay while staying at the Dahl family home in Great Missenden, southern England.
"Fantastic Mr. Fox" is released in Britain Oct. 23 and in the United States next month.

PHOTOS:
Popular in the Community